Meghan Markle Reportedly Thought She Was Going To Be Much More Famous In The UK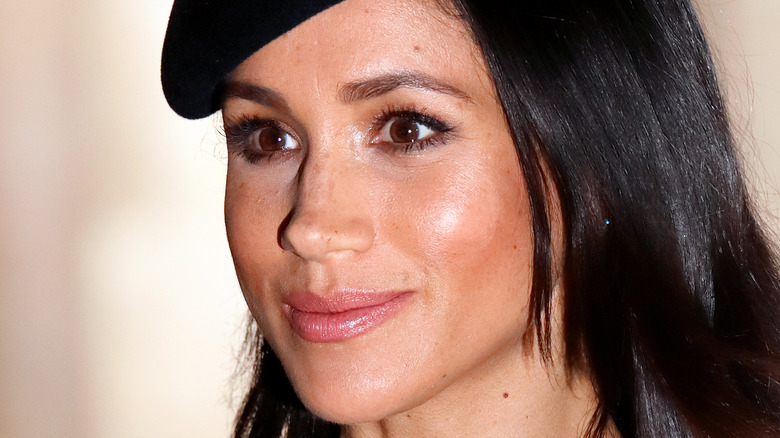 Max Mumby/indigo/Getty Images
Meghan Markle and Prince Harry's recent U.K. trip definitely didn't go according to plan — not least because his beloved grandmother, Queen Elizabeth II, passed away in the middle of it. The royal defectors were thrust back into the spotlight while attending official events mourning Her Majesty's death, but their relationship with Harry's family remains strained. An insider even told In Touch Weekly the Duke and Duchess of Sussex were eager to head home after the funeral so they could be reunited with their young kids. 
Meghan and Harry reportedly weren't thrilled with their royal living situation in Britain either, while royal expert Neil Sean claimed in a video on his YouTube channel that the duchess made a formal request to sit down with King Charles III before leaving for the States. It didn't happen in the end, for whatever reason, which likely didn't help assuage the tension. Suffice it to say, the issues that first gained traction when the couple stepped down as working royals in 2020 show no signs of being sorted out any time soon.
And now, a royal author is doubling down on widely-reported assertions that the former actress was only ever interested in becoming a royal because she wanted to increase her celebrity status.
The Duchess of Sussex wanted to considerably increase her public profile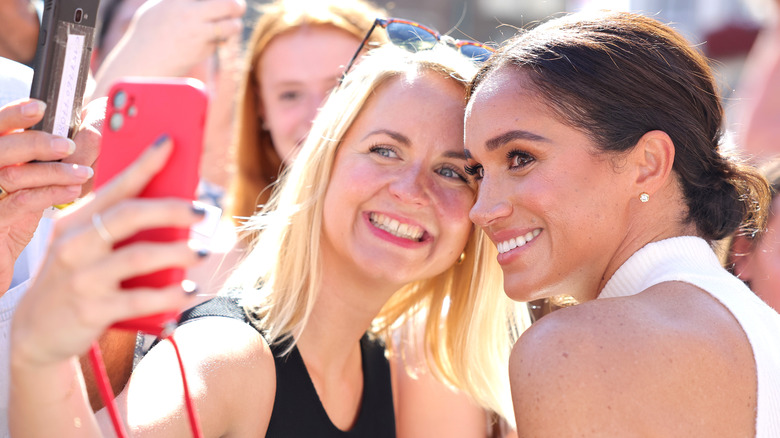 Chris Jackson/Getty Images
A new book explosively claims Meghan Markle saw becoming a royal as her clearest path to mega-fame. The Times of London reports a former palace worker told author Valentine Low: "Meghan thought she was going to be the Beyoncé of the UK." The spectacular revelation is contained in "Courtiers: The Hidden Power Behind the Crown." As the source elaborated, the Duchess of Sussex assumed that "being part of the royal family would give her that kudos."
Unfortunately, "What she discovered was that there were so many rules that were so ridiculous that she couldn't even do the things that she could do as a private individual, which is tough." Sources also discussed the infamous "Sandringham Summit" with Low, detailing how high-ranking members of the royal family sat around trying to figure out how Meghan and Prince Harry could have more freedom without it negatively affecting The Firm.
The queen refused to allow them to continue carrying out official duties unless the Sussexes agreed not to leave the family. Funnily enough, although they couldn't come to an agreement, plenty of people say Meghan and Harry live out a "third way" of being royals. As The Spectator argued, the idea of "representing the Queen one day [and] earning serious money the next was always untenable," but the celebrity couple undoubtedly made the right decision by stepping down — as much as it might pain The Firm to admit it.
Meghan Markle reportedly didn't understand who the star of the royal family was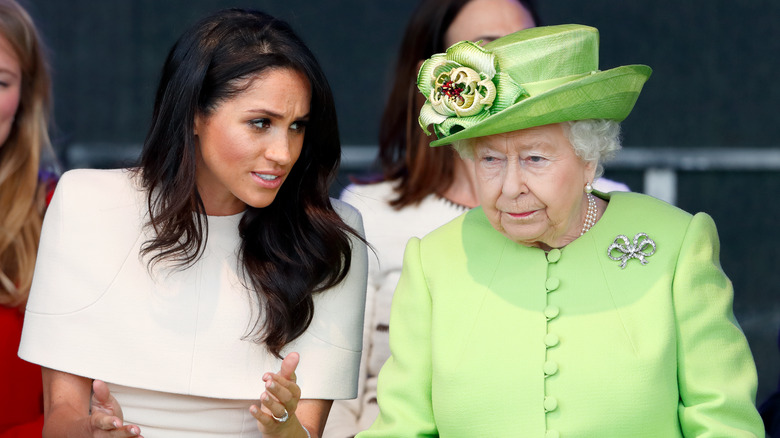 Max Mumby/indigo/Getty Images
The Duchess of Sussex's lifelong quest for fame has been a hot topic for years. Per Express, around the release of his incendiary book, "Revenge: Meghan, Harry and the war between the Windsors," author Tom Bower claimed Meghan Markle achieved her main "ambition" by marrying Prince Harry. During an appearance on "Good Morning Britain," Bower asserted that the former "Suits" star wasn't even well known prior to joining the royal family, though he received pushback from co-host Ben Shephard, who argued Meghan "was a very famous actress" regardless.
Bower contended that those giving her high-profile coverage hadn't heard of either the show or Meghan herself. But, "anyone who marries Harry is going to be famous and she indeed was." Moreover, the royal author revealed that the Duchess of Sussex struggled to find her place in the royal family (via Express) because "she didn't understand she couldn't be number one, there's only one number in the monarchy and she didn't understand hierarchy." According to Bower, Meghan wasn't willing to put in the effort.
Elsewhere, in an excerpt published in The Times of London, Bower shared how the newcomer was convinced, by her husband and a crack Hollywood team working with the couple, that she could be as beloved as Princess Diana if Meghan played her cards right. However, Bower clarified that she hadn't proved her worth or garnered enough goodwill to compare to the People's Princess.