Why One Royal Expert Thinks A Reconciliation Between King Charles And Prince Harry Is Still Possible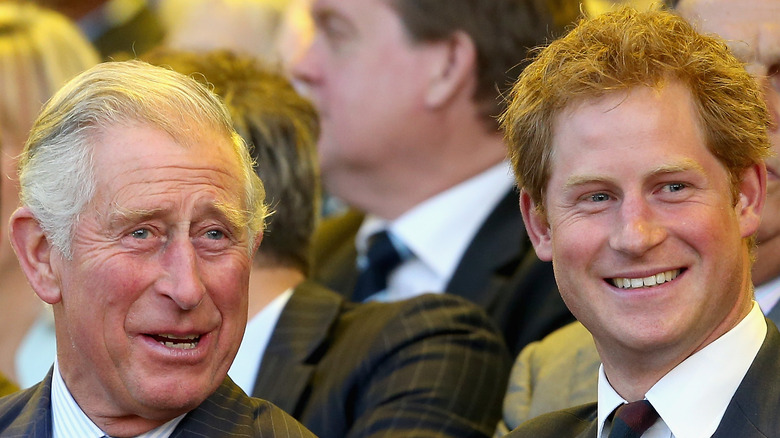 Chris Jackson/Getty Images
Royal watchers were surprised to learn that, prior to legging it back to the States, Meghan Markle reportedly had a special request for King Charles. 
Royal expert Neil Sean revealed on his YouTube channel that, according to "a very good source," the Duchess of Sussex sent her estranged father-in-law a formal request so they could sit down and have a chat before she and Prince Harry went home to California. "This is how you write to the king through his equerry and of course that's passed on, etc.," Sean clarified.
The insider detailed how Meghan was looking for "an opportunity to clear the air, pull the rights from wrongs and explain some of the rationale behind what they've been doing over the last two years." Fans were disappointed when Charles neglected to use the couple's titles during his first speech following the death of Queen Elizabeth II, per Fox News, with Twitter users up in arms about the perceived diss. 
After years of turmoil, the relationship between the Sussexes and the other royals remains strained. However, one royal expert reckons there's still hope for Harry and his father to reconcile their differences.
The Sussexes' recent visit left King Charles feeling hopeful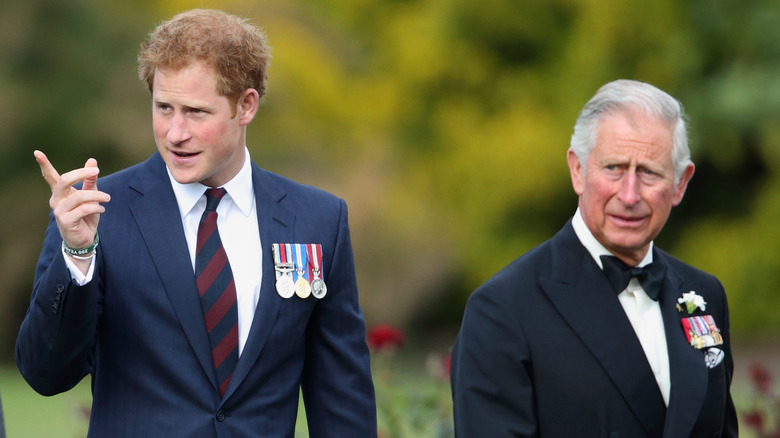 Max Mumby/indigo/Getty Images
A report in The Telegraph claims that, despite how difficult the Sussexes' time in the UK was, King Charles was left feeling hopeful that they could finally find common ground again afterward. 
Royal insiders shared how he glimpsed "tremendous flickers of hope" during conversations with Prince Harry and Meghan Markle at the queen's funeral as well as the memorial ceremony at Windsor Castle. "It remains the case that the King loves both of his children," noted one source. "In terms of the future, there is hope of a cause for unity." 
Of course, Charles is taking his sweet time deciding on Archie and Lilibet's royal titles, which can't be helping matters. As the ruling sovereign, he has the power to make the Sussex children a prince and a princess, respectively, while giving Archie and Lilibet the right to use the Royal Highness moniker in an official capacity.
But the king has yet to do so. During an appearance on True Royalty TV's "Royal Beat" podcast (via the Daily Mail), royal expert Katie Nicholl argued that the only way the kids are going to be properly welcomed back into the royal fold is if Meghan and Harry make amends with the king. "Charles is willing to give those titles, but it comes with a caveat, and that caveat is trust," she noted.
The king has been flummoxed by Meghan and Harry's behavior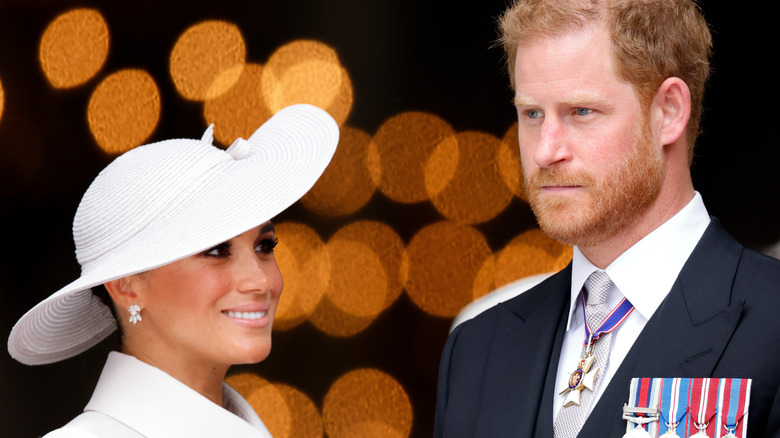 Max Mumby/indigo/Getty Images
As a source explained to the Daily Mail earlier in September, King Charles was "completely bewildered" by the Sussexes' near-constant barrage of "painful" jibes aimed both at him personally and the royal family at large. 
Charles was particularly hurt by the Duchess of Sussex's recent interview with The Cut, in which she discussed how Prince Harry "lost" his father when they moved stateside. Although insiders clarified that it wasn't a reference to the king — but, actually, Meghan's own father — the damage was already done.
Charles considered them all on better terms following the queen's Platinum Jubilee and was shocked when more revelations came out in the press. As a friend of the king told The Sunday Times, "For two years, there has been a steady stream of really challenging things said about a man who cannot [publicly] defend himself by a couple he obviously loves and misses. That is incredibly difficult on a personal level." 
Sadly, Her Majesty was eager to see their rift finally end, too. Royal historian Robert Hardman, author of "Queen of Our Times: The Life of Elizabeth II," informed People that "she was one of the conduits between Windsor and California, and it would have been one of her dearest wishes that they patch things up." 
Another insider also proclaimed that, with Charles taking the throne, the whole family should come together to support him, regardless of what else is going on.