King Charles Is Taking His Sweet Time Deciding On Archie And Lilibet's Royal Titles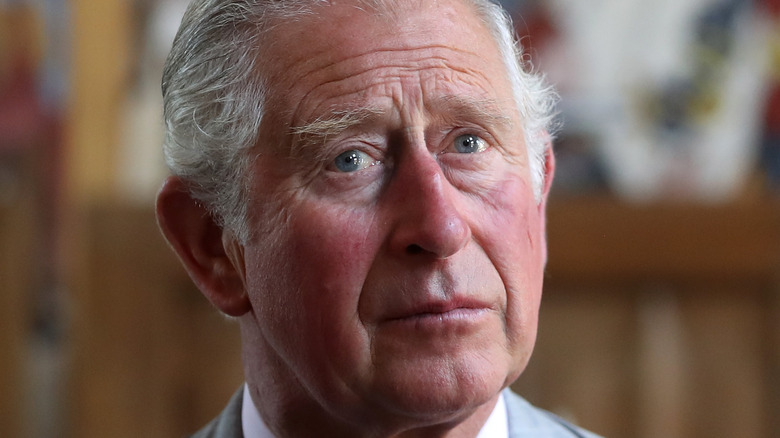 Chris Jackson/Getty Images
One of the most surprising elements of King Charles III's ascension is the revelation that Prince Harry and Meghan Markle's young children might be entitled to royal titles. There's so much confusion surrounding Archie and Lilibet's new titles because, per the Daily Mail, official rules dictate that the grandchildren of the ruling sovereign have the right to be given such honors. Likewise, they can use the Royal Highness title, too, if their parents wish. But nobody is sure whether it will actually happen.
During their infamous interview with Oprah Winfrey, Meghan acknowledged she had no attachment to the "grandeur" of a royal title but took issues with Archie being denied the opportunity, allegedly for racist reasons. According to The Sun, though, the king might decide to let the kids be prince and princess but prohibit Archie and Lilibet from utilizing the Royal Highness moniker because, as a source clarified, much like the Duke and Duchess of Sussex themselves, "they are not working royals."
The insider explained of the couple's reasoning, "Harry and Meghan were worried about the security issue, and being prince and princess brings them the right to have certain levels of royal security." As a result, "They have been left furious that Archie and Lilibet cannot take the title HRH." Either way, Charles is seemingly in no rush to confirm what he wants to do, especially judging by this latest report.
The Duke and Duchess of Sussex are reportedly infuriated by the delay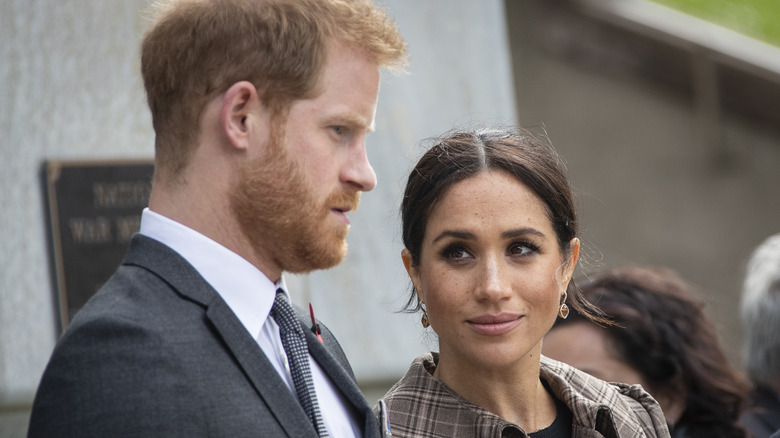 Pool/Getty Images
A royal expert claimed the only way Archie and Lilibet will receive titles is if Prince Harry and Meghan Markle make things right with King Charles. 
Speaking on True Royalty TV's "Royal Beat" podcast (via the Daily Mail), Katie Nicholl pointed out, "They remain 'Miss' and 'Master' currently [on the royal website]. And I'm told that that is a very clear signal from the king. He's willing to give those titles, but it comes with a caveat, and that caveat is trust. They have to know that they can trust the family."
According to fellow royal expert Roya Nikkhah, Charles still hasn't made his mind up, which is causing major issues for Meghan and Harry. "Father and son discussed it after the Queen's death, but it was unresolved," he wrote on Twitter. Nikkhah elaborated in a piece for The Times, revealing that the significant delay is "heightening tensions" between the Sussexes and the rest of Harry's family.
In fact, the Sussexes are "understood to fear the King may strip Archie and Lilibet of their titles after his reluctance immediately to recognize their elevated status after the Queen's death," so the couple is pushing hard to make it official ASAP.
Another source seemed pretty confident that it would work out, though, telling People, "Archie will almost certainly become a prince one day. Charles isn't going to disavow his grandson, so it's hugely unlikely that he'll change the rules to stop it happening."
Prince Harry must now prove his trustworthiness to the royal family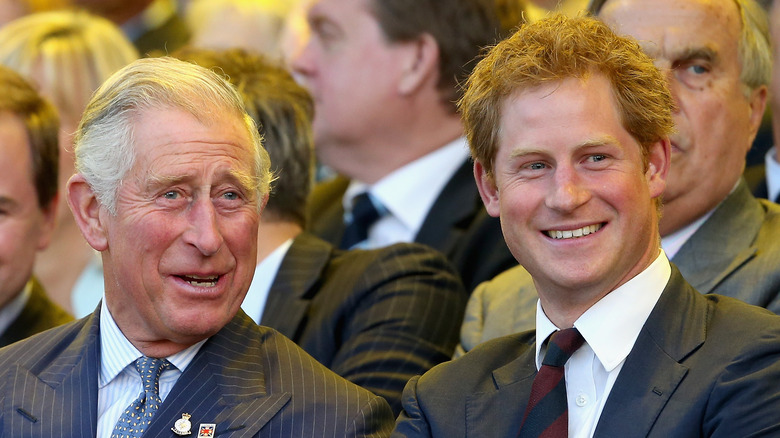 Chris Jackson/Getty Images
With tensions mounting among the estranged members of the royal family once again, experts agree that Prince Harry needs to cancel his bombshell memoir if he wants to reunite them and prove himself. The Telegraph confirmed that the book's release has been pushed back until 2023, but certain commentators believe that the Duke of Sussex should cancel it outright if he truly wants to make amends. 
Former Vanity Fair editor Tina Brown argued during an appearance on "Lorraine" that Harry could still find a place within the monarchy. "Unless he gives up his book and the tell-all documentaries and interviews then there can be no trust," she said, per the Daily Mail. 
Fellow experts Richard Fitzwilliams and Phil Dampier said likewise in a chat with the Daily Mail, warning that pushing forward with it would be a huge mistake for Harry. 
In fact, Express reports that, on a recent episode of "Breakfast with Eamonn and Isabel," royal expert Kinsey Schofield shared that the Duke of Sussex is desperately scrambling to "tone down" the book's contents. "He is afraid that he'll come off insensitive and he's afraid that there will be backlash if he releases some of these stories right after the death of Queen Elizabeth as his father King Charles is trying to start his reign on a high note," she said. 
As a result, the book, when it eventually comes out, may not resemble its original tell-all incarnation after all.