The List Survey: Who Was The Best Dressed At Queen Elizabeth's Funeral?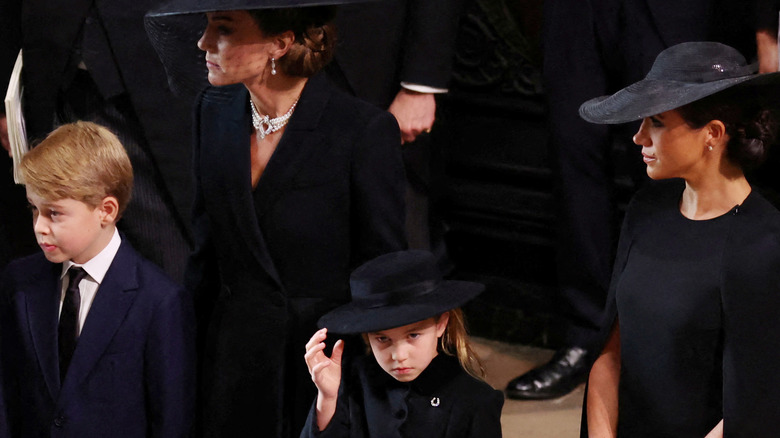 Wpa Pool/Getty Images
When Queen Elizabeth II died on September 8, it seemed the whole world entered a period of change. King Charles III began to navigate his new role as king while mourning the loss of his mother, brothers Prince Harry and Prince William attempted to resolve tensions as they celebrated the life of their grandmother, and millions of spectators gathered as the events of the queen's funeral took place (via BBC). The queen's funeral made history as the first funeral of a British monarch to be broadcasted, and over 26.2 million people watched in the U.K. alone, CNN reported. Spectators watched in awe as the royal family and invited guests paid their respects to the late queen, admiring the poise, respect, and fashion choices that each attendee presented.
Fashion is much more than just a glamorous outfit to be photographed; what you wear can tell a story, send a message, and pay tribute. Like so many things the royal family does, their fashion choices were deliberate and meaningful, showing their respects to the late Queen Elizabeth through subtle details in their outfits. To find out which looks fans are totally obsessed over, The List conducted a survey on YouTube asking "Who was the best dressed at Queen Elizabeth's funeral?" 107,000 people responded, and the results are clear. While all of the members of the royal family looked incredible, voters agreed that an elegant few stood out among the rest.
Over half of voters think this princess looked her absolute best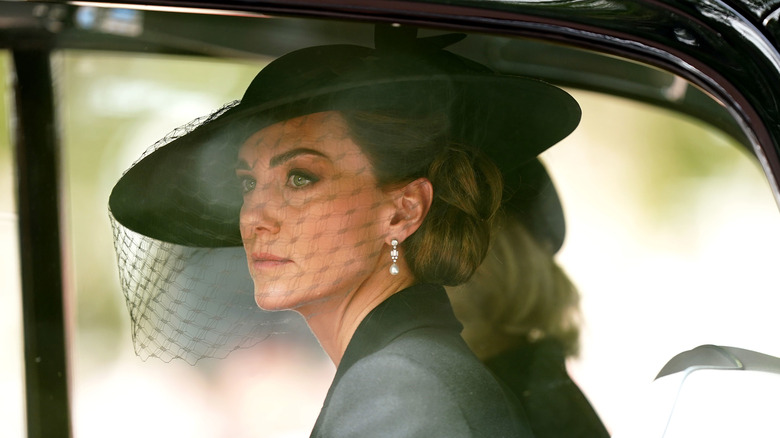 Wpa Pool/Getty Images
According to The List's survey, 56 percent of people agree that Catherine, Princess of Wales, was the best dressed. Elle reported that Princess Catherine wore a "black coat dress with a wide brim black hat and veil." She accessorized the look with a pearl necklace and earrings that belonged to her husband's late mother, Princess Diana, and the queen herself before that. Catherine's homage to her mother-in-law is especially meaningful as she and Prince William inherited the title of Prince and Princess of Wales, the titles that once belonged to Diana and King Charles III (via Marie Claire). Voters took to the comments to admire Catherine's simple and elegant fashion choice, saying, "Catherine always looks beautiful and her choices for clothes and jewelry are impeccable." Another voter agreed that "they all looked amazing, but HRH Princess of Wales, Catherine was exquisite, like all the time!"
Catherine wasn't the only member of her family to receive praise: in second place with 20 percent of the vote was Princess Charlotte. USA Today reported that Charlotte attended the funeral at her mother's side, wearing a simple black ensemble from head to toe. The young princess also accessorized with meaning by wearing a horseshoe brooch, representing her great-grandmother's love of horses. One voter shared their love of Princess Charlotte, commenting, "Our little princess Charlotte was The best dress. Love her!!"
Other royal family members that took our breath away at the queen's funeral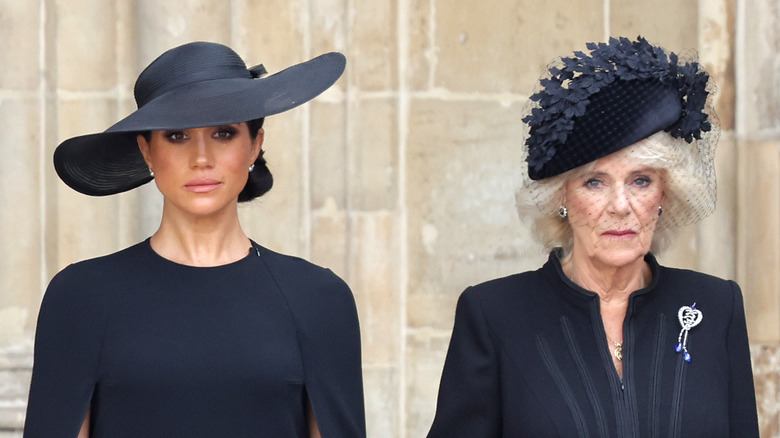 Chris Jackson/Getty Images
19 percent of voters thought Meghan Markle was the best dressed at the funeral. According to Elle, she wore "a wide brim black hat that complemented her understated cape dress." The Duchess of Sussex wore her hair up to accentuate the pearl earrings Queen Elizabeth gifted to her the year she and Prince Harry wed.
Sophie, Countess of Wessex, received 4 percent of the vote. Per Insider, the countess wore a black dress embroidered with lilies of the valley to the funeral, a touching nod to the queen's favorite flower. One voter was taken by the craftsmanship of the dress, commenting, "Sophie's dress was amazing in detail and deserves to be shown for all the hand embroidery, truly a work of art that should be highlighted."
Queen Consort Camilla, who received 1 percent of the overall vote, paid homage to her late mother-in-law by wearing a heart-shaped brooch with sapphires that was worn by Queen Victoria in 1897 for her diamond jubilee. Camilla previously wore the brooch at Queen Elizabeth's diamond celebration in 2012 (via Vogue).
We all might have our favorite royal family members, but voters can agree that everyone in attendance looked appropriately stunning. While spectators who watched from home may never know what it was really like to attend the queen's funeral, taking in how the family honored Her Majesty in their fashion choices was a special experience for many.