How Libra Season Will Affect You If You're A Sagittarius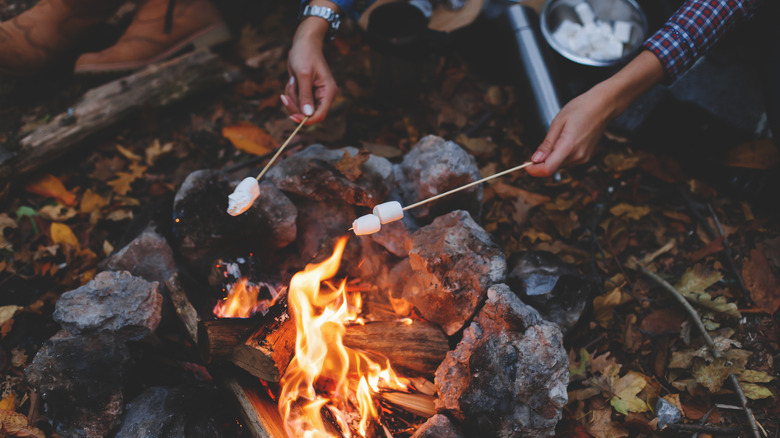 Nesolenaya Alexandra/Shutterstock
Libra, which translates to "scales" in Latin according to Woman & Home, is an astrological sign that prioritizes balance and peace. With Venus as Libra's ruling planet, it comes at no surprise that an influence from the heavenly body associated with love and beauty means Libra season will impact love lives across the zodiac's players. Cosmopolitan even pairs the air sign with the fall phenomenon of "cuffing season," a.k.a. getting into a relationship so you have someone to snuggle when the temperature drops.
The outlet confirms that as the relationship planet, Libra's season — which begins September 23 and ends October 22 – puts a premium on our interpersonal connections, whether they are romantic, platonic, or creatively informed. The sign at its best represents a balance between home and work, caretaking and self-love, per Nylon, and Libra season's major measure of success is how you're able to work with others to find both short and long-term solutions.
However, Cosmopolitan warns not to allow relationships to define you during Libra season, though this shouldn't be a problem for independent-minded Sagittarius. Their challenges in the month following September 25's new moon in Libra lie in using their charm for good, building a rapport with others, promising to show up and actually following through. Both Sag and Libra are known as social butterflies, but Sag may need to take notes from the zodiac's scales master on how socializing can be both generative and pushed to excess.
Libra helps Sag stay light on their feet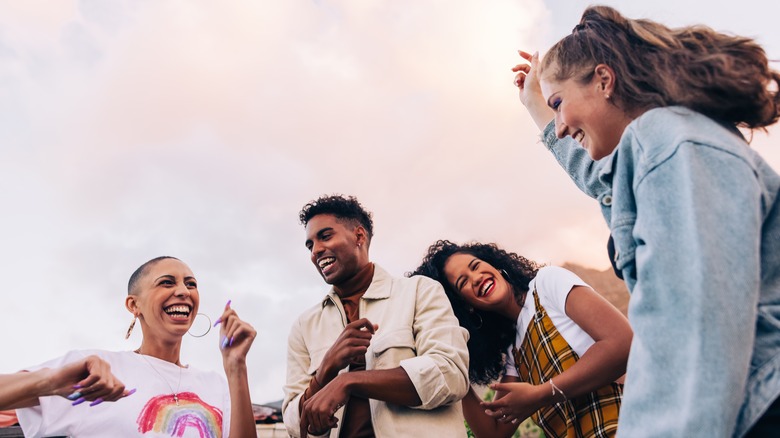 Jacob Lund/Shutterstock
Libra and Sagittarius approach life from similar stations, since neither sign wishes to take themselves or their problems overly seriously, per Them. Just as Libra is able to balance their perspective with others' points of view and come to measured and logical decisions, Sagittarius can trust the air sign to find the humor in heavy situations and maintain their sense of well-being even during stressful transitions. As the outlet points out, air feeds fire, and this fall will feel life-giving for Sag as they get ready to complete their year around the sun a few months after Libra.
Women's Health sees Libra season as super activating, especially thanks to its connections to intellectual Mercury and powerful Jupiter. The archer is never one to shy away from a new challenge, and the combination of crisp fall air and Mercury's focus on ideas, information, and communication will set Sagittarius up to brainstorm and put their plans into action on an impressive timeline. 
Even if factors of their plans start going haywire, Them assures the archer that their flexibility and quick thinking will always help them land on their feet. And airy Libra will always help soften the blow, reminding Sag of their signature optimism and go-getter instincts.
This season will be all about collaboration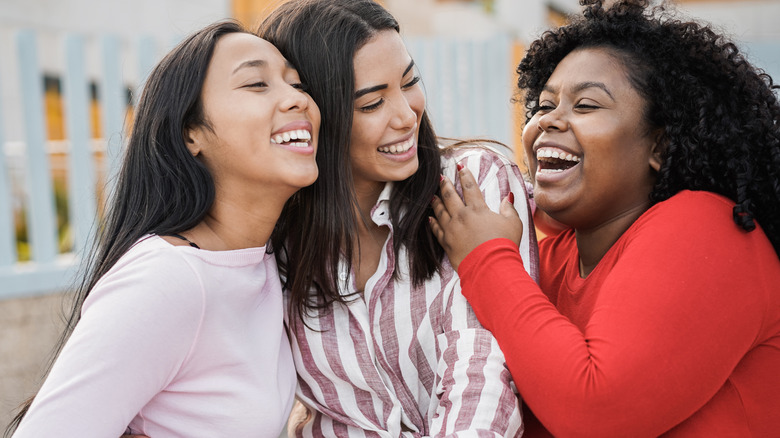 DisobeyArt/Shutterstock
It's important for the archer to remember that Mercury is still in retrograde until October 2, so unexpected players are likely to continue popping up in their daily lives, according to Cosmopolitan. Sag will take these surprises in stride, not letting others throw them off their game. At the same time, Sag is feeling especially part of the team these days, and will lend their enthusiasm and street smarts to friends and support their goals.
Sag may not tolerate flakiness well this month, per Women's Health, as it throws off their expectations and often leads to unwanted drama. The archer is looking to be surrounded by people who are as energized by and committed to their goals as they are, and wishy-washy personalities may be a turn-off at this juncture. It may seem counterintuitive for the eternal traveler to be excited about putting long-term plans in place, but this fall Sagittarius can channel Libra's talent for finding the perfect ratio between going out and recovering at home.
Per Them, Libra knows just the time to make their rounds in public, solidifying their status and charming reputation, before returning to the home front to focus on close relationships and self-improvement. Elle Australia advises all the fire signs — Aries, Leo, and Sag — to tap into this Libra energy, turning away from their public-facing personas in order to put diligent time and effort into helping their relationships grow.