Why You Might Want A Dramatic Haircut Before Going Platinum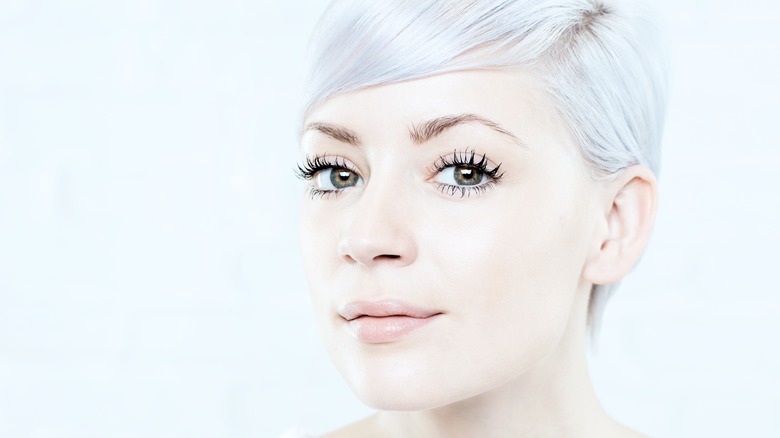 StockLite/Shutterstock
Going platinum blonde is a big undertaking. Platinum not only going to require lots of attention to keep it looking lustrous, but it's also going to necessitate that you regularly touch up new growth, which will grow quicker than you could ever imagine. At the very least, you'll need your roots done every four to six weeks (via Byrdie).
In addition, platinum isn't a color that is easily achieved, especially if you have dark hair or previously colored hair. Wella Professional Color Ambassador Jennifer J tells Women's Health that there are lots of questions to ask your stylist before taking the leap. "What you need to ask is, 'can my hair handle it?' 'How often will I need to do my roots?' Do you think it will look good on me?'" she explains.
Once you decide that you're going for it, there are a few things you'll want to do and one of the best may be cutting your hair short.
A short haircut can minimize damage and save time
AYA images/Shutterstock
For best results when going platinum, your hair should be free of dye. In today's era of ever-changing colors and hues, that can be easier said than done, and it's not only semi-permanent color that can impact results. Professional colorist Elizabeth Hiserodt tells Teen Vogue, "Even if it's just a gloss or toner, color in the hair affects the processing time and procedure."
Many colorists advise trimming your hair after you color it in order to remove damaged ends, as per BuzzFeed. This is especially true when dyeing your hair very light since going platinum can easily damage your hair. Cutting off a few inches or even more can get rid of a large amount of dry and split ends since hair closer to your scalp is newer, and typically in better condition. Opting for a pixie cut or even a bob will result in a more vibrant, healthy looking final result.
Also, dyeing your hair platinum is very time-consuming. You may need a round or two (or possibly more) of bleach but before toner is applied. Consequently, when your hair is shorter, it will cut down time at the salon considerably.
Dying shorter hair will keep the cost down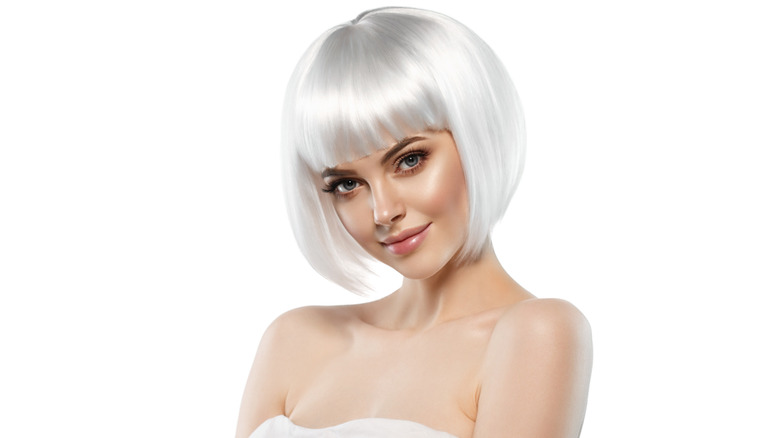 Irina Bg/Shutterstock
Though you may have an urge to grab a box of platinum at the pharmacy and dye your hair yourself, it may not be the best decision. Not only may you need multiple boxes, but there is the potential to unknowingly damage your hair beyond repair.
A professional stylist or colorist can help address issues that may prevent you from getting optimal results. They can also help make the process less painful (via Glamour). Applying bleach directly to your scalp can burn and it's always better to be in the hands of a professional. On top of that, the longer your hair, the more bleach you will need and whether you dye it at home or at a salon, longer locks will always cost more.
When you factor in the cost of toner, conditioners, and other products to upkeep your shade, it can get quite expensive. On the upside, short hair requires less of everything.