The Subtle Change A Celebrity Hairstylist Recommends For Getting Fall-Ready – Exclusive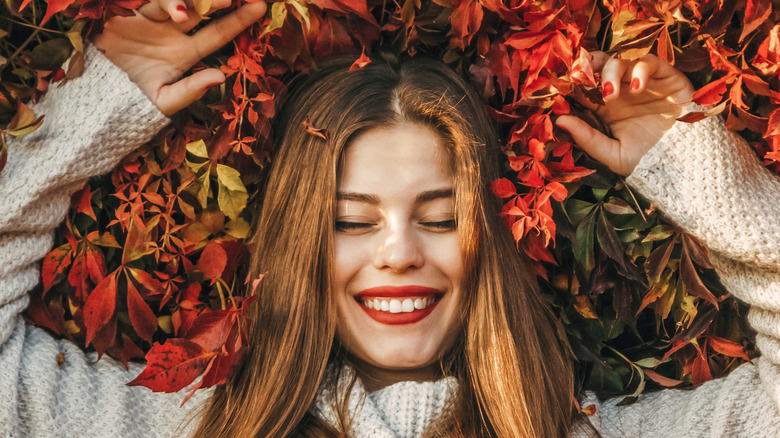 Irene Shy/Shutterstock
One of the best things about fall is the changing leaves and cooler temperatures, so we can finally say goodbye to non-stop sweating and extreme heat.
The change of season is also a great time to transition your hair color. If you went brighter and lighter in the summer, it's time to go a bit darker and richer irrespective of your current hair color, and the delicious strawberry hue trend works for everyone. Mark DeBolt, colorist and co-owner of New York's Mark Ryan Salon, told Glamour, "Red is always a great trend for fall because it complements many skin tones. There is a spectrum of commitment here too. In lieu of making a big change, you could try a strawberry gloss after a highlight refresh — it's very low-commitment." Who doesn't want low-commitment delicious hair while we're busy shopping for the holidays? It's one less thing to worry about. 
New Jersey-based expert hair colorist Caterina Alfieri further told Byrdie that warmer tones look great on all hair types. She added, "We all have the tones already existing in our hair, it's just a matter of exposing the right amount of warmth for our natural hair, or the overall look we're going for."
For the best fall hair color inspiration, we turned to Hollywood-based celebrity hair colorist Marco Pelusi. Previously, Pelusi told us how to get the hottest hair color for the summer, and here he's telling us how to transition into fall.
Marco Pelusi recommends choosing warm fall colors to match your warm beverages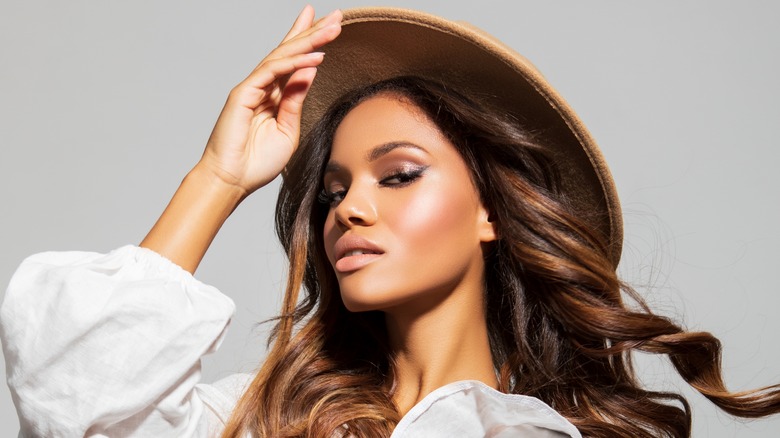 L Julia/Shutterstock
While some of us will forever stay loyal to summer with time by the pool, others are ready to rock their scarves and boots with their PSL in hand while strolling around farmer's markets. What a perfect time for your hair to match your drinks.
Marco Pelusi told The List, "Be seasonal! Allow your color to reflect the change in seasons. Similar to how our food and drink shifts to warmer beverages, and comfort foods, and pumpkin spice, and other flavors, we can also reflect the seasonal change with a shift in our hair color, to be warmer, deeper, darker and richer." According to Pelusi, going warmer works for all hair colors. He told us, "For brunettes, it could mean going a shade deeper. For blondes, it could mean the addition of lowlights. For reds, it could mean a more vibrant red; a richer red tone."
The shades of red are here to stay, and this summer if you went copper — which was the buzziest shade — you can still keep it with a little twist. Celebrity hairstylist Mia Santiago recommends choosing toasty copper browns as they are more fall-friendly (via Bustle).
There are more pros to going darker in the fall, as Pelusi told us, "By deepening and richening the color, your hair will hopefully appear healthier, and will hopefully look less dry, since that's what we are trying to avoid."  
How to keep your fall hair color vibrant
Edward Berthelot/Getty Images
While the fall sun might be less brutal to your new hair color than the hotter summer rays, you still need to care for your hair color so it stays vibrant. No matter the season, one of the first no-no's right after coloring your hair comes when you wash it first.
Previously Marco Pelusi told The List how long we should wait before washing our hair after a fresh color job. He said, "Manufacturers recommend 48 hours, after a color service, to wait to shampoo — and I say, why not make it an even 72 hours? Prolong the shampoo, and prolong the life of the color." This way, you'll allow the color to stay longer, so don't rush to shampoo your hair; be patient. He added that choosing shampoos and conditioners made for colored hair is key to longevity.
You might leave the salon with the hair color of your dreams, but it will fade faster if you don't care for it at home. "At-home care is imperative to achieving and maintaining any desired hair color, and with so many products on the market, it's easier now than ever. I love the Gem Lites shampoos for at-home maintenance and refreshing," Caterina Alfieri, an expert hair colorist at New Jersey's Mancuso Salon, told Byrdie.
We love the changing colors of the fall, and taking care of your hair color will keep it looking vibrant the entire season.