Here's Why You Should Use Blacklight Nail Polish For Halloween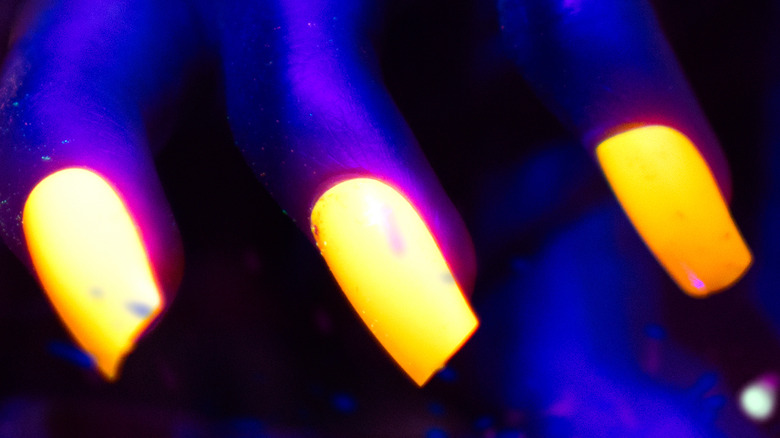 Subbotina Anna/Shutterstock
We may receive a commission on purchases made from links.
Nothing makes us feel more confident than rocking a fresh manicure! From the nail polish color that was taking over summer 2022 to the drugstore nail polish that is least likely to chip, we're always looking for excuses to buy more nail polish — and we all know that the Halloween season is an excellent time to experiment. Whether you decide to rock orange and black nails in honor of Halloween or paint your nails to match your costume, fall is one of the best times of the year to explore manicure options. Think of it this way: you won't have to worry about your polish coming off in the pool or ocean as you do in the summer, and your hands won't be hiding under gloves like they often do in the winter.
Plus, the Halloween nail art design options are endless; there are over a million posts devoted to #halloweennails on Instagram! But why not take your Halloween manicure one step bolder with a blacklight nail polish?
There are countless design ideas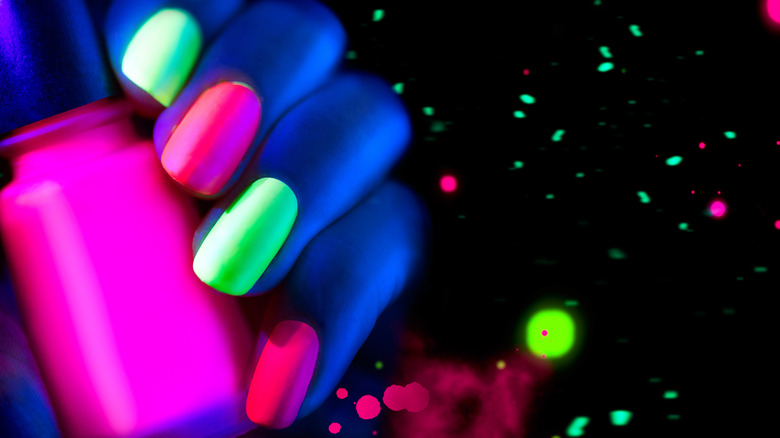 Subbotina Anna/Shutterstock
Think of how much cooler your favorite Halloween-inspired nail designs would look if they could glow! For instance, try creating Halloween-esque nail art – such as moons and snakes — as you typically would in orange and black nail polish. But do it over a blacklight background nail polish for a fun twist. This will instantly elevate the manicure. For a more ghostly theme, try using slim brushes dipped in blacklight nail polish to paint ghosts, or write "BOO" on your nails for a glowy, ghost–inspired theme.
You can find a plethora of ideas on TikTok, too, such as painting creepy black cemetery-inspired designs over a glowing green background. This design may be somewhat advanced, but remember that practice makes perfect — or at least leads to improvement. Furthermore, spider and spiderweb designs are always great for the Halloween season and will look extra intriguing when they glow in some settings. Glowing, magical moons and stars will also look amazing all year, but even more so on Halloween! Or, for a scarier spin on the idea, try painting red blood stains over your blacklight nail polish for a bold, bloody statement appropriate for the scariest season of the year.
You'll stand out all night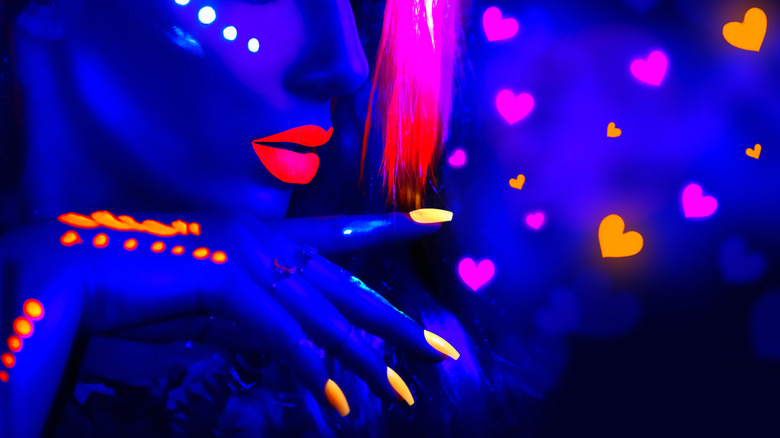 Subbotina Anna/Shutterstock
Another fun aspect of a blacklight Halloween manicure is that those glowing nails will help whoever wears them stand out. Teenagers will feel like they're the coolest people in school when they flaunt glowy nails at the Halloween school dance or party. And for college students and other adults who like to party, what better place to wear your glowing nail polish than a nightclub or rave? You'll look incredible as your nails glow in the dark scene under the flashing lights! So, are you ready to invest in some blacklight nail polish?
If you want more than one color of blacklight nail polish, you should consider the UV Glow Blacklight Nail Polish — 6 Color Variety Pack, so you'll get glowing yellow, pink, green, orange, purple, and blue nail polishes. This bold set of hues sells on Amazon for around $25 and has 4.3 out of five stars. On the other hand, anyone who prefers more of a glitter effect should consider the Direct Glow UV Blacklight Reactive Neon Glitter Nail Polish — Funfetti. Available at Walmart for under $15, this glowy nail polish is super colorful and perfect for partying.