The Nail Polish Color That Is Taking Over Summer 2022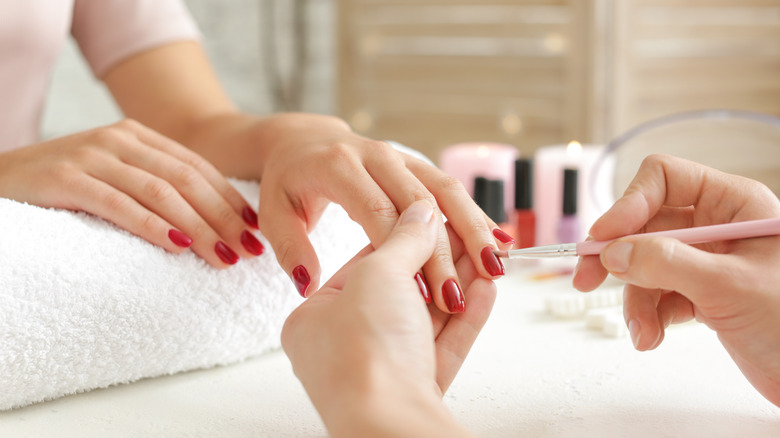 Pixel-Shot/Shutterstock
Nail polish is a great way to add flair to any outfit and express your inner artist, whether you do it yourself at home or have a standing weekly appointment with your nail tech. Painting nails is an age-old tradition: According to Good Housekeeping, nail polish has been around since 3000 BC, with origins in China and ancient Egypt, and only the wealthy had access to vibrant hues. Nail polish has come a long way since its original recipe of beeswax, egg whites, and vegetable dyes. Nowadays, getting your nails done is as easy as taking a trip to your local salon.
Getting a manicure can be expensive, so when you do find the time to treat yourself this summer, it's important that you pick the perfect shade to fit your vibe. But with so many colors to choose from, which shade will help you achieve the ultimate sunny aesthetic? To find out which color is totally trending this season, The List conducted a survey asking 558 people, "Which is your favorite nail polish color for summer?" The results have us wishing summer would never end so we can try all the adorable summertime hues!
This nail polish shade is our first choice all summer long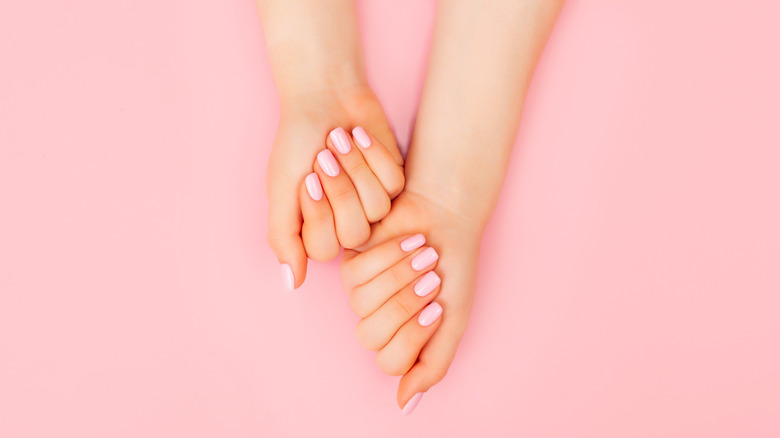 Konstantin_Ivlev/Shutterstock
According to The List's survey, 30.65% of people are painting their nails "Pretty in Pink" this summer! The bright pink hue is feminine and fun, and goes well with almost anything. It's no surprise that pink took first place: Harper's Bazaar reports that shades of pink are totally trending this year in the world of fashion.
The runner up nail polish color was "Sky Blue" with 21.51% of the vote, followed closely by "Candy Apple Red" with just over 20%. "Bright White" earned 14.52% of the vote, a great go-to for all the minimalist lovers out there who prefer a clean look to match their capsule wardrobe full of neutrals. Only 7% of voters preferred the fruity hue "Juicy Orange," while "Dandelion Yellow" was dubbed the most popular summer shade by 6.27% of voters.
All of these colors scream summer, which has us wondering if we should just paint each fingernail a different color? It might not match most of our outfits, but it would definitely remind us of a beach ball by the pool on a hot day.
Pink is the new black in 2022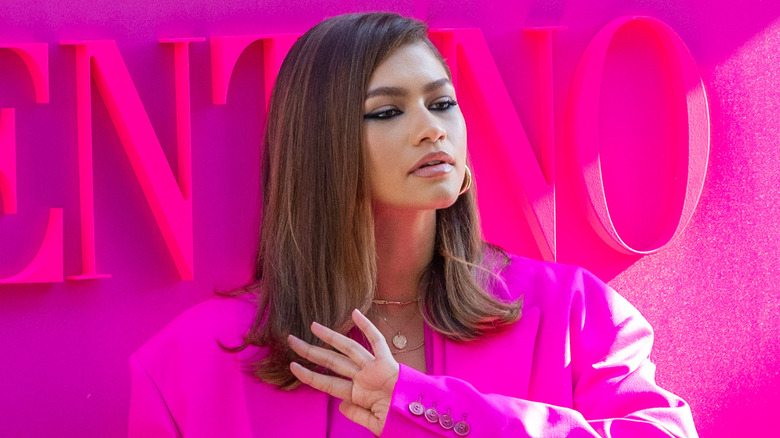 Arnold Jerocki/Getty Images
Pink is having a moment yet again, and we are not surprised. According to Verywell Mind, color psychology tells us that pink is a "calming color associated with love, kindness, and femininity." Responses to the color may vary based on shade: soft pinks like the historic "Drunk Tank Pink" was used in prisons to encourage a serene environment, per Color Matters, while more vibrant shades of pink tend to elicit more energetic responses. Whether they're styling their new line of clothing or painting the next famous artwork, artists and designers use color psychology to their advantage, encouraging consumers to interact with items based on how the color makes them feel (via Hunar Courses).
Pink is totally trending in this summer's fashion, with celebrities like Lizzo and Zendaya gracing red carpets in stunning hot pink hues (via USA Today). Designer Valentino brought hot pink to the runway during Paris Fashion Week this year, showing off an entire line of vibrant all-pink looks (Via Marie Claire). One pink trend that is totally hot right now is Barbiecore: Etsy trend expert Dayna Isom Johnson told People that you can achieve the '80s-inspired aesthetic by dressing in "vibrant hues," especially hot pink, with high pumps and lots of shiny accessories. According to Refinery29, Barbiecore may have emerged in anticipation for the live-action "Barbie" movie directed by Greta Gerwig. To achieve this fun and flirty aesthetic, look for these Barbiecore essentials to add to your wardrobe.