Who Was Nicolle Wallace's First Husband?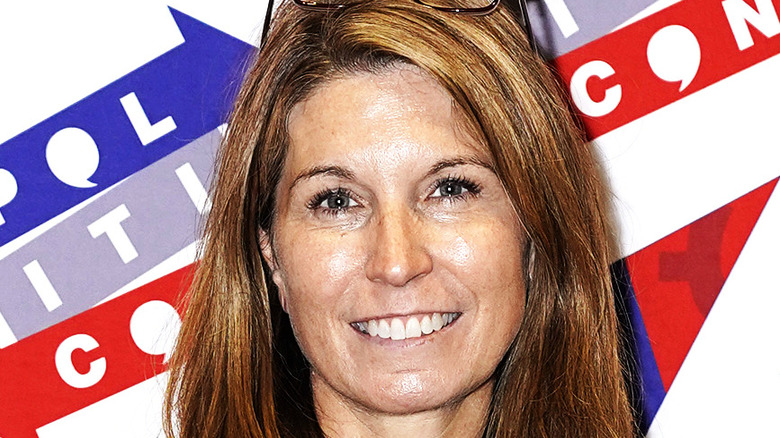 Ed Rode/Getty Images
Nicolle Wallace is probably one of the most recognizable faces in media today. Her former positions include being the communications director for former President George W. Bush and top advisor to Senator John McCain during his 2008 presidential campaign, via Business Insider. But as her opinion of the Republican Party soured, so too did her alignment with the GOP. She's not alone; even GOP supporter Meghan McCain has spoken out against today's Republican party.
Wallace has certainly had a change of heart since her days as an employee of some of the biggest Republican names in politics. Today Wallace acts as the liberal-leaning spitfire host of MSNBC's Deadline: White House where she breaks down the latest hectic happenings in Washington, D.C., chastises politicians, and dishes out her opinions.
Her political stance isn't the only change she's made in her life. Recently the MSNBC host married New York Times correspondent Michael Schmidt after a divorce. While Michael Schmidt is a fairly high-profile name when it comes to politics, you may be surprised to find out who Wallace's first husband was and how closely linked he is to the world of politics.
Nicolle Wallace's first husband was Mark Wallace
A 2018 survey conducted by Vault found that a whopping 52% of employees have participated in an office romance, via Business Insider. So it might come as no surprise that the campaign trail is likely the place where Nicolle Wallace met her first husband, Mark Wallace.
Mark Wallace is a name that is probably familiar to those who live and breathe politics. He has a political background that bears a striking resemblance to that of his ex-wife's. According to People, Wallace was appointed by former President George W. Bush — who Nicolle was also an employee for — to be the U.S. Ambassador to the United Nations in 2005. He served in that position until 2019. He currently serves as the CEO of the Counter Extremist Project, an international policy organization working to put a stop to extremist ideologies around the world.
The ex-couple share one son named Liam. They've been co-parenting since their divorce in 2019.
After her divorce from Mark, Nicolle started dating Michael Schmidt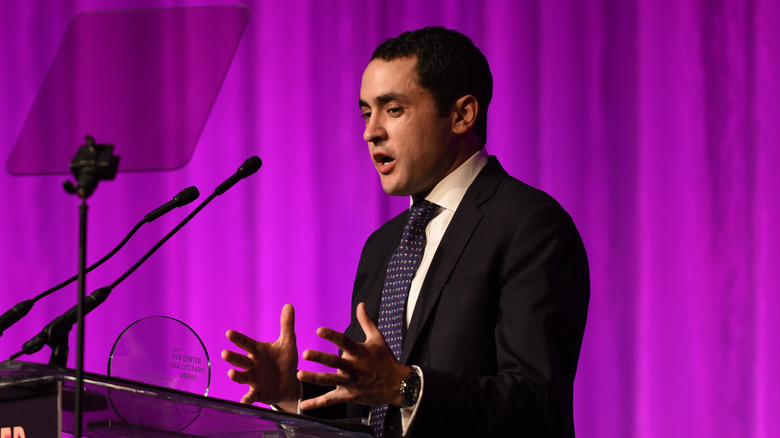 Lilly Lawrence/Getty Images
Nicolle Wallace recently married Michael Schmidt, a New York Times writer and MSNBC contributor. The two first met during an interview on Wallace's show Deadline: White House, revealed Page Six, and began dating in March 2019, the same year that she was going through a divorce with Mark Wallace. Schmidt and Wallace proceeded to be married during the first weekend of April this year. From what we know of Wallace's wedding, it was a quiet and intimate affair that the couple very successfully kept under wraps from prying eyes. It wasn't until Wallace appeared onscreen with a wedding band on that viewers had a clue there had been wedding bells on the host's mind.
Wallace and Schmidt may have bonded over their shared passion for politics. Both wholeheartedly disagree with the actions former President Donald Trump took while he was in office. In a MSNBC report shared on YouTube, Wallace is seen to be critical of the 45th POTUS and links his decisions to be beneficial to Russia, not America. Schmidt has won the Pulitzer Prize multiple times for his hard-hitting journalism, including an article in which he also linked Trump's campaign to Russia, via The New York Times.