What Bold And The Beautiful Fans Really Think Of Brooke's Reaction To Thomas Cutting An Apple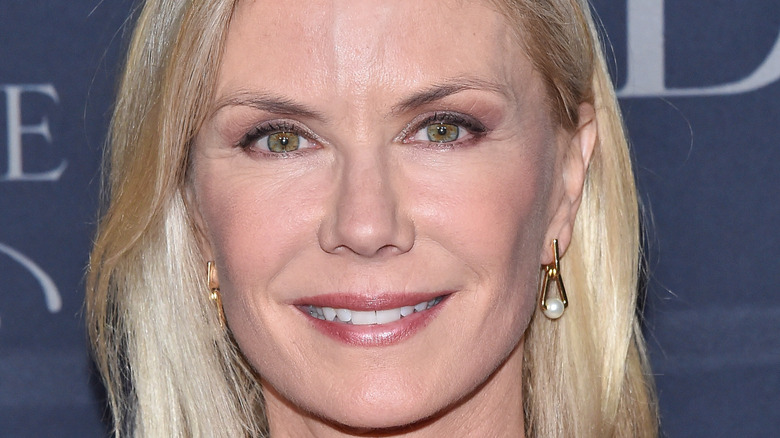 DFree/Shutterstock
It would be the understatement of the century to say that Brooke Logan (Katherine Kelly Lang) has a vendetta against Thomas Forrester (Matthew Atkinson). Whether warranted or not, Brooke continues to look for the bad in Thomas in every situation. Granted, Thomas' past obsession with her daughter Hope Spencer (Annika Noelle), including him falling in love with a mannequin, is enough to keep a mother concerned forever. However, on the outside, Thomas appears to have been making significant strides at getting his life together to be a better father for Douglas Forrester (Django Ferri). Despite this, Brooke is insistent that Thomas is not fit to be the primary caretaker of Douglas (via Soaps In Depth).
Brooke's determination to keep Douglas with Hope and Liam Spencer (Scott Clifton) led to a bizarre confrontation involving a knife and an apple between Thomas and herself. Brooke recounted the incident to her daughter and son-in-law, making Thomas out to be as unstable and menacing as ever. The stakes are higher than ever because this could lead to a blowout custody battle for Douglas between embattled exes Thomas and Hope (via Soaps).
However, not everyone sees things the way Brooke does. Viewers are all over social media giving their input on the incident. While some see the concern for Douglas's safety, most fans quickly slam Brooke for exaggerating the incident and making Thomas out to be the bad guy. 
Viewers believe Brooke is exaggerating knife incident
The official Twitter account for "The Bold and the Beautiful" uploaded a clip from one of this week's episodes, making soap fans angry about Brooke Logan's actions. After an incident with Thomas Forrester that saw him strangely wielding a knife while cutting an apple, Brooke took this as an opportunity to attack his character further. She didn't waste any time taking the information to Hope and Liam as a way to convince them that Thomas isn't what's best for Douglas.
Fans are not taking too kindly to Brooke's actions regarding this. One viewer sick of Brooke's involvement in this tweeted, "stop trying to justify this story of taking a child from his father, the only parent he's known his whole life. Liam & Brooke need to be out of this story completely. Let Thomas & Hope figure this out themselves." Another fan applauded Hope while attacking Brooke, writing, "I really admire Hope for considering Douglas' feelings. Brooke, on the other hand, is really making a big deal out of nothing. She doesn't care about Douglas like that ... she just wants to keep Hope's little family intact, while sticking it to Taylor and her kids."
However, not everyone on Twitter was against Brooke. One viewer saw the danger of the situation, tweeting, "He was threatening her and waving the knife around and even pointed it at her. She's wasn't overreacting."