Are General Hospital Fans Thrilled Or Chilled By Sonny Corinthos' Mobster Return?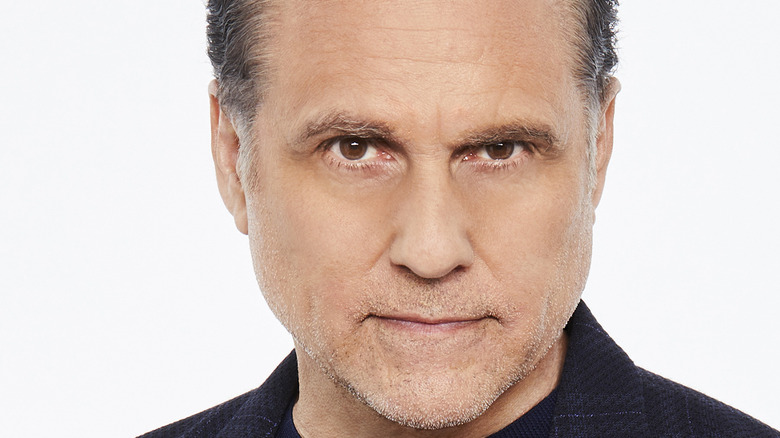 ABC/Ricky Middlesworth
On "General Hospital," someone is going around Port Charles stabbing people with a large hook, keeping the fans guessing as to who it could be, per Soap Spoiler. The first victim, Ava Jerome (Maura West), survived so the mysterious attacker upped the ante by lacing the hook with a reptile toxin. Brando Corbin (Johnny Wactor), the second victim, died from the poison. The doctors at General Hospital figured out what killed Brando and are prepared to use an anti-venom on the third victim, Diane Miller (Carolyn Hennesy).
After suffering from amnesia some time ago, mob boss Sonny Corinthos' (Maurice Benard) personality changed and when he regained his memories he became a kinder person. However, over a short amount of time, his lighter tone changed and his darker side re-emerged (via Celeb Dirty Laundry). Mobster-in-training Dex Heller (Evan Hofer) — who is secretly working for Michael Corinthos (Chad Duell) to take down Sonny — was at the scene of all three attacks, saving the lives of Ava and Diane. However, he is currently the prime suspect in the assaults, causing some fan debate. Sonny, Dex's boss and mentor, has grown suspicious of the young man and had him suspended by his hands in a store room. When Dex didn't give the answers Sonny wanted to hear, the mob boss brought in a ringer named Carlos who is proficient in torture methods, according to Soaps She Knows.
Fans responded to Sonny's return to being a more menacing and merciless mobster.
Fans react to Sonny's return to darkness
On "General Hospital," mafia don Sonny Corinthos had his lieutenant, Dex Heller (Evan Hofer), strung up so he would admit to being "The Hook" killer. The show's official Twitter page posted, "Dex is about to find out why no one crosses Sonny Corinthos. How will he talk his way out of this one?" Fans enjoyed seeing the return of Sonny's darker side with one replying, "Nobody messes with Sonny," while another said, "Yay old Sonny is creeping back now bring on the mob war and we're set for some good episodes."
A rejoicing fan wrote, "Yes ... Finally a little bit of Sonny is back." Another posted "Damn Sonny was so good today loved the grin." A reply analyzing the plot said, "Sonny will find out soon that Dex is working for Michael-either Sonny's man will get it out of Dex, or Michael will spill the beans to save Dex!!!!" while another insightfully replied, "Keep him tied up for a while so we can see if anyone else gets attacked by the hook with venom."
A viewer who enjoyed the episode stated, "This was such a fun episode. As much as I like Dex, it was so entertaining to see that switch flipped in Sonny. Michael isn't worth it, sing like a canary Dex!" Unhappy posts were in the minority, with one summing them up saying, "This was very unnecessary! I didn't like this at all."
A hilarious post simply said, "#YIKES."