Marjorie Taylor Greene's Relationship News Has Twitter In A Tizzy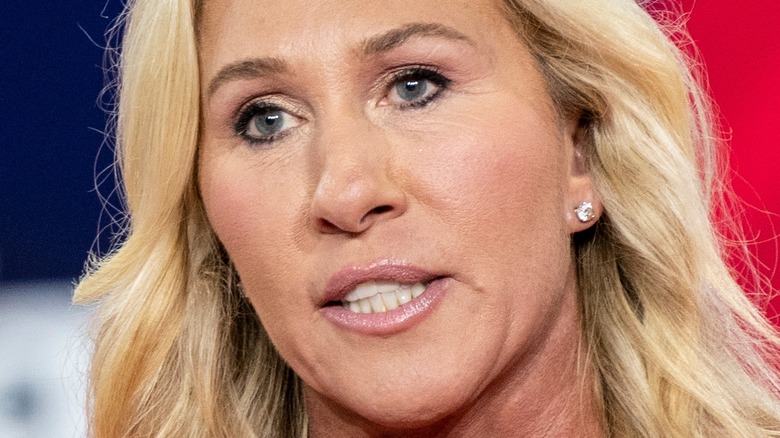 lev radin/Shutterstock
Marjorie Taylor Greene, a congresswoman from Georgia, has been sparking controversies since she was elected as a representative in 2020. Back in May, she won her primary in the 14th district of Georgia, though some tried to prevent her from getting on the ballot, claiming she encouraged the January 6th insurrection, PBS reported.
The insurrection has been one of the biggest controversies surrounding Greene, who firmly believed that former President Donald Trump won the 2020 election, though there is no proof of any election fraud. That's not where the controversies end for the congresswoman, however.
Following in the footsteps of Trump, Green was banned from Twitter in 2021 for spreading false information about the COVID-19 pandemic (per People). She has also found herself in heated public arguments with everyone from Liz Cheney to Alexandria Ocasio-Cortez.
Now, the congresswoman is causing a stir online with her latest relationship news, and Twitter is not holding back.
Twitter was quick to call out her hypocrisy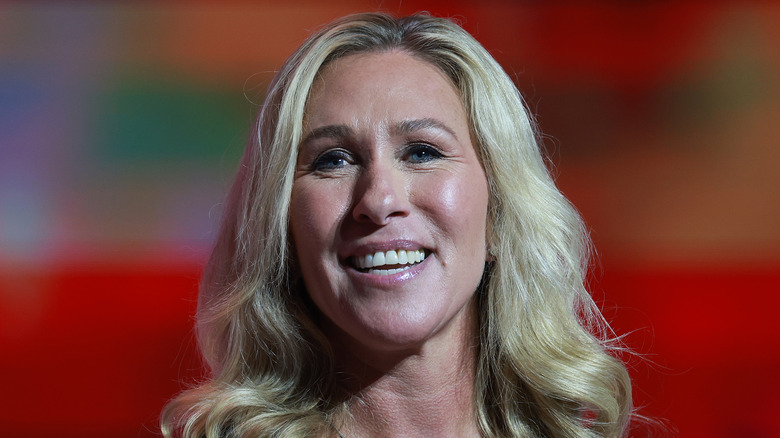 Joe Raedle/Getty Images
It was just announced that United States Representative Marjorie Taylor Greene and her husband of 27 years, Perry Greene, are getting a divorce (via The Daily Beast). Her husband filed for divorce, citing that the marriage was "irretrievably broken."
Marjorie told the publication, "Marriage is a wonderful thing and I'm a firm believer in it. Our society is formed by a husband and wife creating a family to nurture and protect. Together, Perry and I formed our family and raised three great kids." She continued, "He gave me the best job title you can ever earn: Mom. I'll always be grateful for how great of a dad he is to our children. This is a private and personal matter and I ask that the media respect our privacy at this time."
The news of her divorce has Twitter in a tizzy. The platform was quickly calling out the congresswoman's hypocrisy. One user wrote, "Marjorie Taylor Greene, who stalked Parkland shooting survivors, would like the media to respect her privacy during this difficult time." Another chimed in, "I'll respect Marjorie Taylor Greene's privacy surrounding her husband filing for divorce from her about as much as she respects the privacy of a woman's deeply personal medical and reproductive choices."
More tweets on the topic include, "PRO TIP: If Marjorie Taylor Greene's husband can divorce her, so can the American people," and, "Congratulations to Marjorie Taylor Greene's husband for making the best decision he has ever made," just to share a few!