Kate Middleton Wears The Perfect Color To Meet With The Royal Navy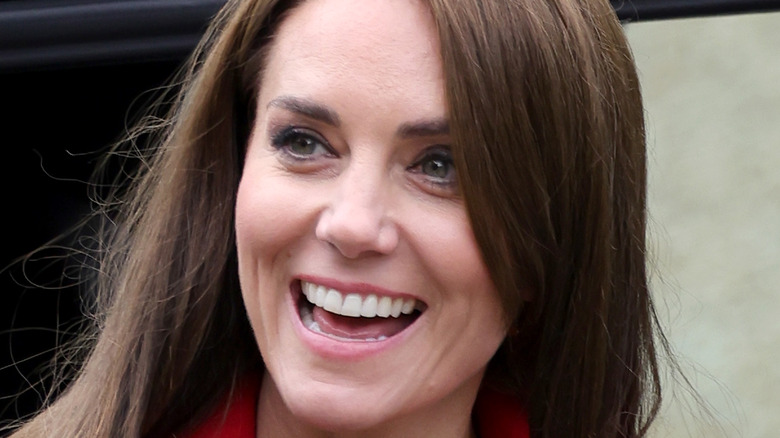 Chris Jackson/Getty Images
Kate Middleton seems to always know how to dress for any occasion. Take her arrival in Wales earlier in the week, a trip that marked the new Princess of Wales' first foray into the country since assuming the title that used to belong to her late mother-in-law Princess Diana. Incidentally, this is just one styling Kate will be known as, with the royal having also inherited the titles of Duchess of Cornwall to add to the title of Duchess of Cambridge, which the Queen bestowed upon her on her wedding day. The media has been quite confused by all the titles, it's worth noting.
Back to the princess' fashion prowess, the one-day queen consort donned a brightly-hued jacket that both paid homage to Welsh red and Diana's own ensemble selection when she visited Wales back in 1981.
And now, the Princess of Wales has wowed fans with another on-target outfit upon returning to Windsor Castle. As the Prince and Princess of Wales official Twitter account shared Thursday, Kate met with the Royal Navy "learning more about their roles and what's next on the route to getting her in the water."
You can probably guess what color Kate chose for the meeting.
Kate Middleton leans heavily on one specific designer
Kate Middleton's navy suit, which she chose to speak with the Royal Navy, is by a designer that the royal has long been devoted to (via Town & Country). Her admirers know how Alexander McQueen is one of the princess' favorite labels. One of the most famous instances of Kate donning McQueen includes, yes, her wedding day (via Vogue). You may also recall how the Princess of Wales chose the designer for her 40th birthday portraits.
Kate has been favoring suits by Alexander McQueen of late, having worn a pink version of the professional look back in June. It's worth noting that while we admire the royal for rewearing styles she knows she looks good in, just the blazer alone for the outfit costs nearly $2,000.
Not that this suit is the most expensive fashion the Princess of Wales has ever worn. Her wardrobe includes a $10,000 dress, and an equally-pricey skirt and coat by Chanel, as well as several multi-thousand dollar coats and ensembles worthy of, well, a princess (via Cafemom).