Prince William And Prince Harry's Relationship After The Queen's Death May Depend On One Thing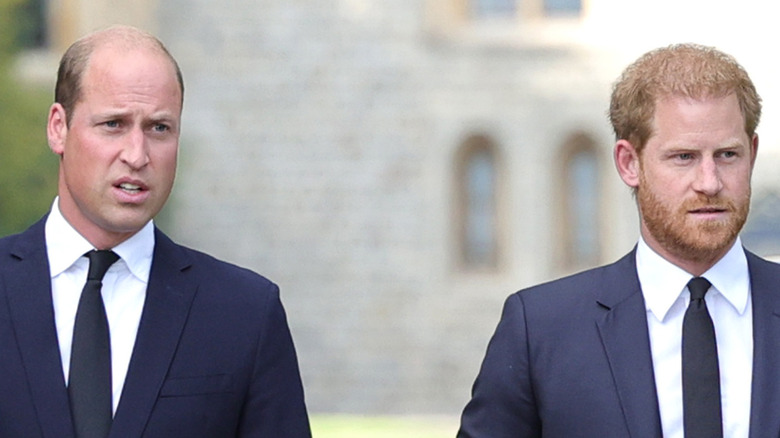 Chris Jackson/Getty Images
Royal watchers were thrilled to see the warring brothers back together again, but William and Harry's outing after the queen's death was reportedly more uncomfortable than it looked. The estranged siblings reunited publicly for the first time in over a year, to mourn the loss of their beloved grandmother, Queen Elizabeth II. However, as insiders clarified to People, it was an emotionally draining situation all round, and the princes were focused on the task at hand rather than on fixing their strained relationship.
As one source stated plainly, "It was awkward." The Prince of Wales personally reached out to his younger brother to invite Prince Harry and fellow royal defector Meghan Markle to the walkabout at Windsor Castle, believing it "was an important show of unity at an incredibly difficult time for the family," according to an insider. There's still a long way to go to sort things out, though, with royal expert Katie Nicholl opining on "Dan Wootton Tonight" (via the Daily Mail) that, for William, there might be no going back.
Nicholl asserted, "William simply can't forgive [Harry], not just for his behavior and what he's done and how he's done it but look at how much now rests on William." As a result, any hope of the once-close brothers getting back to a good place may rest on one fragile element alone.
The royal family isn't sure where Prince Harry stands yet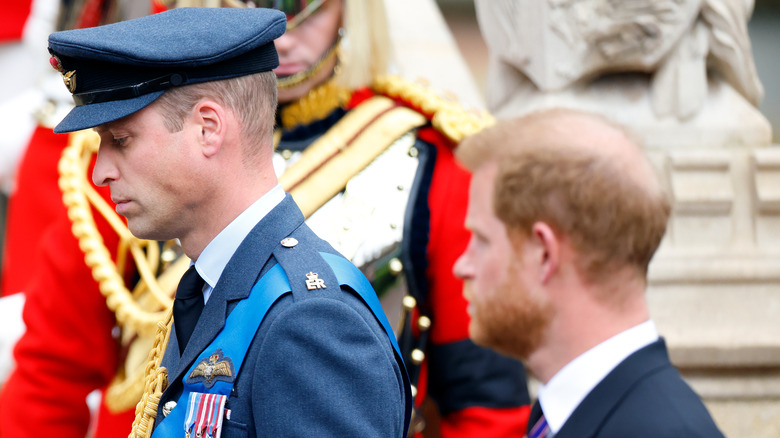 Max Mumby/indigo/Getty Images
Although Prince William and Prince Harry are believed to have reached some kind of respite, for the sake of mourning the queen, no real progress can be made until William, and indeed the rest of The Firm, knows what's in Harry's memoir. The Mirror reports that, despite appearing in public together only a short while ago, their relationship is hanging by a thread. Sources even shared that the brothers made no plans to see each other outside of their official duties during the mourning period.
As one insider put it, "Any talk of a truce between the Prince and the Duke would only be temporary." They continued, "There is still a serious amount of distrust in the air and there hasn't been any cause for that to change. The feeling is very much that there is little point in pursuing a repair in relations until all the cards are on the table." The insider was referring to Harry's upcoming memoir, the release of which has been postponed until 2023 out of respect for Her Majesty. 
Both William and King Charles are growing increasingly concerned about the book's contents, making reconciliation "very unlikely." The Duke and Duchess of Sussex mourned the queen alongside them, but the couple remained on the outside regardless. Meghan and Harry's seating arrangement at the queen's funeral raised eyebrows when they were placed in the second row, while everyone else sat up front, per Page Six.
Is the Duke of Sussex having second thoughts about his memoir?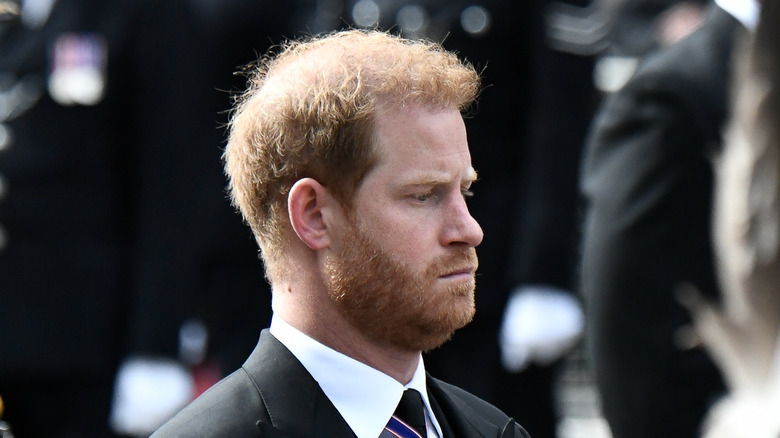 Wpa Pool/Getty Images
Prince Harry's tell-all memoir has been creating controversy for a while now, despite the fact it's yet to be released. A publishing insider memorably promised Page Six: "There is some content in there that should make his family nervous." Following the death of Queen Elizabeth II, however, everything is up in the air. In fact, reports suggest the Duke and Duchess of Sussex are even contemplating editing their upcoming docuseries to make it less critical of the royal family. 
Page Six notes the couple are desperately trying to soften the reality show, which was originally set for release in December, to encourage King Charles to give their children royal titles. "I hear that Harry and Meghan want the series to be held until next year, they want to stall," one industry source claimed. Reportedly, Netflix is still putting pressure on the couple to get the show done and prepare it for release ASAP. 
Likewise, per Express, Harry is feeling the pressure to change some of the stuff in his memoir, too. Royal commentator Josh Rom revealed, "Prince Harry is scrambling, is the word, to re-edit some chapters, some passages of his book." The duke is worried about the public turning on him even more, given the goodwill his estranged family received in the wake of their loss. At the same time, "Ultimately, Prince Harry and Meghan Markle care about one thing and one thing only and that is brand Sussex."