Kate Middleton's Pearls Mean More Than You Realize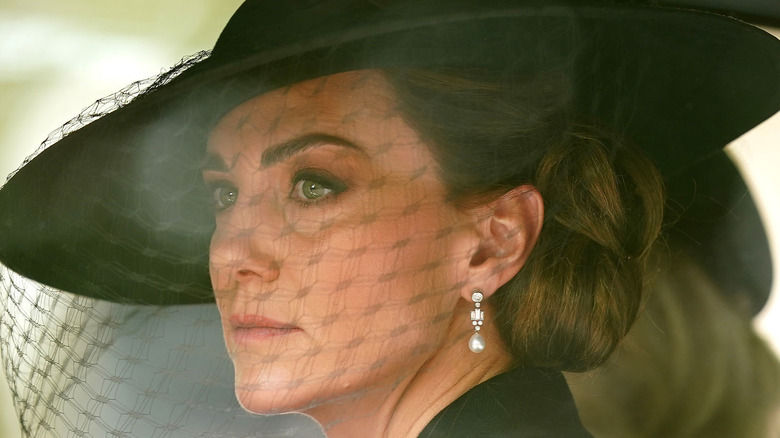 Wpa Pool/Getty Images
Millions of people watched the funeral and committal service for Queen Elizabeth II, and the royal family was inherently in the spotlight. William, Prince of Wales and Catherine, Princess of Wales brought their eldest two children, Prince George and Princess Charlotte, to the funeral, and people were impressed about how well behaved the two young royals were. People also took notice of the smallest details in how the royals were dressed for the funeral and in the events leading up to it — from Prince Harry's military uniform to the brooch that Princess Charlotte wore to the funeral. Both Sophie, Countess of Sussex and Kate Middleton also wore jewelry that was a tribute to the queen. For Kate Middleton's part, she wore a four-strand pearl and diamond choker, which was from the queen's collection, and the Bahrain Pearl Drop Earrings that were a wedding gift to the queen in 1947, according to People. Kate wore the same jewelry to Prince Philip's funeral. And while it was a touching tribute by Kate to wear the queen's own jewelry, there's a deeper meaning to Kate and others in the royal family wearing pearls.
The royal history of wearing pearls for mourning ties to Queen Victoria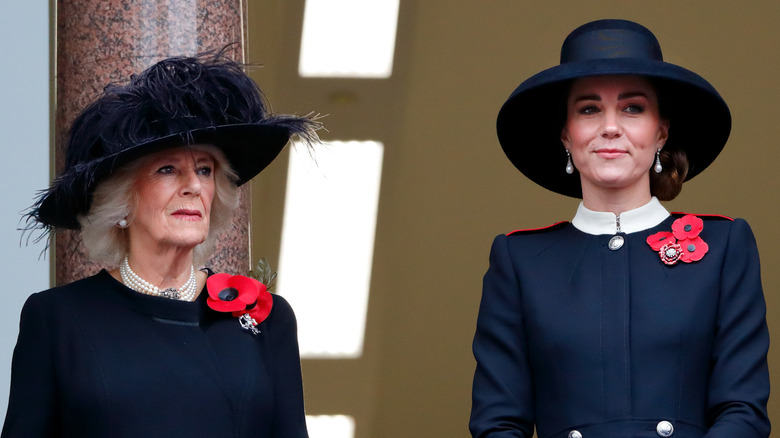 Max Mumby/indigo/Getty Images
It wasn't just at the queen's funeral that Kate Middleton has donned pearls in recent days. She wore a triple-strand of pearls, a style frequently worn by the queen, to an event at Buckingham Palace after the queen's death, according to Glamour. And other royals, including Camilla, Queen Consort have been seen wearing pearls after the queen's death, per Mirror UK. Wearing pearls is a royal family tradition, particularly at times of mourning. This ties in large part back to Queen Victoria.
In 1861, both Queen Victoria's mother and her husband Prince Albert died, and Queen Victoria wore black for mourning for 40 years, until her death in 1901, per Express. As for the jewelry that she wore while in mourning, Queen Victoria only ever wore colorless jewels — diamonds and pearls, according to Hello!. The choice in jewelry was "very much a tradition," jewelry historian Vivienne Becker told Vogue, "It's all about the suppression of color, and also pearls are not glittery or brash. By choosing them, you are being low-key and respectful." Pearls are also seen to some as a symbol of tears. For her part, Queen Elizabeth wore pearls at the funerals of, among others, Princess Diana and Prince Philip, according to Marie Claire Australia.
Queen Elizabeth had a lifelong love of pearls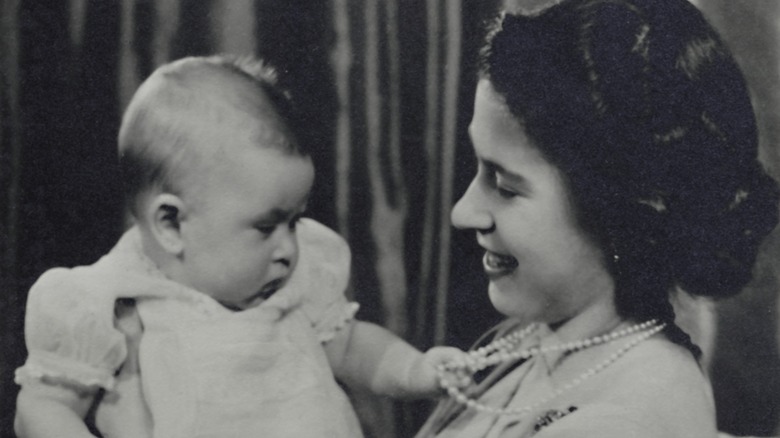 Print Collector/Getty Images
Queen Victoria contributed to Queen Elizabeth II's lifelong affinity for pearls. Author of "The Queen's Jewels" Leslie Field told People that for the birthdays of her daughters and granddaughters, Queen Victoria would give them a pearl, which would be made into a necklace when they turned 18. King George VI did the same for Queen Elizabeth, giving her two pearls each birthday as she grew up.
Pearls have long been associated with royalty. Queen Elizabeth I wore them to symbolize both her purity and power, according to Vanity Fair. Some of Queen Elizabeth I's pearls, which can allegedly be traced back to a gift from Pope Clement VII to Catherine de Medici, are in the Imperial State Crown, made in 1937, per the Royal Collection Trust. This was the crown that was on the queen's coffin during the lying in state.
While Queen Elizabeth II had an extensive personal jewelry collection including a sparkling array of tiaras, rings, brooches, and earrings, the queen was often seen wearing pearls throughout her life, even at home with family and at more casual events. Author of "The Queen's Jewels" Leslie Field told People that the queen wore "pearls every day as her mother and grandmother did before her." It became a part of the trademark look of the queen. Queen Elizabeth II was even reportedly buried with only two pieces of jewelry, one of which was a pair of simple pearl earrings.