Guest At Queen's Funeral Doesn't Hold Back About Charlotte And George's Behavior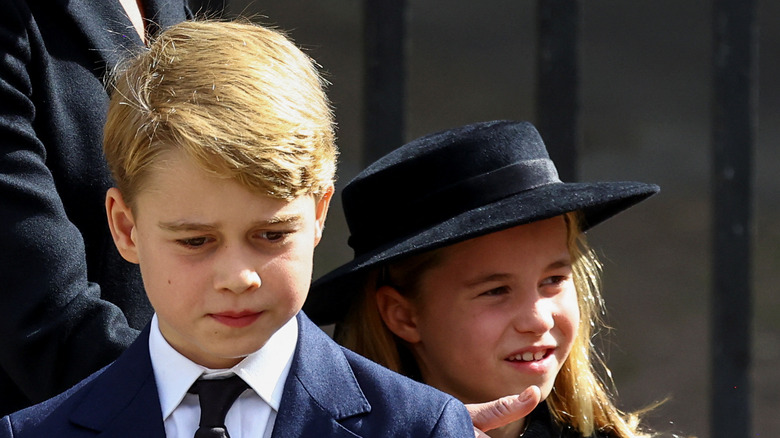 Wpa Pool/Getty Images
Many were surprised at the roles Prince George, and Princess Charlotte would play at the queen's funeral. Prince George of Wales is only nine, and his sister Princess Charlotte of Wales is seven. When news broke that the two young royals would walk behind Queen Elizabeth's coffin before the funeral, some wondered if they were too young to be involved in such a high-profile event.
One royal watcher tweeted, "Don't think it's entirely appropriate for Prince George and Princess Charlotte aged only 9 and 7 to walk behind their grandmother[']s coffin and attend her funeral in a church of 2000 people (and millions of viewers). Has William learned nothing from his mother[']s funeral?" Another Twitter user commented, "I'm not going to comment on Prince George [and] Princess Charlotte other than to say that all children deserve privacy [and] mentally safe experiences after the death of a family member or loved one." But Yahoo News! Australia talked to an expert who thought the young royals would be fine. Professor of psychiatry at the University of NSW, Susan Rees, told Yahoo News AU, "The literature is clear that if children are well prepared for a funeral, they know what to anticipate and what to expect, and they have a lot of support around them, they are okay with attending a funeral."
But one guest at the queen's funeral didn't hold back about Princess Charlotte and Prince George's behavior.
Canadian Mark Tewksbury was impressed by Prince George and Princess Charlotte's behavior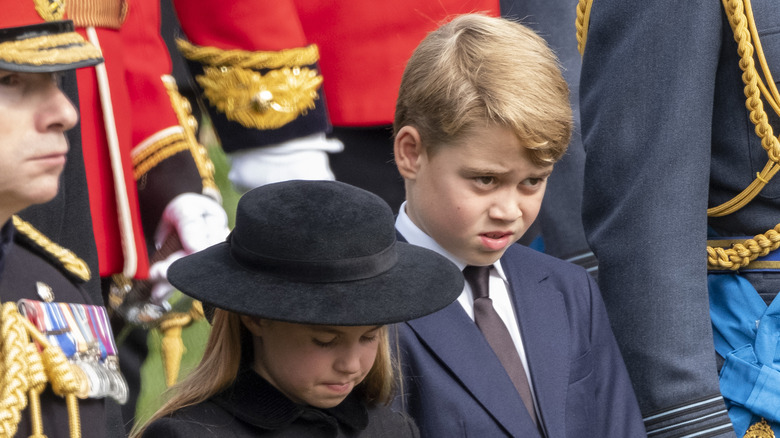 Bryn Colton/Getty Images
Former Canadian Olympic swimmer Mark Tewksbury was at Queen Elizabeth's funeral and raved about Prince George and Princess Charlotte's behavior at the service. Tewksbury told People, "They looked like really incredibly well-behaved kids but a little like kids, a little like, 'wow, this is a lot.' For little Prince George, this will be him one day, and he doesn't really know that yet. And then I thought, 'Ah, he's just lost his great-grandmother.'" 
According to CBC, the three-time Olympian attended the royal funeral as part of the Order of Canada delegation, along with musician Gregory Charles, actor Sandra Oh, and "Cross of Valour" recipient Leslie Arthur Palmer. The former Olympian wasn't the only one in awe of Prince George of Wales and Princess Charlotte of Wales.
Mark Tewksbury wasn't the only one who was impressed by the young royals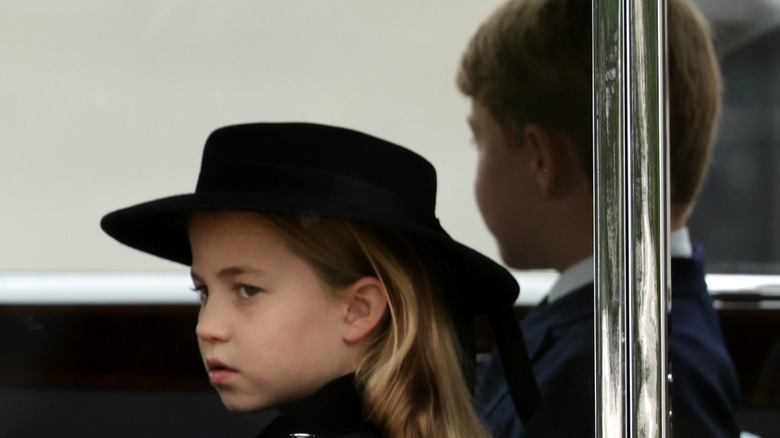 Chris Jackson/Getty Images
Among the record number of those watching the service from home, many shared similar sentiments about Princess Charlotte and Prince George's decorum. Journalist Diana Pearl tweeted, "[I]'m so incredibly proud of [P]rince [G]eorge and [P]rincess [C]harlotte. [T]hey handled today with the respect and maturity beyond their years." A royal watcher tweeted, "They handled this very grown-up event well. William [and] Catherine must be so proud." 
However, royal fans were absolutely gutted for Princess Charlotte at the queen's funeral when she burst into tears. One viewer tweeted, "Princess Charlotte crying struck a chord with me. She's just a young girl who lost her great-grandmother who loved horses just like she does."