Of All Miley Cyrus' Looks - This Stands Above The Rest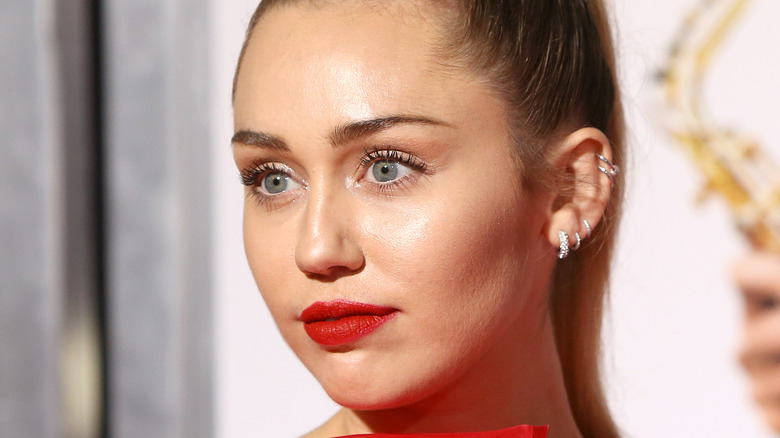 Kathy Hutchins/Shutterstock
From her time as Hannah Montana to the infamous "Bangerz" era, Miley Cyrus has always known how to make a statement. No matter what she's doing or what she's wearing, Cyrus is known for never holding back and always risking it all, particularly when it comes to her serious fashion transformations. Ever since Miley Cyrus shocked the world with her pixie platinum haircut in 2012, the singer has been known for bringing her A game to the red carpet.
Miley Cyrus has opted for a mix of glamorous and themed but fashionable over the years. One of these examples was her time as host of "Miley's New Year's Eve Party" television special. During the event, Cyrus donned six looks ranging from sophisticated to wildly fun (via POPSUGAR). During the special, Cyrus went from a plunging long red gown to a flirty backless silver halter top. Miley Cyrus' fashion evolution proves that just like in her music, the singer can easily go from style to style with no problem.
Miley Cyrus at the 10th Annual LACMA Art +Film Gala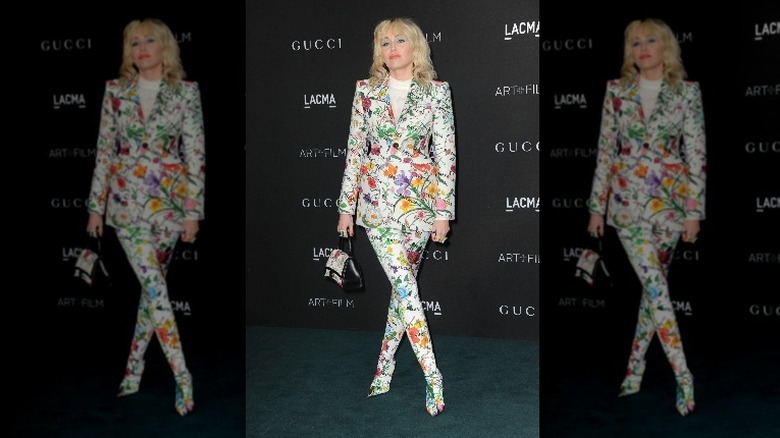 Tinseltown/Shutterstock
Undoubtedly one of her best red carpet choices to date, Miley Cyrus' look at the 10th Annual LACMA Art+Film Gala in 2021 was both sophisticated and fun. Wearing a head-to-toe Gucci x Balenciaga suit, the singer made a floral splash all over the red carpet. To accompany the ensemble, the singer donned matching boots to complete the head-to-toe look. Adding to the sophistication was a white turtleneck that could be seen underneath the blazer. While it's probably one of the less risqué looks she has worn, it cemented the artist as someone capable of being simultaneously sophisticated and wild.
In terms of accessories, Cyrus went with the matching purse to make this a total floral show. For the rest of the look, the singer wore beachy waves on her shaggy haircut for a carefree hairstyle. Finally, Miley Cyrus' beauty look included lavender eyeshadow and a soft pink lip. Toned down in comparison to previous looks, this was the perfect way to introduce Miley Cyrus as the ambassador for Gucci's fragrance, Gorgeous Gardenia. Looking the part of a gorgeous gardenia herself, Miley Cyrus went all in on this ensemble and it resulted in a stunningly iconic look.
Some of Miley Cyrus' most daring looks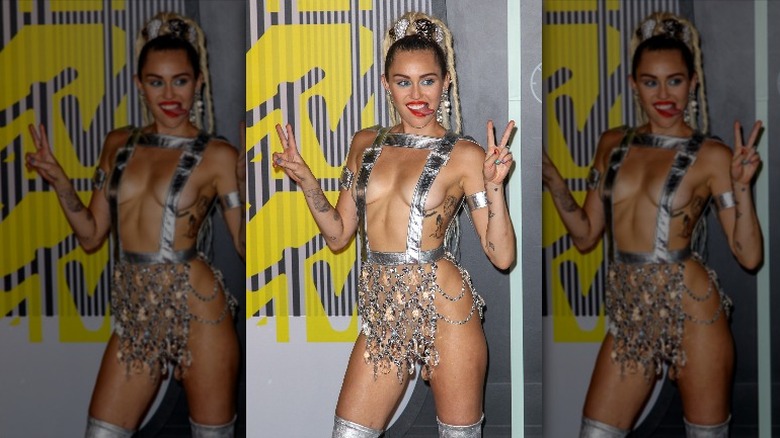 Press Line Photos/Shutterstock
While her LACMA look turned heads for being ultra-sophisticated with an edgy bit of glam, Miley Cyrus has shocked the world before with some of her sartorial choices.
One of the most iconic displays of risqué fashion came on the red carpet of the 2015 MTV Video Music Awards (via TIME). Wearing a Versace suspender/harness piece with matching silver thigh-high boots, Cyrus left very little to the imagination. However, she rocked it with total confidence. Another daring look came at the 2013 Met Gala, where the singer wore a fishnet Marc Jacobs dress with spiked blond hair on the red carpet, according to MTV.
It simply wouldn't be a proper New Year's Eve weekend if there wasn't a daring outfit in the mix. At an afterparty at 1oak in New York during the 2015 New Year's Eve weekend, Miley Cyrus wore a matching top and skirt bandana print ensemble with chunky sneakers and an animal balloon bag, per Bustle. The outfit, made by Jeremy Scott, was part of a fun fashion-filled weekend that also included a butterfly top.
So, while it's no secret that Miley Cyrus can pull off any style of music, there's no doubt that if Miley knows anything, it's how to make a statement with her fashion.