The Style Evolution Of Miley Cyrus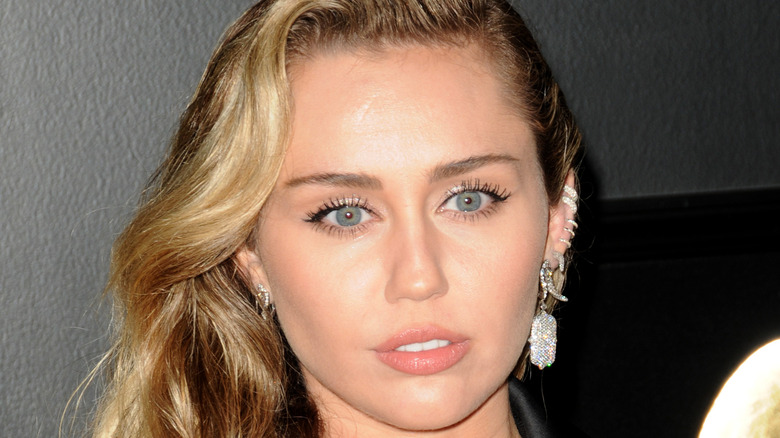 Shutterstock
We're convinced Miley Cyrus is something of a shapeshifter. With each new album, she seemingly births an entirely new persona. When Billy Ray Cyrus' sweet and spunky daughter was first introduced to the world, she fit the stereotypical Disney sweetheart mold. But as we all know by now, child stars have a track record of growing up too early and taking headlines by storm. Eventually, many of them get so tired of the box they've been put in for far too long, and they bust out in a big way. 
For Miley, whispers of her barrier-breaking event could be heard in her album 2008 album called "Breakout," but the title of her subsequent album, "Can't Be Tamed," perfectly encapsulated what was to come (via AllMusic). After she hung up her Hannah Montana hat (or more accurately, wig), the singer went full on post-Disney party girl for a number of years. Remember the famous foam finger and all the twerking? Let's be honest, who could forget it? Suffice it to say, Miley has come a long way since her "Hoedown Throwdown" days, and the changes are perhaps best signified by her wildly wavering style evolution.
Miley Cyrus changed the moment the Hannah Montana wig came off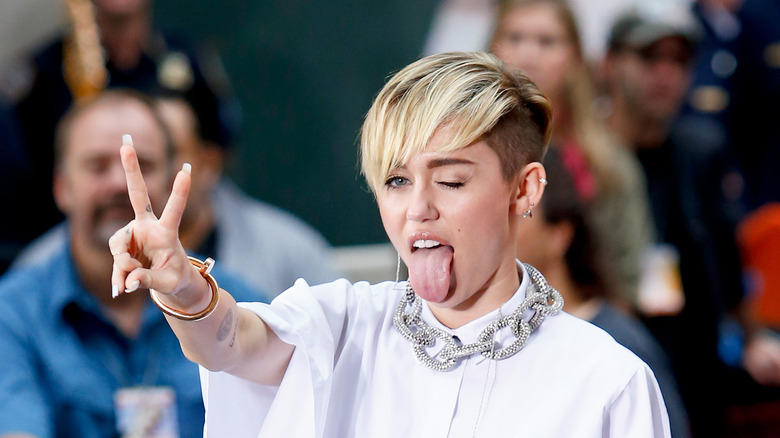 Shutterstock
Although paparazzi would snap photos of Miley Cyrus with her famous dad from time to time, her first red carpet appearances came when she landed the lead role in Disney's beloved show "Hannah Montana," circa 2006 (via Harper's Bazaar). Photos from that period show a pre-pubescent Cyrus donning cardigans your grandma very well might have knitted, straight-leg pants, curly auburn hair, and big toothy smiles. By the very next year, the actress and singer had already started showing more skin, opting for shorter dresses, heels, and straightened locks. 
Midway through her hit show, Cyrus realized she wanted to break out of her Disney character's mold. When she turned 18, she did just that. "The minute I had sex, I was kind of like, I can't put the f***ing wig on again," Miley told Elle in 2019. "It got weird. It just felt like ... I was grown-up." For a hot minute in 2012, breaking the mold meant a classic 50's-era bob, a bold red lip, and gorgeous gowns. But then Cyrus stole headlines when she decided to chop off her tresses and dye what was left platinum blonde. 
At the 2013 MTV Video Music Awards, the then-21-year-old shocked viewers with her furry leotard, tiny buns, and endless twerking. Later appearances that year showed Cyrus donning pasties and thongs to match the edgy haircut that became her signature style, per Harper's Bazaar. According to Grazia, this era of Cyrus' style brilliantly aligned with her electro-pop album, "Bangerz."
Miley Cyrus briefly returned to her country roots, before embracing her rocker style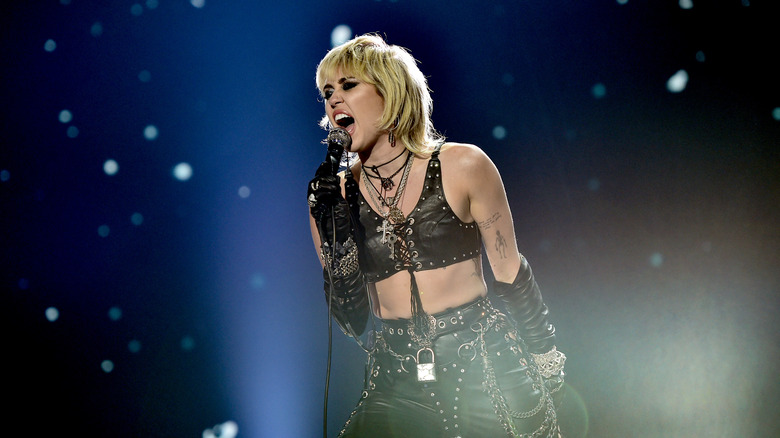 Alberto E. Rodriguez/Getty Images
Miley Cyrus' subsequent and lesser-known album, "Miley Cyrus & Her Dead Petz," brought on a relatively brief period of eclectic rainbow clothes, smiley-face everything, and a touch of cultural appropriation (in the form of dreadlocks). A notable look from this period also went down as one of her most risqué red carpet outfits to date. In a snippet about the get-up in TIME, Nolan Feeney wrote, "After getting a look at these knee-high silver boots and that 'Dangerously In Love'-esque skirt, Lil Kim's purple pasties from 1999 are probably crying in a drawer somewhere."
But yet again, all it took for Cyrus to drastically shift her style was a fresh album. With "Younger Now," Cyrus' musical and personal style seemingly returned to her country roots. In stark contrast to her near-nude and highly stylized music videos for "Wrecking Ball" and "We Can't Stop," the pared-back video accompanying the single "Malibu" showed a version of Cyrus with minimal makeup, messy ponytails, and western-boho attire, per Grazia. She also grew her hair out, only to let her mom chop it into a shaggy mullet when it was time for her look to change once again. Yep, you heard right. The current "Plastic Hearts" era of Cyrus — as of publication — is all about punk rock, including leather, faux mohawks, and Joan Jett-inspired looks. When it comes to style, what ground hasn't Cyrus covered?