The Ultimate Guide To Achieving The Tumblr Makeup Aesthetic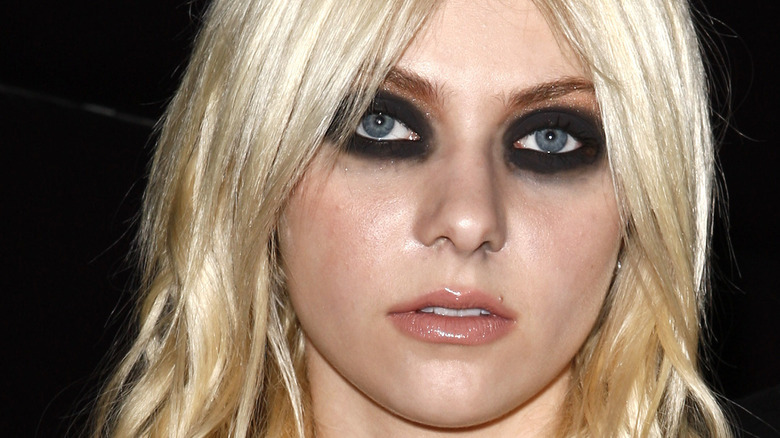 Joe Seer/Shutterstock
When Tumblr was at its most popular, it created a platform for many social media users to create blogs and conversations about the things they loved most. Unlike other social media platforms at the time, Tumblr was a place with a more defined style and aesthetic that occurred organically by the kind of community its users had generated. This era was defined by a grunge style often involving combat boots, flannels, moody colors, dyed hair, and of course a certain style of makeup. This beauty look consisted of dark, smudged eyeliner and dark lipstick for a rocker-chic feel (via Hypebae).
Today, many trends, such as the Y2K fashion era, are making a comeback as younger generations take inspiration from the past. Now, with over 5.3 million views on the hashtag #tumblrmakeup on TikTok, the aesthetic is quickly rising in popularity again. Many beauty lovers are fully embracing a dark, alt-girl makeup style as they tap into their nostalgia for the era.
How to create the look
"The 2014 tumblr makeup aesthetic is back. Every makeup trend, they always come around," beauty influencer Victoria Lyn says in a TikTok video. "You're going to see a ton of this 'Taylor Momsen,' 'Sky Ferreira' kind of look this fall." Lyn proceeds to define the style as "grungy, indie, sleaze." In the video, Lyn recreates this look herself. She explains that the tumblr makeup aesthetic has a big focus on the eyes, so she begins by keeping her foundation simple, adding tint and warmth through contour. Additionally, she recommends skipping out on the blush and highlight. For an extra natural touch, she adds faux freckles.
After fluffing up her eyebrows, she begins by adding a black cream eyeshadow onto her eyelids in her desired shape of a winged look. "I like to add black shadow in layers. So I'll apply one layer and I'll add more as I go to really build that black," Lyn says in the video as she blends it in. "And yes, be messy with it." In this look, she chose to layer a metallic silver eyeshadow over the black taking inspiration from one of Taylor Momsen's many looks. She finishes the look with a natural tone matte lipstick, and other parts of the style like layered jewelry, rings, messy hair, and a leather jacket.
Customize it to your liking
Because of its effortless technique and dark tone style, this makeup look offers a flexibility to make it work for you just the way you like. The basis of this look is essentially a smokey eye, rocker chick method. At its most basic level, you will need black eyeshadow and eyeliner. However, this is where you can play around with it to experiment with different shapes or colors. Maybe you want to use a dark navy blue or a deep, maroon red to blend in with the black. You can choose to keep a natural lip tone or go for something darker like a blood red lipstick (via L'Oréal Paris).
Beauty influencer Gabrielle, who goes by Gabxxrielle on TikTok, did exactly that by creating what she called "ginger grunge." In a TikTok video with over 428,000 thousand likes, Gabrielle shows the steps she took to achieve this look, opting for full glam in the process. She utilized warm eyeshadows such as browns, oranges, and reds, beautifully blending them in together and topping it off with black eyeshadow to create this copper-tone grunge style. For her lips, she finished the look with a dark maroon red. Like Gabrielle, you can choose to use as much or as little makeup or other colors as you'd like. This style is meant to be effortless and that's where all the fun is to make it your own.