Donald Trump's Latest Claim About Tell-All Books Written At His Expense Has Twitter Cracking Up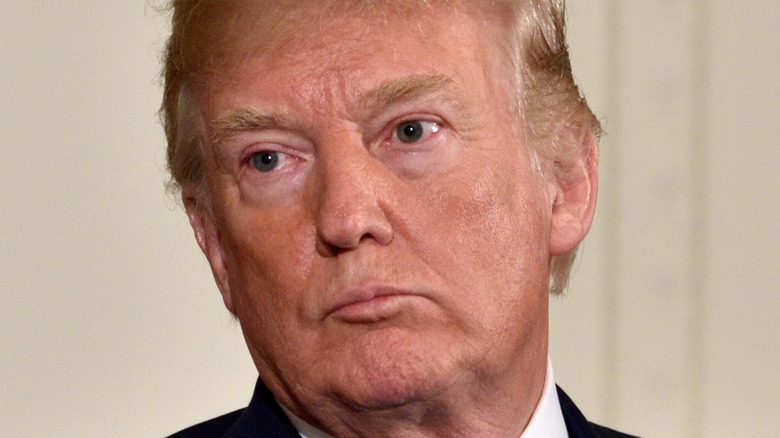 Evan El-Amin/Shutterstock
He's best known for his work in real estate, television, and leader of the free world, but you might have forgotten that Donald Trump is also a bestselling author. Some of his more well-known titles include "Trump: The Art of the Deal," "The America We Deserve," and "Trump: How to Get Rich." During his presidential campaign, he set forth his policies in "Great Again: How to Fix Our Crippled America."
There have also been many books written about Trump, not all of them complimentary. Most recently, Maggie Haberman's bio "Confidence Man: The Making of Donald Trump and the Breaking of America," paints a dismal picture of him. Included is the revelation that the main reason Trump ran for president was not to make America better, but to enhance his brand. He told Haberman in an interview, "I have so many rich friends and nobody knows who they are" (via The Atlantic).
Now Trump is apparently perturbed that there aren't enough flattering biographies about him. In a Truth Social post that was reposted on Twitter, he claimed that mainstream book publishers are giving potential biographers a choice: Do a smear job on him, or no deal. "I know many people that wanted to write a good book about me, but their publishers wouldn't let them," Trump wrote. "They were not interested in any way, shape or form unless they were willing to say bad things. Some took a pass, and some sold out to the enemy." 
Some wondered why Donald Trump was focusing on biographies instead of helping hurricane victims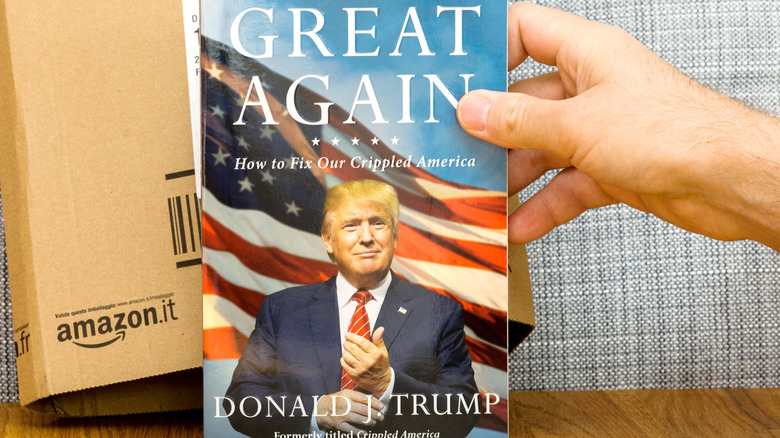 Hadrian/Shutterstock
Twitter is having plenty of fun commenting about Donald Trump's claim that authors are being restricted from writing positive biographies of him. One commenter joked, "Would it help if they made it look like classified documents or ones he changed with his mind?" Another took a shot at Trump's followers: "Usually publishers turn away unbathed people who show up to meetings with assault weapons and war-paint." Suggested a critic, "I would imagine a book written about all the good things Trump has done would be called a pamphlet, and that's if it was double-spaced and bold print."
A writer pointed out that authors don't need to go through major publishers: "Um, if they were so determined to write a book about him, they could have self-published like many other authors in this century." Indeed, a search on Amazon turns up quite a few self-published pro-Trump titles. Among them: "Trump Got It Done," "The Hug of the American People: President Donald Trump's Super Fan," and (yes!) "President Donald J. Trump, the Son of Man — the Christ."
Some wondered whether Trump should be more concerned about the massive hurricane that wreaked havoc on Florida. "His home state was just devastated, but let's fret about books," tweeted a user. Then again, Trump's actions during Hurricane Ian have already raised eyebrows. According to Business Insider, he spent the storm at Mar-a-Lago, sending a fundraising email.