Katie Lee Biegel Talks About Transforming Her Novel 'Groundswell' Into A Hallmark Movie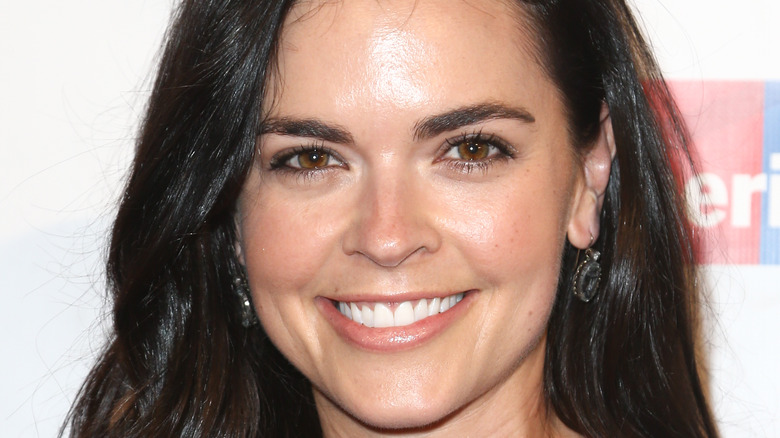 Debby Wong/Shutterstock
We may receive a commission on purchases made from links.
Katie Lee Biegel knows her way around a kitchen. "I began cooking with my grandma at the young age of 4," the food critic notes on her website. "She would pull a stool over to the counter, I'd climb up, and help her make biscuits." In the nearly 40 years since first learning her way around a stove, Biegel has authored four cookbooks and now serves as a co-host for the Food Network's Emmy-nominated show, "The Kitchen." Biegel — who was previously married to rock legend Billy Joel — penned her first novel, "Groundswell," in 2012. "Groundswell" tells the story of Emma Guthrie, a production assistant and aspiring screenwriter whose life changes the moment she meets Hollywood star Garrett Walker. However, when their relationship goes south, Emma retreats to a small seaside town in Mexico. It's here, in her darkest moments, that she meets Ben, a kind-hearted a surfer who sets Emma back on track.
In August of 2022, Katie Lee Biegel's "Groundswell" was adapted into a Lacey Chabert-led Hallmark movie. Though much of the themes remain the same, the film version saw some major differences; on-screen Emma is an aspiring chef, not a screenwriter. Rather than Mexico, Emma's travels take her to Hawai'i. Still, "Groundswell" is a story about overcoming setbacks and, just maybe, finding love along the way (via Hallmark Movies & Mysteries).
Katie Lee Biegel never expected a film adaptation of Groundswell
Given the decade in between publishing "Groundswell" and signing off on its screen adaptation, author Katie Lee Biegel never expected to see her novel made into a film. As she told Hollywood Life, it was a "welcome surprise." Immediately, she knew she wanted veteran Hallmark star Lacey Charbert to play Emma. "I am a huge fan of Lacey's movies, and she has been my dream choice to play Emma, from Day 1," writer Katie Lee Biegel — now married to producer Ryan Biegel — told Deadline. Chabert, who gained widespread notoriety after her role in 2004's "Mean Girls," has been a Hallmark go-to since 2010 (via QC Approved). "I think this is like her 32nd Hallmark movie," said Biegel per Hollywood Life. "She's just so good and so believable, and I think she's a great actress."
Ektor Rivera, known for his stand-out roles on stage, plays surf instructor and love interest Ben. "Ektor really embodies Ben,"  Biegel told Hollywood Life, also commenting on the chemistry between the two leads. Though the storyline "is quite different in the movie version than the book version," author Katie Lee Biegel liked the changes. "I felt like my characters have taken on a new light and a new dimension," she explained.
Katie Lee Biegel made a cameo in her own movie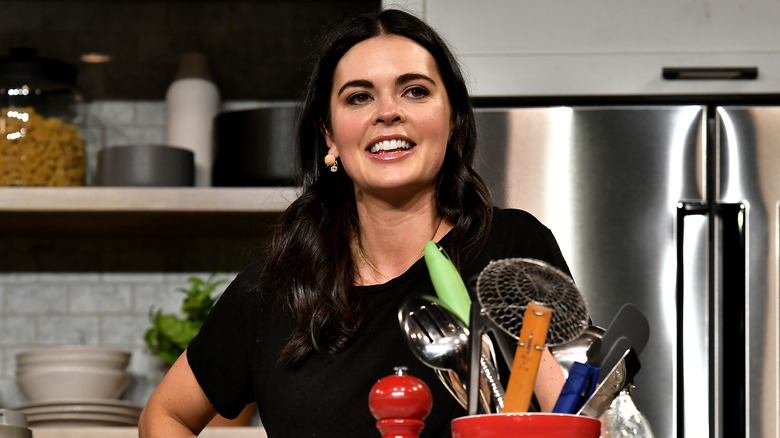 Gustavo Caballero/Getty Images
Katie Lee Biegel felt surprised when asked to make an appearance in "Groundswell." "I was so excited when they asked me to do a cameo," she told Hollywood Life. "I play myself so it wasn't a real acting stretch. I was a little nervous that I couldn't remember my lines, but our director was great." Most of Biegel's on-screen anxiety came during her one-on-one scene with Lacey Chabert. However, the author's real-life job on the Food Network prepared her for her Hallmark debut. "Most of it was me judging a culinary competition so I felt like, hey, I can do this," Biegel explained to Hollywood Life. After all, much of her time on TV has been spent judging cook-offs.
The TV movie aired in August of 2022. For Biegel, who also served as an executive producer, it was "a dream come true." The last line, in particular, held a special meaning for the successful Food Network star. "I won't say what it is to ruin it for anybody," she told Hollywood Life, adding how, "it just made me burst into tears." Fans can also find Biegel as a host on "Beach Bites with Katie Lee" and as a judge on the Food Network's seasonal series "Halloween Baking Championship."