What Is The Gen Z Kidcore Aesthetic?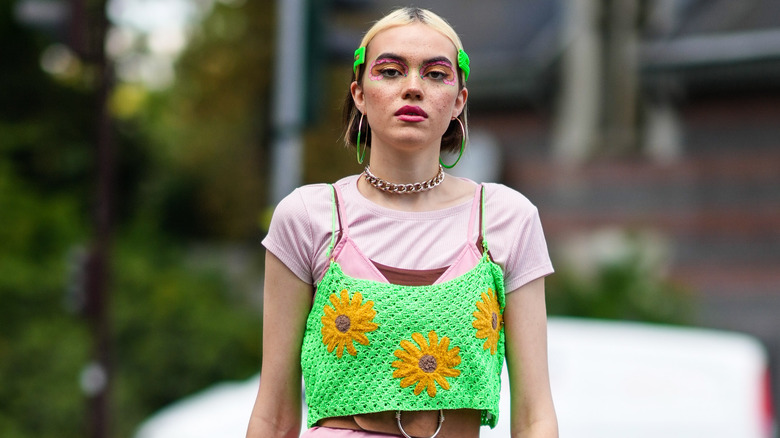 Edward Berthelot/Getty Images
Each year, more and more aesthetics appear out of the blue. Whether you're into dark academia, cottagecore, or label yourself as more of a neutrals fan, there's no doubt that unique style aesthetics are ruling the roost at the moment. Still, the current new kid on the block (pun intended) is kidcore, and it doesn't seem to be going anywhere anytime soon. 
Largely worn by Gen Z, a.k.a. those who were born in the years 1997 to 2012 (via USA Today), the kidcore trend has been rising in popularity. If the clashing patterns and cutesy designs interest you, you're not alone. On TikTok, the hashtag "kidcore" has 1.4 billion views alone, with thousands of videos available on how exactly to achieve the aesthetic. 
In fact, as reported by Vogue, searches for kidcore sparked a huge 82% on popular reselling app Depop between the end of 2021 and beginning of 2022. Clearly, kidcore has some staying power. So, why do people love kidcore so much, and how can you style it yourself?
The fun aesthetic is bold, bright, and made to stand out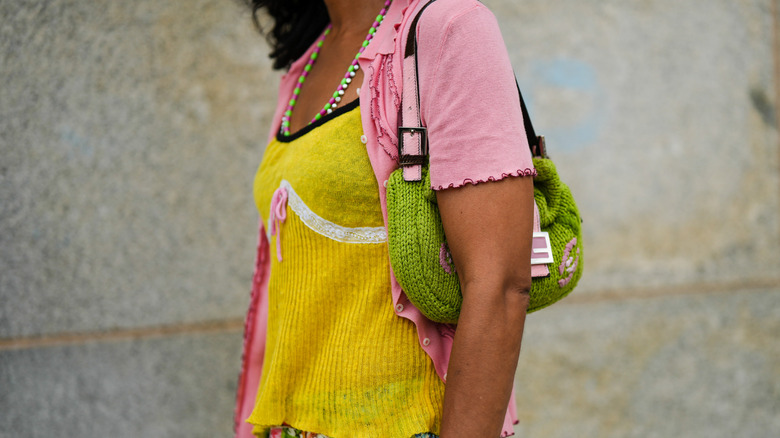 Edward Berthelot/Getty Images
According to fashion blog The Trend Spotter, the kidcore aesthetic centers around 1990s pop culture, though some pieces are taken from the early 2000s. Taking inspiration from childhood pop culture, it remembers and embellishes the aesthetics, fashion, and characters of that time period. Mismatched pieces and prints are embraced and encouraged, whereas neutral colors don't even have a look-in. It's all about pops of color and harking back to the freedom of childhood. 
It isn't just online — celebs have been spotted sporting kidcore too. A notable sub-genre of kidcore is "Hobicore" (via Nylon), a name taken from BTS member and general K-pop superstar J-Hope, a.k.a. "Hobi." J-Hope has long championed outfits that can be categorized as kidcore and has inspired many fans to embody a similar look. Harry Styles has also leaned into kidcore now and again, with the most obvious example being the JW Anderson cardigan he wore. The rainbow mismatched print cardigan very quickly went viral, spawning a whole lot of crochet attempts (via Stylist).
The main aim is to clash patterns, prints, and colors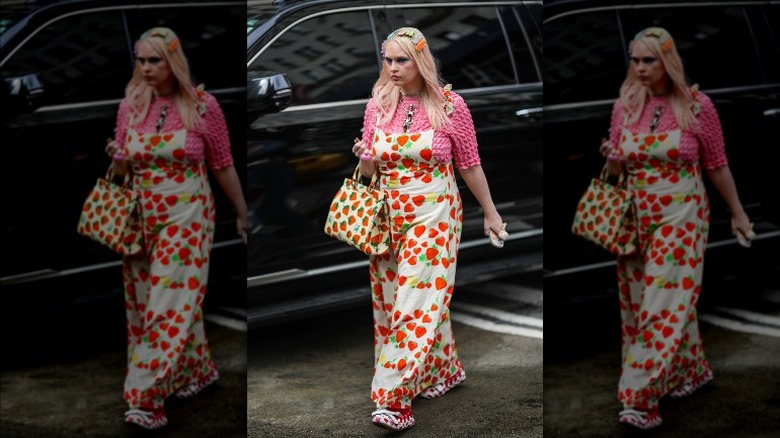 Edward Berthelot/Getty Images
If you're looking to kickstart your own kidcore wardrobe, knowing where to start can feel overwhelming. As an aesthetic, kidcore is relatively easy to achieve, and fashion magazine RUSSH has laid out the key pieces you'll need.
Some of the mainstay items you'll want to look out for include pieces with a rainbow design, pinks, purples, knitwear, and tie-dye jeans. Major patterns include colorful and bold stripes, as well as prints with popular kids' shows characters and motifs of cute animals like teddy bears. The aim is to look bubbly and bright whilst utilizing large pop culture moments from the 1990s to the early 2000s.
Kidcore makeup is much the same — heart and star stickers, as well as plenty of glitter, are welcomed and indeed are the finishing touch to many kidcore looks (via Allure). Kidcore may seem childish, but isn't that the entire point? It defies the typically more "adult" style of the runway and instead embraces something that we all need more of: fun.