The Lifetime Movie That Features Rosario Dawson And Tracee Ellis Ross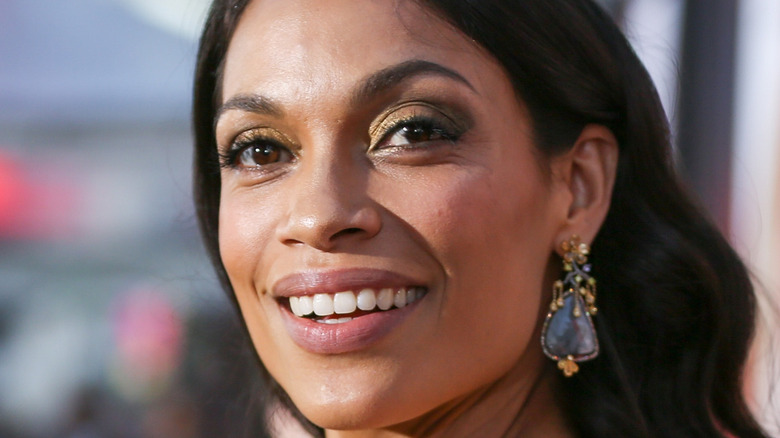 Rich Fury/Getty Images
There are plenty of big-name actors who have made their mark on Lifetime movies over the years, whether they were just starting out at the time or simply looking for a well-paying job along the way. Hayden Panettiere featured in several Lifetime movies, while Lindsay Lohan played an iconic star in a Lifetime classic too. Evidently, the beloved channel continues to be a major draw for A-listers — especially those eager to make a difference.
As Hola! magazine points out, prolific actor Rosario Dawson has proven her worth as a driven activist, from Voto Latino, the voting organization she co-founded, to Studio 189, Dawson's sustainable fashion brand. The "Dopesick" star told IndieWire emphatically, "My summoning in life is to do a lot of what my heroes have done — what Jane Fonda and Gloria Steinem have done — to keep pushing democracy forward in a way that galvanizes people."
Unsurprisingly, then, when the opportunity arose to collaborate with Tracee Ellis Ross, Jenifer Lewis and Alicia Keys on an impactful project for Lifetime, she was 100 percent in.
The actors played sisters in a short film with a strong message
Before she appeared in "Top Five," alongside writer-director Chris Rock, in 2014, Rosario Dawson starred in Lifetime's made-for-TV "Five" opposite Tracee Ellis Ross. Redbook magazine clarifies that the movie is actually a collection of female-directed shorts, all of which tackle breast cancer. Jennifer Aniston and Demi Moore helm their own stories, among others, but Dawson and Ross feature in Alicia Keys' installment, "Lili," with Dawson as the titular character.
Both actors were nominated for best actress at the Black Reel awards for their performances. Glamour described "Lili" as "a film about a fiercely independent 35-year-old whose breast cancer forces her to work through her relationship with her sister," played by Ross, and mother, played by Jenifer Lewis. As Keys explained, "I chose Lili because she's close to my age and I understood the family dynamic. I had an immediate idea of what I could bring to it."
Elsewhere, executive-producer Marta Kauffman elaborated to Newstalk Cleveland: "It gets funny when a woman who is diagnosed with breast cancer still has to deal with her mother. It can be funny. So the idea was that the humor, it's not slapstick. People aren't falling down and running into walls, and they're not telling jokes, but it's character humor and humor out of this very intense time in one's life."
Tracee Ellis Ross wants to make her voice heard at every opportunity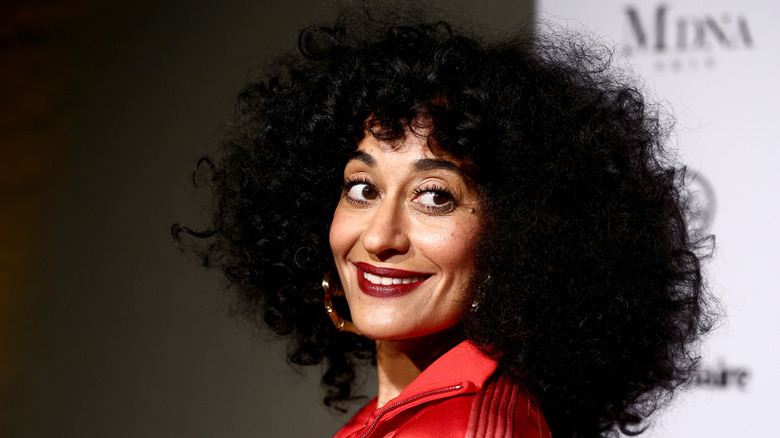 Rich Fury/Getty Images
Like her "Five" cast-mate Rosario Dawson, Tracee Ellis Ross is focused predominantly on doing work that speaks to her. "I don't live my life for other people," she stated in an interview with Harper's Bazaar. "I just totally live it for me." The success of the hit show "Black-ish," in which Ross starred alongside Anthony Anderson, helped launch her career into the stratosphere, but growing up the daughter of Diana Ross meant the actor always knew she was destined for greatness.
Even so, Ross acknowledged, "I found my voice. It came before, but I really started using it during 'Black-ish.'" In particular, the Emmy nominee has spoken out about the need for better representation in the media and politics. In 2020, Ross hosted the second night of the Democratic National Convention where, per The Guardian, she called for the country "to be driven by people who understand that our democracy is based on the value of each and every one of us being treated with dignity and respect."
The "Black-ish" star acknowledged to the outlet that she takes every opportunity possible to push for the causes closest to her heart, noting, "I always choose to speak about the narrative that is not out there." Much like Dawson, taking a starring role in "Five" was part of that commitment.