The Best Ways To Style A Simple Smartwatch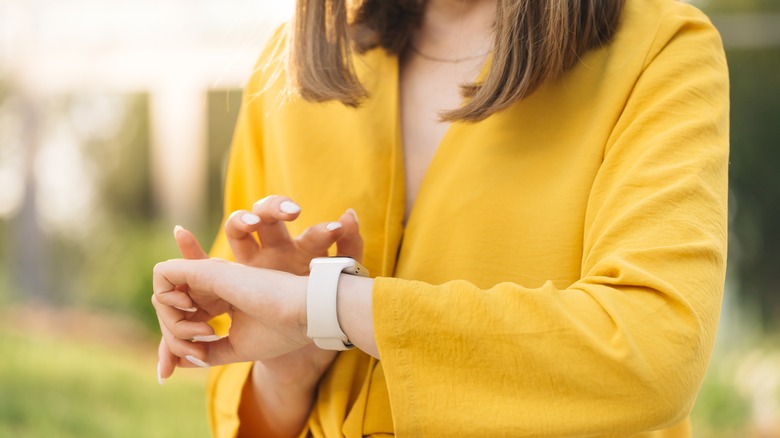 mpohodzhay/Shutterstock
We may receive a commission on purchases made from links.
Smartwatches can be a fun way to keep track of messages, reminders, and more. According to the Pew Research Center, 21% of the United States population uses wearables like fitness trackers such as Fitbits and smartwatches — almost a quarter of the population.
That means there are a lot of fabulous people out there who may not know how to style a smartwatch, though, or who may be reluctant to use one because they don't think they're stylish. If images of clunky chrome or rubber watch bands come to mind when you think of smartwatches, don't despair. There are plenty of ways to style this piece of tech without spending a fortune.
Smartwatches may not always be synonymous with style, but there's still hope. Nordstrom's now-defunct Trunk Club says a techy watch can add a futuristic vibe to your outfit and adds that they've become "a staple of street style," after all.
Still not convinced? These tips just might turn your smartwatch into your favorite fashion accessory.
Swap bulky smartwatch bands for beautiful ones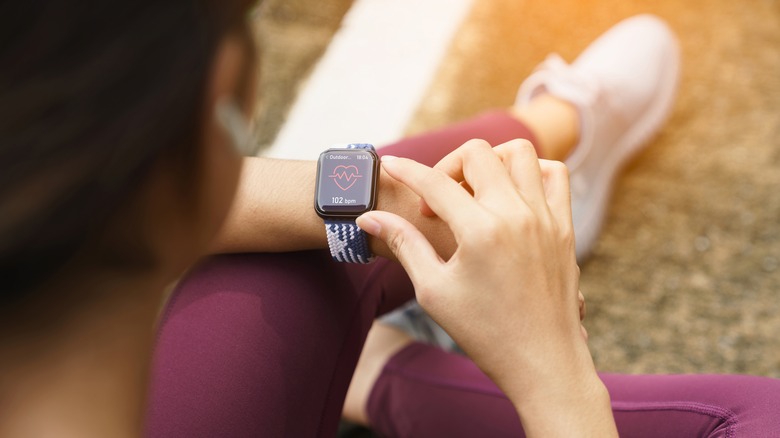 blackzheep/Shutterstock
When styling a smartwatch, starting at the band is your best bet. "On the wrist, [the watch] can look not too cute and pretty bulky," says fashion vlogger Eliana Jalali in a YouTube video. "When you're pairing this with an outfit, it kind of throws off the whole aesthetic ... My first piece of advice is to get a watch band that matches your aesthetic."
The blog Mammaprada breaks it down even further, suggesting making your watch a beautiful statement piece, not something you're trying to hide. For special occasions, the blog suggests metal bands that will make your device look like any other jewelry watch. Leather bands are great for workwear and everyday life.
From Amazon to Etsy, there are pretty much endless options. Do you need a simple band to fit with your minimalist fashion aesthetic? Maybe you'd rather have a bright, colorful band that truly expresses your style. No matter what your style preferences are, you'll be able to switch it up every day when you have a plethora of bands.
When in doubt, accessorize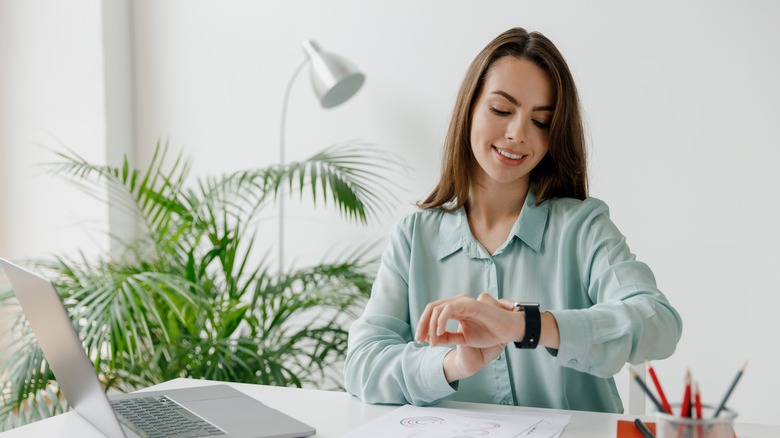 ViDI Studio/Shutterstock
You can style your smartwatch even more by wearing it with other jewelry. Ideal Magazine suggests styling your necklaces, bracelets, and other pieces to coordinate with your watch. YouTuber At Work with Nikki mentions that cases are a great way to add a touch of style. Just because your watch was originally silver doesn't mean it has to stay that way.
 "[Cases] come in so many different colors and styles," she said in a YouTube video. "It's really a fun way to give your Apple Watch a totally different look. You can change it day to day depending on what outfit you wear." 
You don't have to have an Apple Watch to change up your look with a case, though. A quick Amazon search yields thousands of results for universal smartwatch cases. Not only do cases add a fashionable touch, they can help protect your watch from scratches and falls. No matter how you style your watch, it's sure to make a statement with these tips.