The Surprising Outfit Donald Trump Reportedly Wanted To Wear After His COVID Battle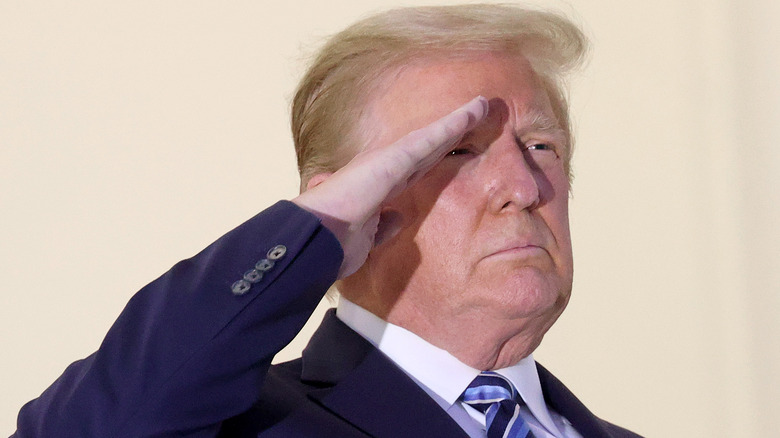 Win Mcnamee/Getty Images
When Donald Trump got COVID back in October of 2020, we were in a very different place as a nation (via History). The first vaccines wouldn't be administered for another two months and the announcement that the leader of the free world had tested positive for the viral illness sent shock waves across the planet (via Mayo Clinic).
Unlike when a fully-vaccinated President Joe Biden recently tested positive for COVID, Trump was sent to Walter Reed National Military Medical Center, where he remained for a few days to be monitored (via CNN).
Days after he tested negative for COVID, the former president resumed his busy schedule of meetings and interviews, noting at one point that he "was in great shape" (via Reuters). But now, according to a new book, apparently the Republican leader felt so great, he wanted to show America by wearing a very interesting outfit.
In Maggie Haberman's new biography about Trump called "Confidence Man" she reveals the controversial conservative's plan, which didn't end up happening — as well as many other jaw-dropping claims, including that he once nearly canned Ivanka and Jared Kushner via Twitter.
Donald Trump apparently felt like a superhero post-COVID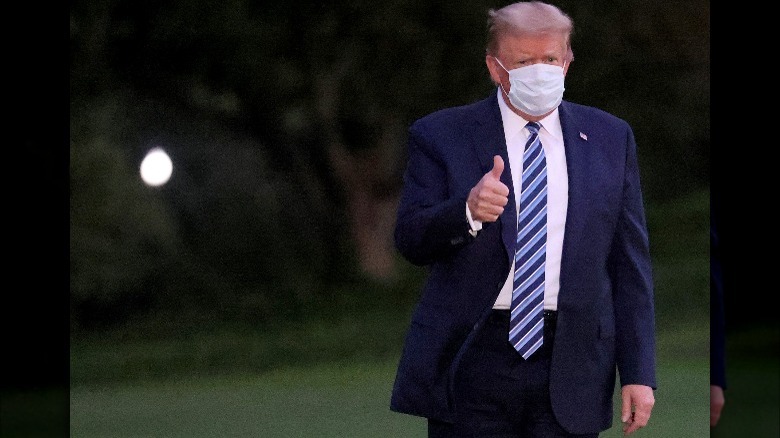 Win Mcnamee/Getty Images
An excerpt from "Confidence Man" claims that Donald Trump hatched an attention-getting plot to assure Americans and the world that he was feeling amazing following his 2020 bout of COVID (via Axios).
In the book, author Maggie Haberman, whose accounts of the Trump White House have been largely refuted by the man himself via his Truth Social account, details how the POTUS had come up with a scheme "inspired by the singer James Brown, whom he loved watching toss off his cape while onstage, but it was in line with his love of professional wrestling as well."
The New York Times mainstay goes on to write that Trump wanted to "be wheeled out of Walter Reed" in a wheelchair and then planned to stand up with maximum drama, at which point he would "open his button-down dress shirt to reveal [a] Superman logo beneath it."
The moment we'd still be talking about today of course never happened. But not surprisingly Twitter had a lot to say about the idea, with fans and detractors alike both having a field day. 
One person may have said it best by tweeting, "Seriously...it doesn't matter if you love or hate Trump...if you believe it's true or not ... That is funny!!"