Twitter Has Something To Say About Joe Biden's COVID Reinfection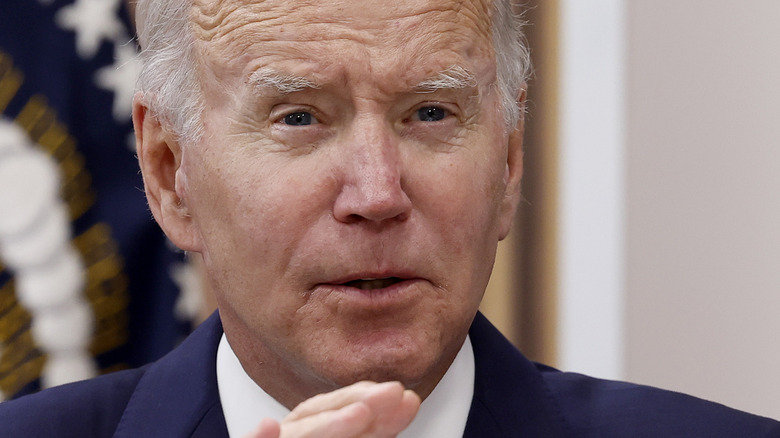 Anna Moneymaker/Getty Images
President Joe Biden has tested positive for COVID — again (via The New York Post). The Democrat, whose recent polling has shown that he stands in a precarious position with the voting public, took to Twitter to share the news (via Gallup).
"Folks, today I tested positive for COVID again," Biden said. "This happens with a small minority of folks. I've got no symptoms but I am going to isolate for the safety of everyone around me. I'm still at work, and will be back on the road soon."
According to the Centers for Disease Control, rebound positivity can happen after taking the antiviral medication Paxlovid, which the President did (via Politico). The CDC states however, "Paxlovid continues to be recommended for early-stage treatment of mild to moderate COVID-19 among persons at high risk for progression to severe disease."
Given that Biden is 79 years old, it's important to note that he would be considered high risk (via The New York Times).
The president first tested positive for COVID on July 21st (via The Washington Post). As CNBC reports, the commander in chief then tested negative for the virus on Wednesday and spent time in the oval office.
Given these facts, Twitter has a lot to say.
'COVID again' started trending immediately upon Joe Biden's announcement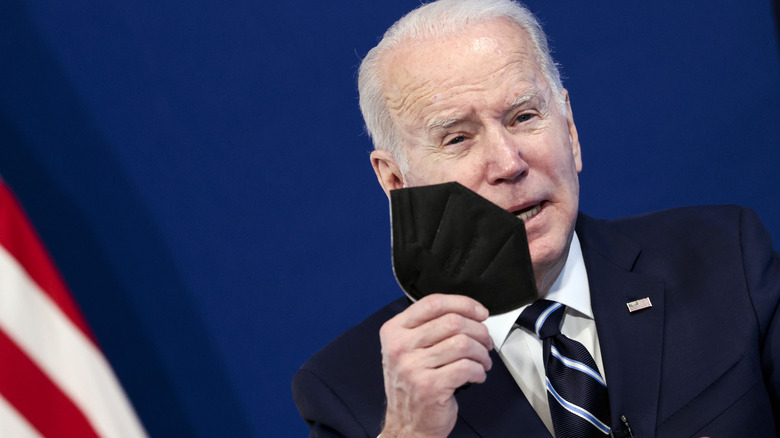 Anna Moneymaker/Getty Images
The news that President Joe Biden had tested positive for COVID after recovering sparked headlines across news outlets worldwide and the search term "COVID again" began trending on Twitter.
A major sentiment that emerged among Twitter users is that people aren't happy that Biden had returned to work in between testing positive, with one person saying this showed a lack of leadership and judgment. Someone else tweeted, "You were unmasked and could have infected people. My God."
Another Twitter user implored the leader to apologize for not masking since he knew he could experience a rebound infection. The "horrible example" he set according to this individual was only underscored by the fact that the politician is working and not resting. Many people urged him to rest, with countless supporters wishing him a speedy recovery. One person opined he'll be back "stronger than ever before."
Ultimately, no matter how users feel about the job Biden is doing, a common theme was that it's not rare to rebound after taking Paxlovid as the POTUS intimated in his initial tweet. One person noted it is actually pretty normal. 
But of course, so many "folks" used this latest news about Biden's health to start debating the effectiveness of vaccines all over again.