Which Two Survivor Contestants Appeared On The Young And The Restless?
"The Young and the Restless" has had many celebrity guest stars on the soap since it was created by Bill and Lee Philip Bell in 1973. Often musicians will appear on the soap to showcase their latest songs, such as Little Richard, Katy Perry, Enrique Iglesias, Trace Adkins, and Smokey Robinson, who have all been seen on "Y&R" over the years (via PopCulture). Some stars choose to take on an actual role, if only for a few lines. In 2003, "Star Trek" star Geroge Takei joined the cast for one episode as Reverend Daniel Tanaka to perform the wedding ceremony of Neil (Kristoff St. John) and Drucilla Winters (Victoria Rowell). Other times, famous actors who first got their start on the soap will return in later years to briefly reprise their role — David Hasselhoff did just that in 2010 when he brought back Dr. William "Snapper" Foster.
The CBS sudser also has a habit of offering guest spots to reality stars from some of the network's popular competition shows. "Big Brother" legend Will Kirby appeared on "Y&R," and memorable "BB" couple Jeff Schroeder and Jordan Lloyd were featured on the sister soap "The Bold and the Beautiful" (via Entertainment Weekly). "Y&R" continued this tradition in 2016 when two recognizable "Survivor" players were given brief roles as coffee shop patrons.
Survivor contestants Jeremy Collins and Joe Anglim appeared on Y&R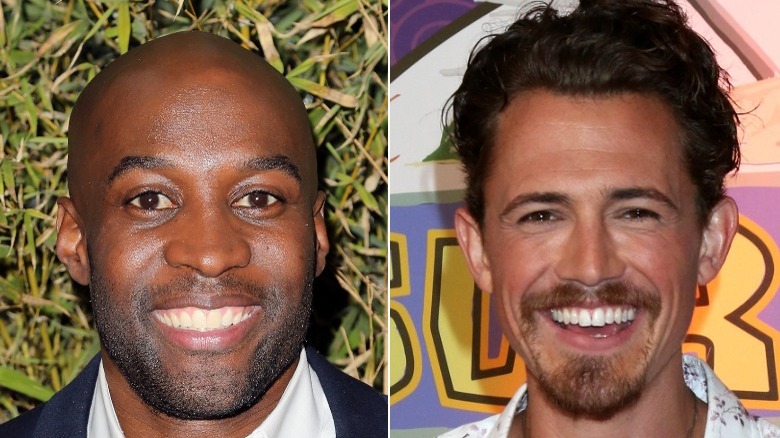 Kathy Hutchins/Shutterstock & David Livingston/Getty
"Survivor: Cambodia — Second Chance," the show's 31st season, featured 20 returning contestants from past seasons who were brought back for a chance to redeem themselves (via CBS). One such player was Cambridge, Massachusetts, firefighter Jeremy Collins — who appeared on Season 29 "Survivor: San Juan del Sur" — and he ultimately won the title of sole survivor. Fellow castaway Joe Anglim, who was a fan-favorite player on both Season 30 "Survivor: Worlds Apart" and "Second Chances," joined Collins when he was offered the opportunity to star in "The Young and the Restless."
Of his brief stint on daytime, Anglim told Entertainment Weekly, "The experience was amazing! I just tried to take it all in ... I felt honored to even be asked to be on the set, let alone get to experience the magic of film and TV at CBS." Equally thrilled with the opportunity, Collins said that filming "Y&R" was a "once in a lifetime experience that I will never forget. It was awesome to see some real professionals work their magic. I was just trying not to ruin the scene!"
Despite the new environment, neither Anglim nor Collins are strangers to having television cameras in their faces during stressful situations. When quizzed by People, both men claimed that "Survivor" challenges and tribal council ceremonies were far more difficult than remembering their soap lines. However, Joshua Morrow, who plays Nick Newman on "Y&R," was impressed with their performances on both shows.
Y&R star Joshua Morrow is a Survivor superfan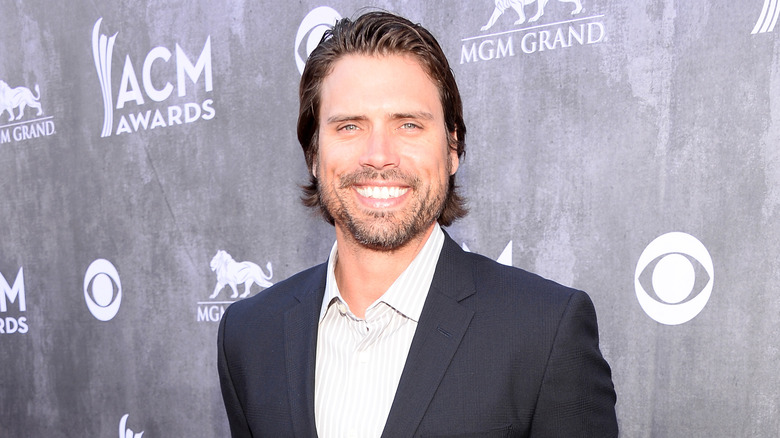 Frazer Harrison/acma2014/Getty Images
"The Young and the Restless" fans might not be aware that longtime cast member Joshua Morrow, who has played the role of Nick Newman since 1994, is a huge fan of CBS competition show "Survivor." Not only was he thrilled to find out that Joe Anglim and Jeremy Collins — his pick to win — were going to appear on the soap, but that he would also get to share the scene with them.
The daytime star told Entertainment Weekly, "Having Joe and Jeremy on the show was a huge thrill for me. I consider myself a 'Survivor' professional, and these two dudes are not only incredible 'Survivor' players, they are men with integrity and class as well as two of my all-time favorite players."
Upon discovering Morrow's appreciation of "Survivor," People asked the soap star if he could ever see himself on the competition show. His answer? "I am dying to play 'Survivor.' I am the most competitive person I know and am dying for the challenge. It's an incredible test of strength and will, both mentally and physically. I lie awake at night, wondering if I could hack it. My dream is to try, but I am afraid that dream will never come." Morrow has yet to find himself stranded on a deserted island, but fans of both "The Young and the Restless" and "Survivor" would love to see him try. We're sure Jeremy Collins and Joe Anglim would too.