It Turns Out Prince Harry Rejected Prince William's Attempts At A Truce - Here's Why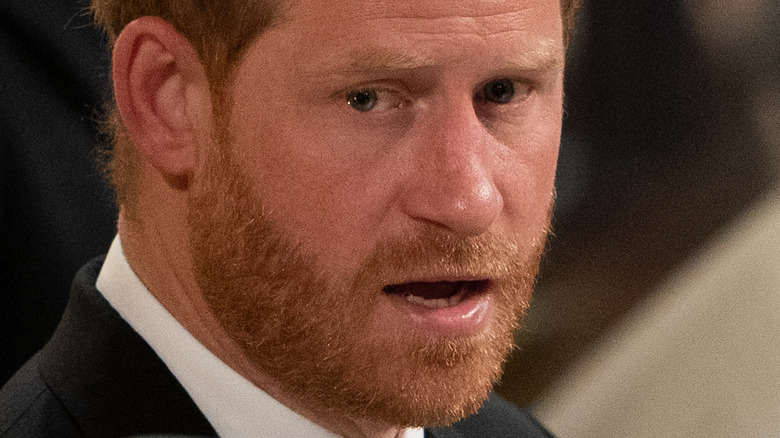 Wpa Pool/Getty Images
William, Prince of Wales, and Prince Harry, Duke of Sussex, have been at odds for well over two years. Many believe that the royals had a falling out after Harry decided to step down as a senior member of the royal family in early 2020, however, according to Vanity Fair, their rift may have started long before then. Although William did serve as the best man in Harry's May 2018 wedding, the two have grown apart in the years since, only coming together for various events for brief periods of time. 
For example, Harry traveled to the U.K. in April 2021 after Prince Philip died. Things did seem a bit awkward for William and Harry during the procession, but the brothers did share a chat on their walk back to Windsor Castle, according to BBC News, and this provided many with hope that the two would be able to work things out. They reunited again at the unveiling of a statue of their mother in July 2021, where they put on a "united front," setting their differences aside for the special occasion, Entertainment Tonight reported. 
More recently, the two princes were together at the funeral service for their grandmother, Queen Elizabeth II, who died on September 8. However, shortly after the funeral service ended, Harry and his wife Meghan Markle, Duchess of Sussex, were on a plane back to the States, dashing hopes of any deep conversations or forgiveness of past grievances within the family. In a new book, an interesting claim was made about an attempted truce that was allegedly nixed by Harry.
Prince Harry has been worried about the media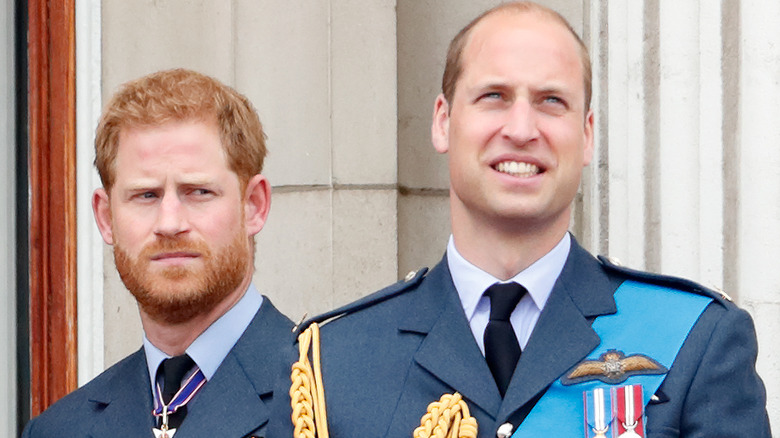 Max Mumby/indigo/Getty Images
One of the reasons that Prince Harry and Meghan Markle, the Duke and Duchess of Sussex, left the U.K. was because of the onslaught of tabloid attention surrounding the royal family. In his sit-down interview with Oprah Winfrey that aired in March 2021, Harry called the U.K. media "bigoted" and said it creates a "toxic environment" of "control and fear," according to BBC News. Given this information, it's easy to understand why Harry wouldn't want any meeting with his brother — or the details of that meeting — being leaked to the press. And that is supposedly why he decided against talking with his brother when William, Prince of Wales, wanted to make things right, according to a book titled "Courtiers: Intrigue, Ambition, and the Power Players Behind the House of Windsor" by Valentine Low.
"[He] was so concerned that William's team would leak the visit to the press that he would rather they did not come than risk it getting into the papers," the book's author wrote, according to The Sunday Times. The book indicates that William was determined to make amends with Harry but the plans didn't play out the way he had hoped. Just five months later, Harry and Meghan Markle left the U.K. in search of a life that they could live on their own terms.
Things are reportedly 'pretty frosty' between the princes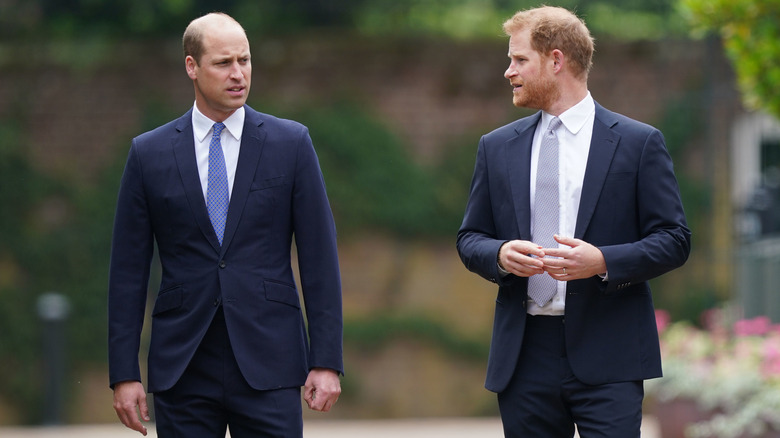 Wpa Pool/Getty Images
Although royal watchers were delighted to see estranged brothers William, Prince of Wales and Prince Harry, Duke of Sussex, finally back together for the walkabout at Windsor Castle, an insider clarified to People that the outing was far more "awkward" than it appeared. In fact, far from being evidence of progress between them, the estranged siblings were reportedly putting on a brave face for the sake of their beloved grandmother and that was it.
During an appearance on British talk show "Lorraine," The Sunday Times' royal editor, Roya Nikkhah, confirmed "things are pretty tense and pretty frosty still between them." Nikkhah also pointed to the incident discussed in Low's book, noting, "That gives you an insight into just how tricky and perhaps lacking in trust that relationship now is." Suffice it to say, there's a long way to go before these two can work things out.
Sadly, there's also reason to believe there may be no going back for William and Harry. Royal expert Katie Nicholl claimed, in an interview on "Dan Wootton Tonight" (via the Daily Mail), that the Prince of Wales blames his younger brother for, essentially, abandoning him. "William simply can't forgive [Harry], not just for his behavior and what he's done and how he's done it, but look at how much now rests on William," Nicholl explained.
She continued, "He always thought Harry would be his wingman, now he's doing it on his own. Thank goodness he's got Kate by his side."