Here's How Much Wedding Transportation Typically Costs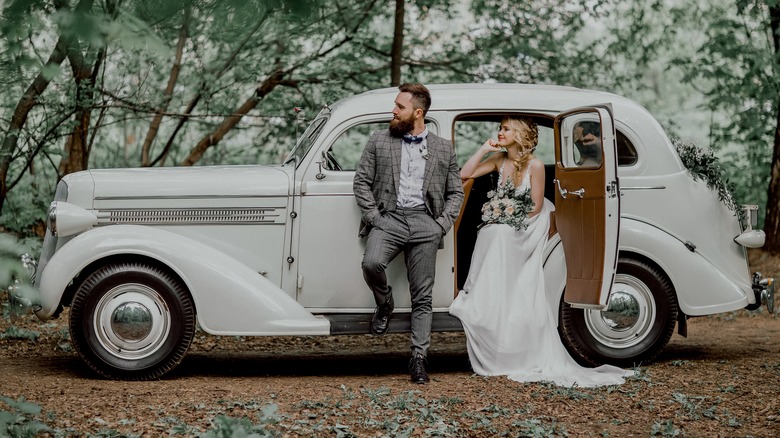 Valery Petrushkov/Shutterstock
We all know weddings can be expensive, leaving the newlyweds and their parents — or both — in debt for months or even years. There's the cost of the wedding venue to consider, the save-the-dates and invitations, the cake and food, the dress and tux, the shoes and jewelry, and the list goes on and on. According to The Knot, the national average cost of a wedding in the United States in 2021 was $28,000, based on survey responses.
If a wedding is in your future, and that figure just made you cringe, you'll be happy to know that many expenses that contribute to that total are optional, or there are more affordable alternatives. Case in point? Transportation. You may have even forgotten about wedding transportation entirely. According to HuffPost, transportation for your guests is one of the wedding expenses couples tend to forget about when factoring in their budget. If you're just now factoring transportation in, you may want to know how much it typically costs first. 
The fancy (but more expensive) wedding transportation options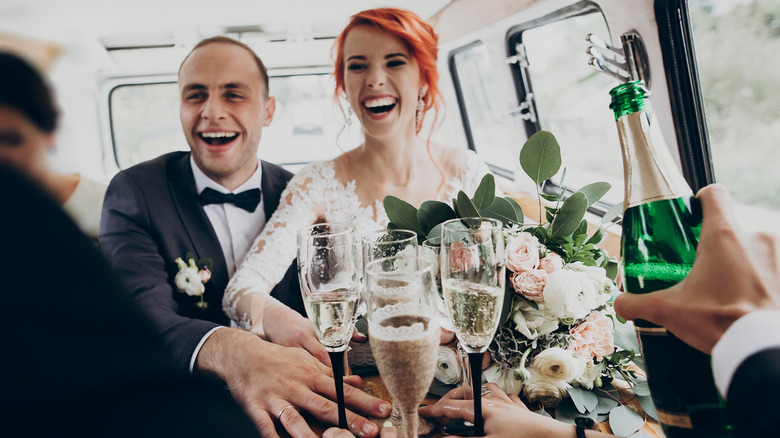 Bogdan Sonjachnyj/Shutterstock
Another survey from The Knot revealed that the average cost for transportation in 2021 was about $900. That doesn't mean that has to be your cost, though. Obviously some form of transportation will be required for your wedding, unless of course, you get married at home, but even then, you may still want special transportation for your bridal party and special guests.
One of the most popular forms of transportation for a wedding is a stretch limousine, according to Today's Bride. These spacious vehicles offer luxury that many other vehicles don't, like fancy lighting, a mini bar, and a flat-screen TV (via Swiss Limo).
According to Fash, renting limousine service for a wedding in the U.S. costs between $125 and $460. This equates to a $250 average, but this amount can vary depending on where you live. Wedding planner Samantha Goldberg gave an even higher figure for the average. She told Brides that "a stretch limo which can fit 12 to 14 people might run you $350 to $500 for three hours..."
If you want to accommodate even more people, you might opt for a party bus. These vehicles offer the same amenities, but with a lot more room. Take Sam's Limousine & Transportation, Inc., a Houston-based limousine company, as an example. Their party buses can accommodate up to 36 people. Fash claims the average cost for a party bus is $120 an hour.
Other wedding transportation options include a horse and carriage or vintage car for just the bride and groom, or a charter bus (sans fancy amenities). These options, on average, cost $250 to $1,000 (via What It Costs), $750 (per Bark), and $175 an hour (via National Charter Bus), respectively.
More affordable wedding transportation options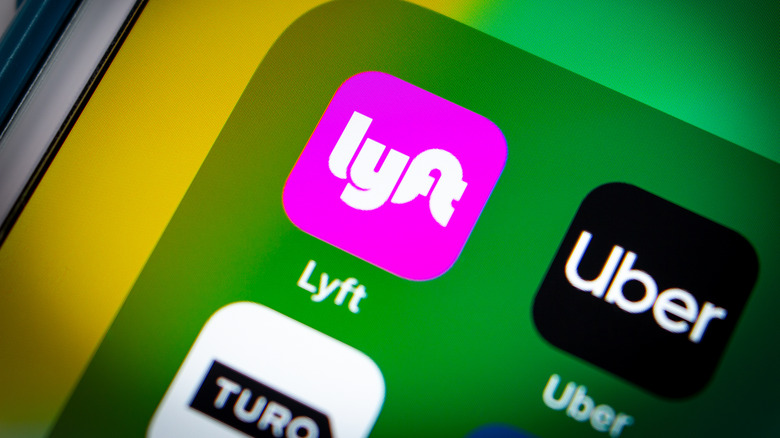 Koshiro K/Shutterstock
Of course, the most obvious way to save money on wedding transportation is to not rent any at all. If none of your guests will be coming from out of town, there's no need to arrange for transportation for them. If there will be out-of-town guests, some of them may already be planning to rent a car. Others may opt for a mobility service, like Uber or Lyft. Or, you can arrange these services for them with a voucher or special code.
Another way to save money is by having a relative or close friend do some of the taxiing for the guests. That is, if they're willing to do it for a lost cost or for free. This doesn't have to be the option for all of your out-of-town guests. Maybe just for the bridal party or the parents of the bride and groom.
Keep in mind, there's no rule that says that you have to provide transportation for your guests (via Inside Weddings). While it's obviously a nice thing to do, not every wedding guest will expect it. Nine hundred dollars is a lot of money for wedding transportation, so if that's not in your budget, consider the more affordable options. And remember, if it's your wedding, it's your wedding. Do what you want and what you can afford.