Loretta Lynn's Last Instagram Post Feels Especially Heartbreaking Now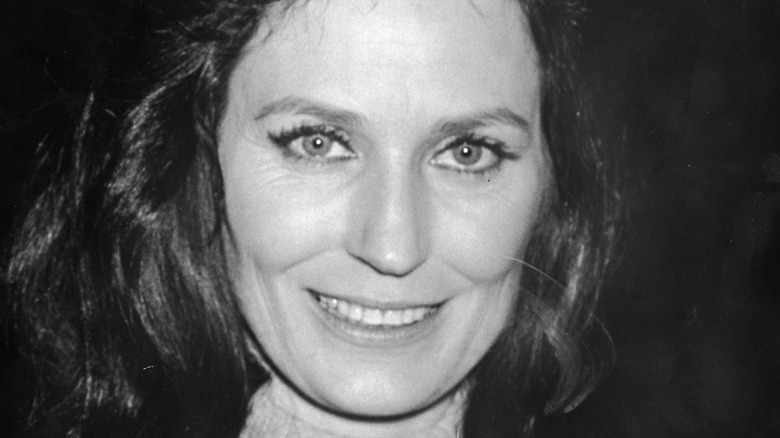 Hulton Archive/Getty Images
We may receive a commission on purchases made from links.
The heartbreaking death of country music icon Loretta Lynn was announced on the morning of October 4. She was 90 years old. As the singer's family wrote on her official social media accounts, "Our precious mom, Loretta Lynn, passed away peacefully this morning ... in her sleep at home in her beloved ranch in Hurricane Mills." Accompanying the announcement was a recent photograph of Lynn smiling and playing her guitar. The beloved "Coal Miner's Daughter" was a "symbol of rural resilience," according to The New York Times, a country star remembered for her humble Kentucky origins and unrivaled determination.
Just two days before her death, the singer captioned her final Instagram post with a biblical verse: "Everyone who does evil hates the light, and will not come into the light for fear that their deeds will be exposed," reads the quote. "But whoever lives by the truth comes into the light, so that it may be seen plainly that what they have done has been done in the sight of God. John 3:20-21." In the wake of her passing, this reflective reference seems all the more meaningful.
Loretta Lynn rose to fame over 60 years ago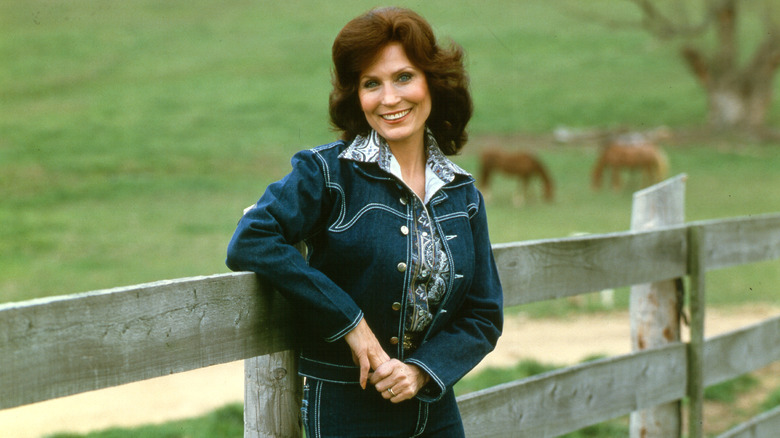 Michael Ochs Archives/Getty Images
Loretta Lynn gained widespread recognition in the 1960s with hits like "You Ain't Woman Enough (to Take My Man)" and "I'm a Honky Tonky Girl," per Rolling Stone — her first performance at the historic Grand Ole Opry came in 1960. In later years of her career, the singer was outspoken about the heartbreak she experienced at the hands of her husband, whose infidelities and abuses inspired much of her music. As reported by The New York Times, music producer John Carter Cash (only son of Johnny Cash and June Carter) worked with Lynn in the early 2000s. As he explained, "She's louder than most, and she's gonna sing higher than you think she will," adding that, "With Loretta you just turn on the mic, stand back and hold on." Lynn had no shortage of passion (and a whole trunk of heartbreak) to draw inspiration from. "When something is bothering me, I write a song that tells my feelings," reads a popular quote from the artist (via American Songwriter).
In 1979, Lynn was recognized for her contribution to the country genre, named the artist of the decade by The Academy of Country Music. In 1988, the singer was inducted into the Country Music Hall of Fame. Lynn's "signature song," according to the Hall of Fame, was her 1970 hit "Coal Miner's Daughter," also the title of her 1976 autobiography and 1980 Academy Award-winning biopic, per IMDb.
Loretta Lynn's story was adapted for the big screen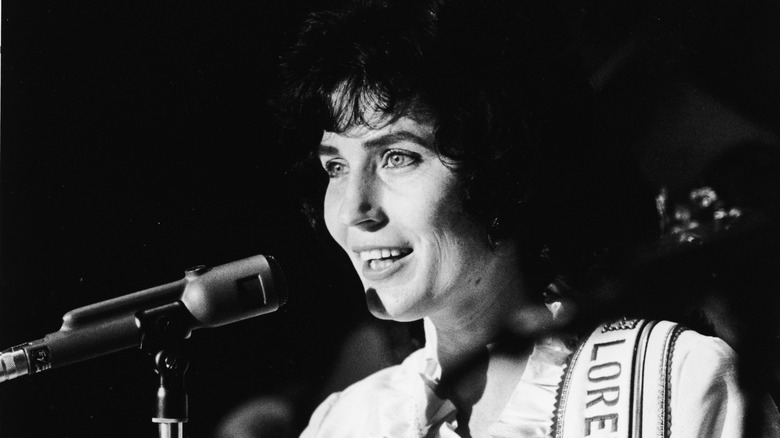 Hulton Archive/Getty Images
In 1980, Loretta Lynn's humble Kentucky origins became the subject of an Oscar-winning film starring actress Sissy Spacek. The story, a fictionalized retelling of Lynn's autobiography, follows the singer throughout her early years in the Kentucky coalfields, her teenage marriage to husband Oliver "Doolittle" Lynn, and (of course) her quick rise to stardom (via Roger Ebert). Throughout her decades-long career, the singer wrote two other memoirs. "Honky Tonk Girl: My Life in Lyrics" details the stories behind some of her most famous songs, and "Me & Patsy Kickin' Up Dust" recounts the singer's powerful friendship with fellow country icon, Patsy Cline.
The 2019 Lifetime movie, "Patsy & Loretta," captures the pair's famous relationship, brought to an early end in 1963 following Cline's tragic death. Throughout Lynn's early career, Cline acted as a mentor of sorts — the pair toured together and even swapped clothing. According to Wide Open Country, Lynn explained, "After I met Patsy, life got better for me because I fought back," adding, "Before that, I just took it. I had to." The "Coal Miner's Daughter" singer even named her daughter, Patsy Lynn Russell, after her friend.