Meghan Markle Recalls Embarassing Childhood Experience In First Podcast Since The Queen's Death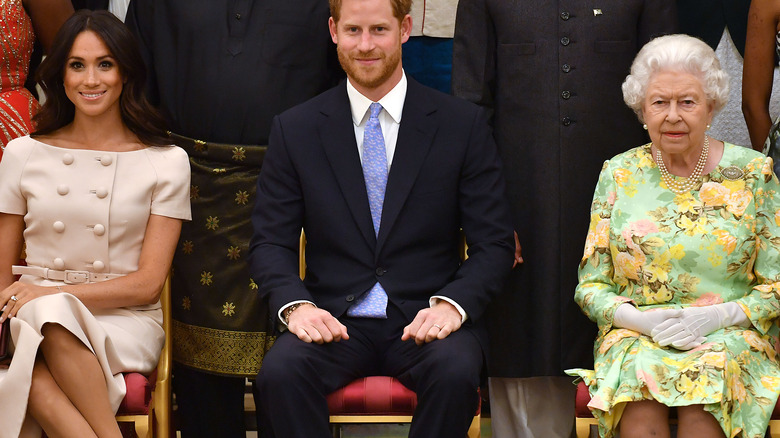 Wpa Pool/Getty Images
Following the heartbreaking death of Queen Elizabeth II, Meghan Markle, the Duchess of Sussex, had to put much of her life on hold. When Meghan and her husband Prince Harry traveled from their home in California to the Duke of Sussex's native United Kingdom, they originally were planning on spending just a few days in the country, WM Magazine reported. The royals were supposed to spend their trip attending charity functions, but when news broke that Harry's beloved grandmother was on medical supervision, the trip took a turn.
When Queen Elizabeth passed away, Prince Harry rushed to be by her side at her Scotland home, Balmoral Castle, but sadly did not arrive on time (via Bustle). The duke and duchess would choose to stay in the U.K. until the funeral, which Meghan attended clearly showing her emotions about the passing of the queen, though their relationship seemed to have been complicated towards the end of her life.
Since the couple had to postpone their return to the United States following the tragic passing of the family's matriarch, Meghan's career endeavors had to be put on hold. Now, she's back to her podcast and opened up about an embarrassing childhood story.
The duchess recalled a moment from her childhood that once embarrassed her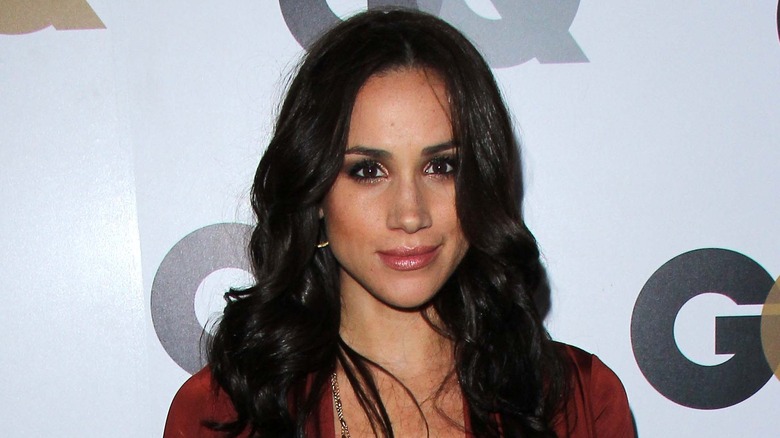 s_bukley/Shutterstock
After debuting just a few episodes of her "Archetypes" podcast, Meghan Markle, the Duchess of Sussex, had to put her show on hold while she was in the United Kingdom for Queen Elizabeth II's funeral. Now that she is back stateside, a new episode featuring Margaret Cho and Lisa Ling has been released, and during the recording, she opened up about an embarrassing story from her childhood (per People).
The episode called "The Demystification of Dragon Lady" touches on racism faced by Asian Americans. Meghan took this time to talk about her experience in Korean spas as a young girl.
"I had a real love of getting to know other cultures as part of that. My mom and I would often go to the Korean spa together," Marke shared in the podcast (via Woman & Home). "Now, for those of you who haven't been to one before, it's a very humbling experience for a girl going through puberty because you enter a room with women from ages, 9, to maybe 90 all walking around naked and waiting to get a body scrub on one of these tables that are all lined up in a row."
She added, "All I wanted was a bathing suit. Which you're not allowed," however, she got over her fear of being nude in public and grew from the situation while taking time to get to know another culture (per Woman & Home).