Inside Loretta Lynn's Relationship With Her Sister Crystal Gayle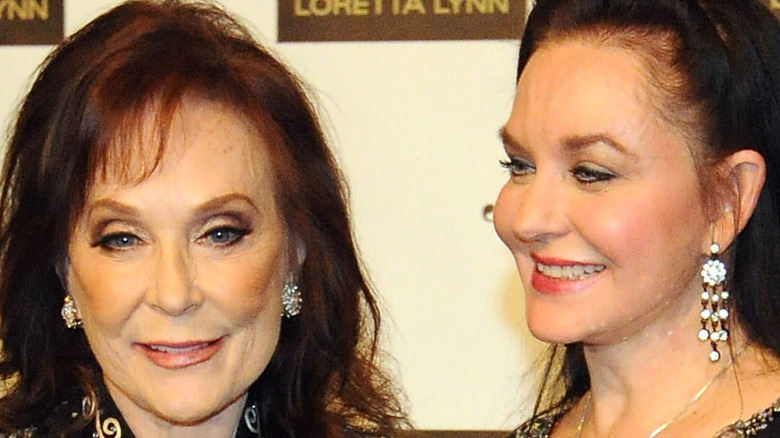 Rick Diamond/Getty Images
Family, friends, and fans are mourning the heartbreaking death of Loretta Lynn, who passed away at the age of 90. "Our precious mom, Loretta Lynn, passed away peacefully this morning, October 4th, in her sleep at home in her beloved ranch in Hurricane Mills," her family wrote on Instagram. 
Born in Butcher Hollow, Kentucky in 1932 in a coal miner's shack, Lynn grew up singing in church and at local events (per Biography). At the age of 15, she married Oliver Lynn — he bought Lynn her first guitar, which she taught herself to play (via Celebrity Net Worth). She then went on to write and perform hits such as "Coal Miner's Daughter," "You Ain't Woman Enough," and "Fist City," becoming a country music legend who died with a net worth of $65 million.
Lynn wasn't the only one in her family with musical talent. One of eight children, Lynn's younger sister, Crystal Gayle, also had her own successful singing career with hits including "Don't It Make My Brown Eyes Blue" and "Talking in Your Sleep," Biography reported. After news of Lynn's passing became public, Gayle shared some family photos and a heartfelt tribute to her sister on Instagram. "The world lost a legend. We lost a sister. Love you Loretta."
Loretta Lynn helped her sister launch her music career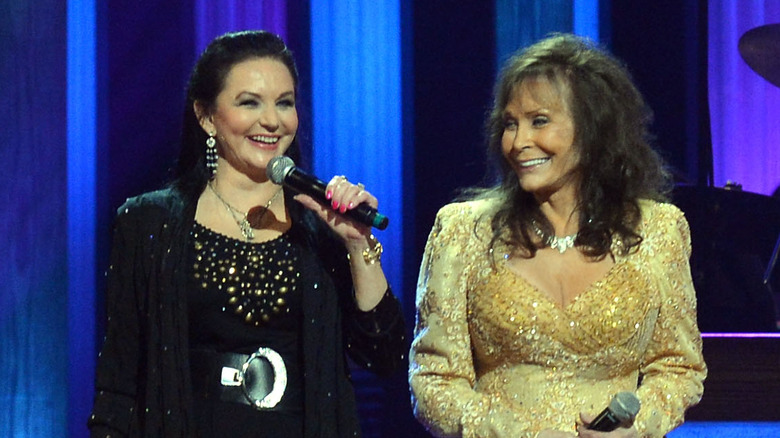 Rick Diamond/Getty Images
Although Loretta Lynn was already married and living in her own home when younger sister Crystal Gayle (real name: Brenda Gail Webb) was born, the two were still especially close, People reported. In fact, Gayle would often spend her summers on tour with Lynn. And at age 16, she was called on to replace her sister at the Grand Ole Opry after Lynn had fallen sick.
It didn't take long for Gayle to decide that she wanted to follow in her big sister's footsteps and launch a music career, and Lynn was more than happy to help. She came up with her younger sibling's stage name and gave her some sound guidance. "She got me my first recording contract [in 1970], and she told me the best advice: 'Don't sing anything that I would because we're only going to be compared,'" Gayle told People. "She was right."
Lynn even wrote a song that became one of Gayle's best-known tunes, although the track — "I've Cried (the Blue Right Out of My Eyes)" — was originally intended for singer Brenda Lee. "Lee's eyes are brown, so I got it," Gayle explained.
Loretta Lynn and Crystal Gayle remained close through the years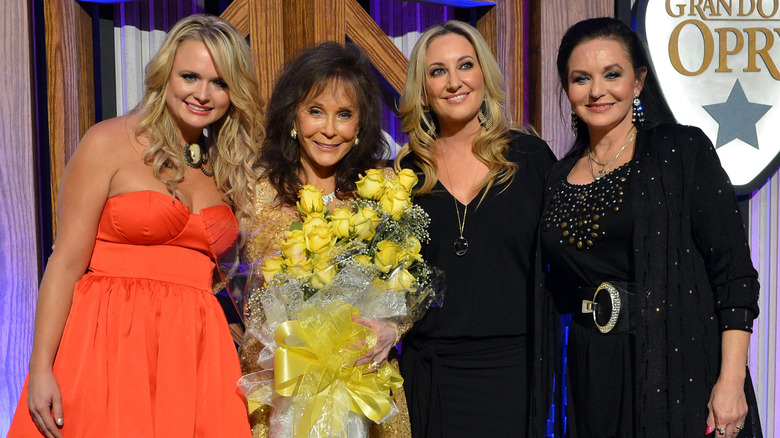 Rick Diamond/Getty Images
Although the music industry tried to paint them as rivals, Loretta Lynn and Crystal Gayle maintained their close bond. "We're sisters, so of course we're going to have our words," Gayle explained to People, "but it was never anything major. We'd laugh about it and go on with our careers."
Lynn agreed, explaining that any rivalry was created by the industry. "We fight a little bit, but that's just sisters. And we never fight over the music business," she said. "Crystal has a style of her own."
When Lynn celebrated 50 years in the country music industry in front of notable names including Miranda Lambert, Lee Ann Womack, Trace Adkins, and Pistol Annies (via Taste of Country), she invited her sister up on stage with her. Lynn also agreed to sing backup on a track — co-written by Dolly Parton — from Gayle's 2019 album, showing up at the studio just a few months after she suffered a stroke in May 2017.  
"It's very special that she would do it," Gayle told People. "She came in and sang it, and said, 'What's next?' If I'd had 10 tracks done, she would have sung every one of them that day. I should have had more than one."