Joe Biden Has Reportedly Shared His Plans For 2024 With An Unlikely Source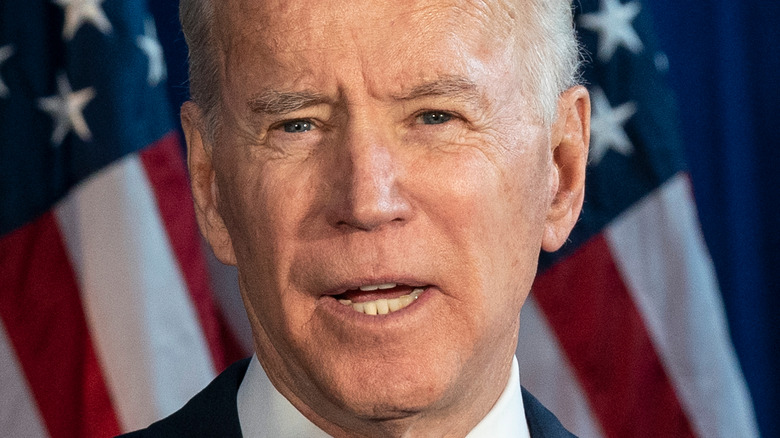 lev radin/Shutterstock
President Joe Biden is keeping his 2024 plans close to his chest for the time being, but we do know the current president would welcome the opportunity to face off against former commander-in-chief Donald Trump once again. 
As Politico reported earlier this year during a press conference in Brussels, the topic of running for re-election in 2024 came up. And, although Biden remained vague, the president did confirm, "In the next election, I'd be very fortunate if I had that same man running against me."
Biden also pointed to his decades of political experience, including while working under President Barack Obama, noting simply, "I don't think you'll find any European leader who thinks that I am not up to the job," which is in stark contrast to Trump. Previously, in an interview with ABC News, Biden quipped, after smiling widely, "Why would I not run against Donald Trump? He's the nominee, that increases the prospect of running."
The president clarified that he would have to be in good health to consider the prospect again, however, he's open to the idea generally speaking. Business Insider pointed out that, if he gets another term, Biden will be 86 when leaving the White House. But insiders reckon age isn't even an issue for him. 
In fact, we may have the biggest sign yet that a 2024 Biden run is definitely happening.
Al Sharpton was reportedly told definitively about Joe Biden's plans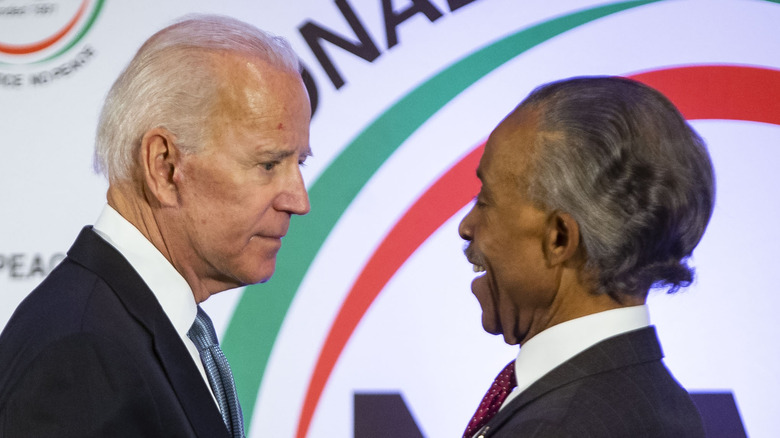 Al Drago/Getty Images
NBC News reports that President Joe Biden confirmed to Rev. Al Sharpton during a recent visit to the White House that he does intend to run in 2024. "I'm going to do it again," Biden reportedly confided while posing for photos alongside Sharpton, as revealed by an official of his National Action Network, whom Sharpton told. Biden added, "I'm going."
The current occupier of 1600 Pennsylvania Avenue has been toying with the idea for months, refusing to outright say either way — likely because of strict campaign-finance reporting laws — but this is the strongest sign yet that it's a go. Biden and Sharpton were discussing how Black voters were key to helping get him elected the first time around.
Moreover, Biden sought Sharpton's advice on running prior to announcing his candidacy, with the reverend later suggesting he was one of the first to know about his plans as a result. Now, it seems the same thing might be happening again, especially given Biden's wording.
He may have his work cut out for him, though, since CBS News shared, per the results of a recent poll, that the vast majority of Americans want a maximum age limit on who can run for president. Likewise, voters want to see more young people in positions of power, too.
Donald Trump has been slightly less obtuse about his plans for 2024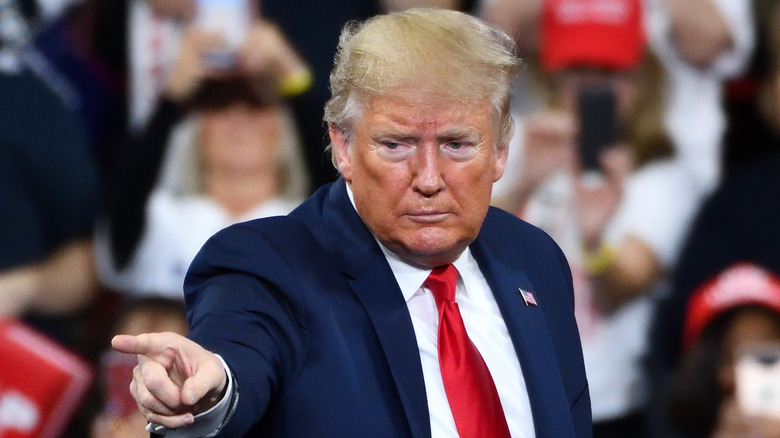 Evan El-Amin/Shutterstock
A potential 2024 Donald Trump campaign seems like a given, even if the former reality star insists on continuing to tease the media and his supporters alike. Trump told Fox News he wasn't going to confirm either way until after the midterm elections but strongly hinted that another run was in the cards. 
Further, as the Independent pointed out, the controversial politician has been posting plenty on his dedicated social media network, Truth Social, that seems to suggest he's running.
Trump linked to a variety of stories that were hugely positive about a potential campaign, including a piece from American Thinker, headlined: "Donald Trump Must Be The 2024 Republican Nominee." He subsequently shared another, even more explicit story from them, which claimed: "History is calling Donald Trump." 
Republican insiders are hoping he can hold off until after the upcoming elections, which are crucial to their future success, but Trump appears to be hinting that he will not. Suffice to say, these are Trump's strongest hints yet about a 2024 run, even if, similar to Joe Biden, he has yet to explicitly state his intentions. 
They're going to have a real fight on their hands if it does come to pass, though. According to the results of a recent poll cited by The Hill, 45% of respondents would choose Trump in a potential rematch, with 41% opting for Biden.