Why Brennon Elliott Thinks His New Hallmark Movie Marry Go Round Was 'Emotionally Challenging'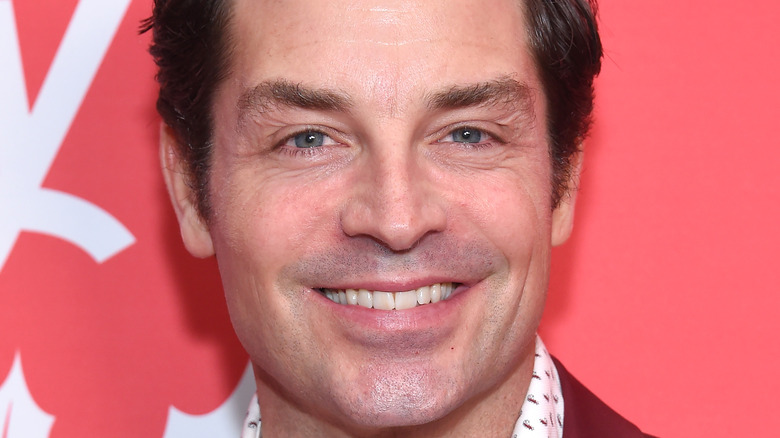 DFree/Shutterstock
Brennan Elliott is a prolific actor with an extensive, wide-ranging slate of roles, taking in everything from horror ("Curse of Chucky") to splashy drama ("UnREAL"). But the Hollywood stalwart has really found a home for himself in the Hallmark Channel. In an interview with The Harlton Empire, the actor noted: "One of the great honors I get with Hallmark is the opportunity to play a diverse range of characters, which can be challenging but fun."
Despite his impressive career thus far, though, Elliott admitted that it would take him starring in a Western or period film for his father to truly believe that he'd made it. Funnily enough, as he confessed during a chat with Indie Mac User, Elliott's main drive to act came from not being particularly gifted in any other area. "I loved the self-exploration and expression form of the art," he added. "I can truly express my true self and feelings within a character."
And, yet, with his Hallmark collaboration "Marry Go Round," the actor found himself pushed to the brink in a very different way.
The Hallmark star puts his 'heart and soul' into every role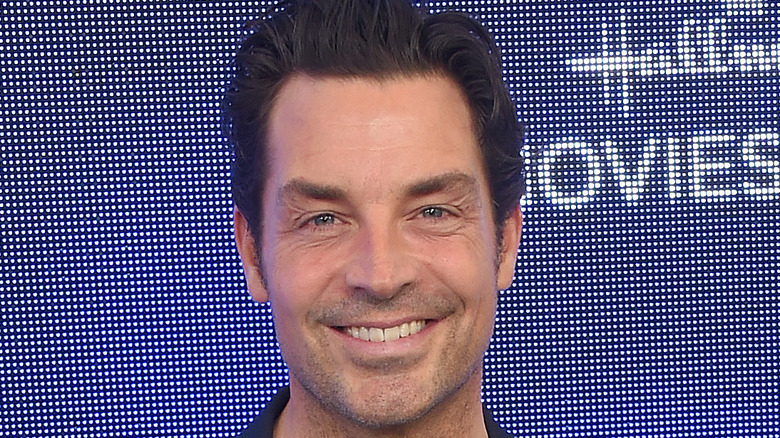 DFree/Shutterstock
Hallmark Channel star Brennan Elliott loves what he does, but, sometimes, tapping into his emotions can be difficult. When a fan inquired on Twitter if there was "one character who was more of a challenge," Elliott revealed that "Marry Go Round" definitely takes the cake. 
"Each one is hard and a challenge for different reasons but this last one was very emotionally challenging," the actor acknowledged. Elliott subsequently elaborated, "This movie is a pretty personal love story for me to be honest."
During a chat with Digital Journal, the Hallmark star clarified that the experience of shooting "Marry Go Round," directed by David Weaver, was good fun but also demanding.
The film's synopsis reads: "Abby Foster (Schull) and Luke Walker (Elliott) were high school sweethearts who were married for a brief time. Many years later, Abby's life seems perfect as she gets ready for a new life in Paris along with her soon-to-be husband, Edward. When an unexpected letter arrives throwing Abby off course, she must decide what her heart really wants." 
As for his lovelorn character, Elliott shared, "I liked Luke's passion and heartfelt devotion to never letting go of love or the things that are important to him." Hinting at how personal it was to him, the actor opined that "Marry Go Round" is about doing whatever it takes to hold onto love. He added, "I try to personalize everything from my own experiences." 
Elliott feels immensely grateful to be acting for a living, enthusing, "Whatever TV show or movie I'm doing, I treat it as either my first job or my last job. I also give my heart and soul to it and I learn something along the way." 
Brennan Elliott and Amanda Schull really bonded on set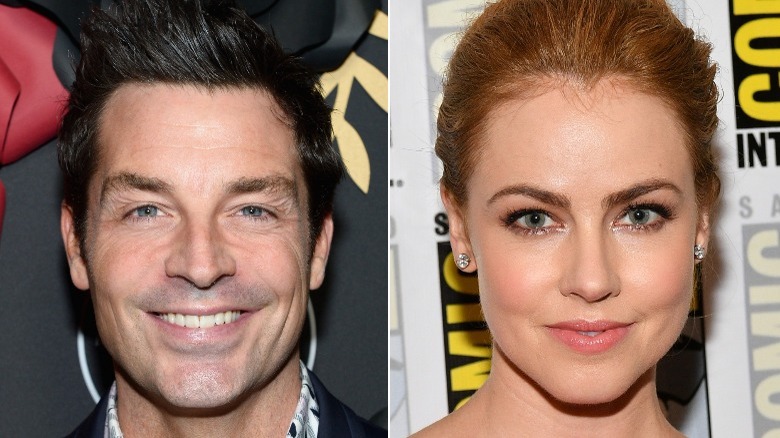 Dia Dipasupil/Getty
Amanda Schull revealed that it was wonderful working with Brennan Elliott on Hallmark's "Marry Go Round," describing the experience as challenging but hugely rewarding to WNY Papers. "I think what was initially really appealing about this one, was it had some heavy material," Schull noted. "I don't know that people necessarily think of me when it comes to something darker, but I get excited by it. I love it. I love a little bit more of a challenge."
Moreover, similar to her co-star, Schull jumped at the chance to be more emotionally open onscreen. As for Elliott himself, she gushed: "I think what defined Brennan's performance, for me, was just his acceptance and willingness to be very authentically vulnerable; and not try to fake it or force it or push it — and that's not always easy for men." The feeling was clearly mutual, with the actor describing Schull in a Q&A with Hallmark as "amazing."
In fact, Elliott admitted that he's never "laughed more" behind the scenes than he did on "Marry Go Round." The Hallmark stalwart made it clear that, although the filming process can be grueling, everybody working on such projects grows incredibly close as a result. "It becomes a family, there's a lot of love and respect and fun," Elliott confirmed.
Evidently, despite the emotional toll it took, "Marry Go Round" was a positive experience for all involved.