Kate Middleton Wears An Unexpected Fall Color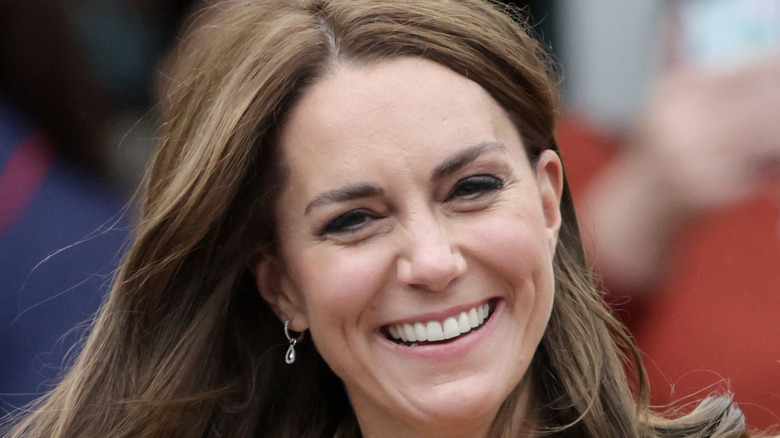 Chris Jackson/Getty Images
The Princess of Wales has really been shaking things up lately when it comes to exploring with color. Take the pink power suit Kate Middleton donned in June and paired with matching heels. Or how about the navy version of the same Alexander McQueen jacket and pants that the new princess chose for the perfect occasion just this past week?
Now, seemingly intent on keeping her fans' attention, Kate has selected yet another color to add to her wardrobe that will have legions of admirers ready to copy the look. While stepping out to visit the Royal Surrey County Hospital's maternity ward, the Princess of Wales donned a hue that will remind you of autumn leaves and pumpkin spice lattes (via InStyle).
The royal's mustard yellow belted dress, which featured prim pleats and a daring v-neck is by Karen Millen according to Glamour. The design's in keeping with what we previously learned about clothes Kate prefers in that her outfits may feature a hidden naughty detail.
Meanwhile, a look back at some of the Duchess of Cambridge and Cornwall's best looks reveals that perhaps she's had a secret love of the color yellow all along.
Kate Middleton may wear yellow for a reason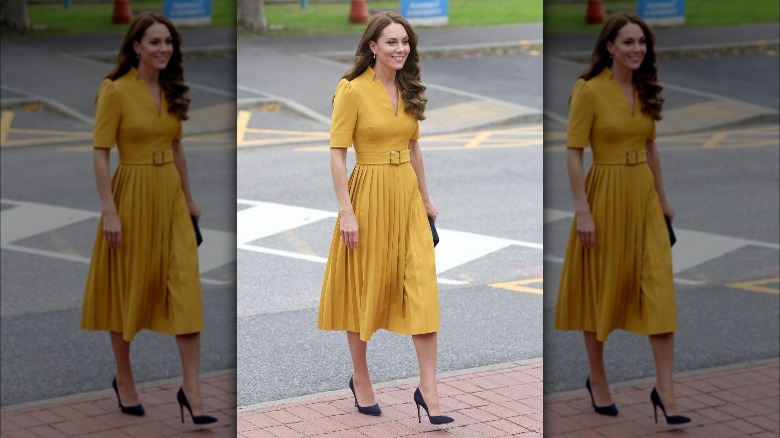 Chris Jackson/Getty Images
Back in 2012, Kate Middleton added a light yellow Emilia Wickstead coat to her royal wardrobe (via Marie Claire). In fact, the Princess of Wales loves this look so much, she has worn it more than once.
The one-day queen consort of England also sported a vivid yellow Roksanda dress to not one, but two events over the course of the past year (via Good Housekeeping). And don't forget the pale yellow coat dress Kate chose for the Queen's Platinum Jubilee, which she paired with a matching hat, naturally (via Elle).
So what does this preferred palette say about Kate? According to HuffPost, when a person dons yellow, they are signaling optimism, which may have been an intentional vibe on the princess' part this time given that she was visiting a hospital.
Could this also be why Kate's sister-in-law Meghan Markle selected a yellow dress back in 2018 when she was trying her best to hang in there with the royal family? The notion that yellow is a happy hue may also explain why the Queen also enjoyed wearing it (via Hello!).