Kate Middleton's Favorite Designer Reveals 'Naughty' Details About The Duchess' Dresses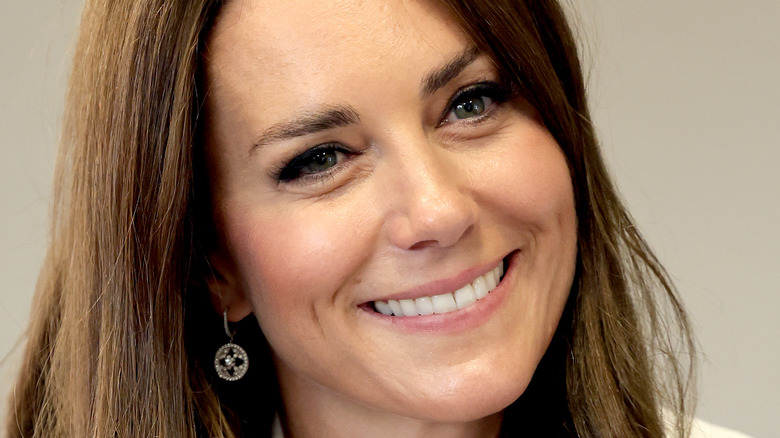 Chris Jackson/Getty Images
Kate Middleton being naughty? Say it's not so! We find it hard to believe that the Duchess of Cambridge is anything other than perfectly, well, perfect at every single moment. Consider the extensive evidence. Her every fashion choice is admired worldwide and she never (ever) takes a bad photo. But what if underneath her buttoned-up, sensible, school-teacher-worthy appearance is a sexy detail hiding in plain sight?
According to one of Kate's favorite clothing designers Alessandra Rich, this is exactly the case. First, a quick review of when the senior royal has worn the London-based brand of late. Remember that gorgeous navy blue and white polka dot outfit the mom of three sported to Wimbledon? Yup, it was Alessandra Rich (via Hello!). The light blue-and-white dress featuring the timeless print that Kate chose for another day of the tournament was also designed by the brand (yes, the one that reminded us of the headline-making Jenny Packham dress she wore right after the birth of Prince George).
And Alessandra Rich is behind that black-and-white polka dot dress the Duchess of Cambridge wowed fans with at Royal Ascot — the one that paid homage to a similar style worn by Princess Diana in the 1980s.
So what could possibly be so "naughty" about these conservative looks?
The naughtiness is in the details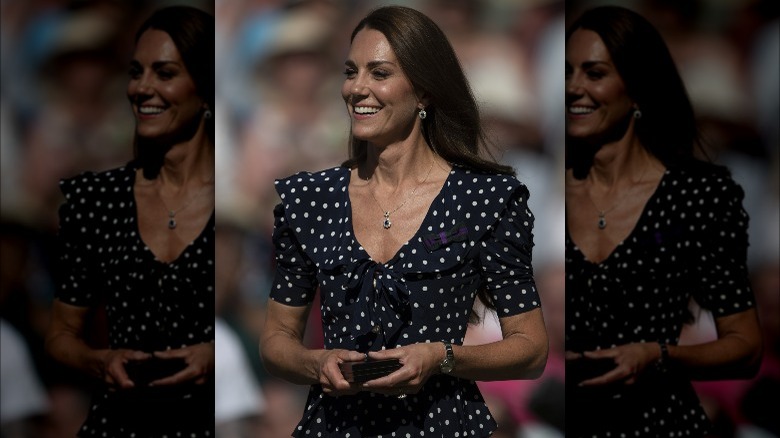 Visionhaus/Getty Images
The designer herself recently talked to The Telegraph about how she feels seeing Kate Middleton wearing her clothes on the regular, in front of an audience of, well, everyone. "We only know she's wearing one of the dresses when we see her in it, we're never told anything in advance," Alessandra Rich told the outlet, adding she is of course flattered given that Kate is a style icon (via Yahoo!).
And while the classic print the Duchess of Cambridge is famous for wearing is one common theme fans may notice among the designer's outfits, there's another detail that all of her designs will feature.
According to Rich, each item of clothing she sells is designed with a "naughty" element. "All my pieces are like this," she told The Telegraph, adding, "They cover the arms or the legs, but there's always a split somewhere or a body chain underneath. It is good to be a bit naughty."
So maybe Kate isn't as conservative as we thought! Ahem, her nickname for Prince William is certainly kinda naughty as well if you ask us. 
And, according to at least one fashion expert, the duchess has been stepping up her shoe game to reflect her sexier side.
Kate Middleton's shoes are a wee bit naughty, too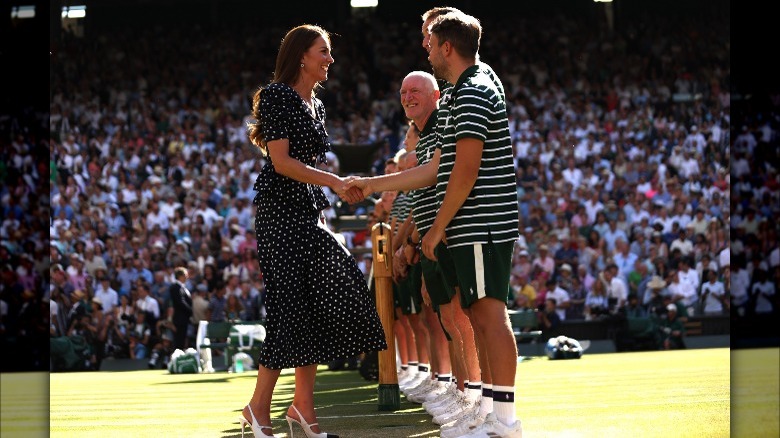 Clive Brunskill/Getty Images
In keeping with the "naughty" details that characterize Kate Middleton's Alessandra Rich clothing choices, Miranda Holder, a fashion expert who talked to the Daily Mail, says she is noticing the Duchess of Cambridge's newest footwear selections have incorporated an "injection of fun, flirtatiousness and personality to her personal style brand."
Case in point? When we saw the mom of three donning that navy blue dress with the white polka dots at Wimbledon, she had coupled the outfit with a pair of pumps by the British designer, featuring a sexy slingback detail. And, we could barely pick our jaws up off the floor when the one-day queen consort wowed fans while wearing an envy-inducing pair of Aquazzura heels that featured bejeweled ankle straps. 
We'd be remiss if we didn't mention that these particular shoes not only mark a steep departure from Kate's previous reliance on beige or black footwear, but may have been inspired by her sister-in-law, Meghan Markle, whose love affair with Aquazzura heels is well-documented, starting with the Duchess of Sussex's decision to don the brand for her and Prince Harry's 2017 engagement photos (via Newsweek).