The Showbiz Icon Who Played Ann Douglas On The Bold And The Beautiful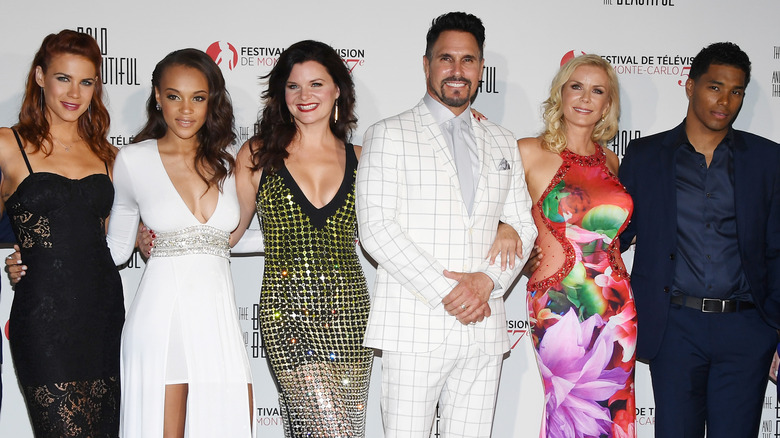 Pascal Le Segretain/Getty Images
"The Bold and the Beautiful" has seen a lot of different characters come and go over the years, while some actors have been there since day one, like John McCook (Eric Forrester) and Katherine Kelly Lang (Brooke Logan). There have also been plenty of familiar faces that have popped up over the years to wreak havoc in this fictional version of Los Angeles. For example, Denise Richards has been playing Shauna Fulton on the hit CBS soap since 2019, while Wayne Brady appeared as the shady Dr. Reese Buckingham for several months. According to People, other stars such as Chaz Bono, Bob Barker, and Christopher Knight have also appeared on "B&B" over the years. 
And while there's no doubt that longtime viewers have enjoyed seeing so many Hollywood stars leave their mark among the Forrester, Logan, and Spencer families, there is one guest star that many fans still talk about today. That's because she played one of the show's most shocking and controversial characters — Ann Douglas.
Betty White played an unforgettable character on The Bold and the Beautiful
According to Soaps in Depth, White was a regular on the soap from 2006 to 2009. She played Stephanie and Pamela Douglas' mother, but her complicated history of abuse, manipulation, and terror ensured she wasn't winning any Mother of the Year awards. However, fans still talk about how the three women made amends during a moving scene where Stephanie and Pam brought Ann to the beach to die in peace after her battle with cancer (via Soaps).
In 2006, White opened up about her stint on "B&B" in an interview with Soap Opera Digest. When asked about working with her co-star Susan Flannery on the fast-paced sudser, White admitted they didn't have much time to prepare for their scenes. She said, "We read the lines through a couple of times in the dressing room to get a pace going, but on soaps nobody has time to sit down and meditate!" Adding, "Everybody there is such a pro. You better go in prepared. You've got to go in knowing your stuff."
However, starring as Ann Douglas wasn't the only time that White managed to impress daytime viewers.
Betty White was a daytime television pro
In addition to her work on "The Bold and the Beautiful," Betty White also guest starred on the soaps "Santa Barbara" and "Days of Our Lives" back in 1988. Though White is probably best known for her time on the hit sitcom "The Golden Girls," she will always be remembered by soap stars as the television icon who was at her best in front of the cameras. 
When the actor passed away in December 2021, many industry heavyweights paid tribute to her on social media. John McCook wrote on Instagram, "She gave a wonderful, sly wink every day... God rest her sweet, funny soul." Katherine Kelly Lang also wrote, "Betty White was truly an incredible lady! It was such a pleasure to work with her in 'B&B.' She would always come to work with a huge smile on her face. You could tell she just loved life! So positive and kind. And she always had so much energy!" 
In other words, it was Betty White's talent and spirit that brought her portrayal of Ann Douglas, and so many other memorable characters, to life.