The Surprising Person Wayne Brady Appeared With On The Bold And The Beautiful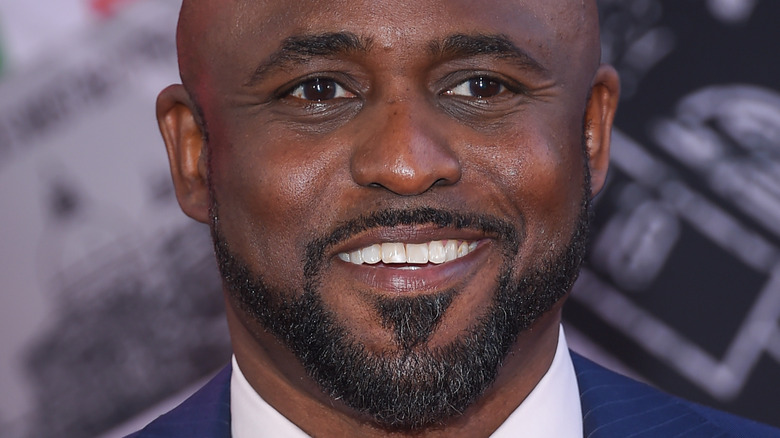 DFree/Shutterstock
Wayne Brady is a popular actor, singer, comedian, and game show host who has captivated audiences for decades. He is most well-known for hosting the show "Let's Make a Deal" since 2009 and appearing as a regular on "Whose Line Is It Anyway" since 2013. He also showcased his musical talents when he appeared on the show "The Masked Singer" and when he succeeded Billy Porter in the Broadway musical "Kinky Boots" in 2015. It's no surprise considering Brady's immense talent and plethora of credits that he tried his hand at soap acting as well. Besides, it wouldn't be the first time "BOTB" has cast a celebrity!
In an interview with TV Insider, Brady explained that first entered the set of "The Bold and the Beautiful" to watch his teenage daughter Maile Brady in her debut acting role as Forrester Creations intern Tiffany. Wayne was so enthralled by the atmosphere that he told executive producer and head writer Bradley Bell that he would be interested in a short-term role on the show. Bell delivered and soon after Wayne was cast as Dr. Reese Buckingham — and to his delight, he would even get to join his daughter for a scene.
Having his daughter appear on "B&B" was special to Brady because he had grown up watching the show with his grandmother (via People). The fact that he was able to join Maile, and that his grandmother was alive at age 87 to watch them perform together, was incredibly special to him.
So who exactly were Tiffany and Reese Buckingham within this "B&B" universe?
Maile Brady played one of Forrester Creations many young interns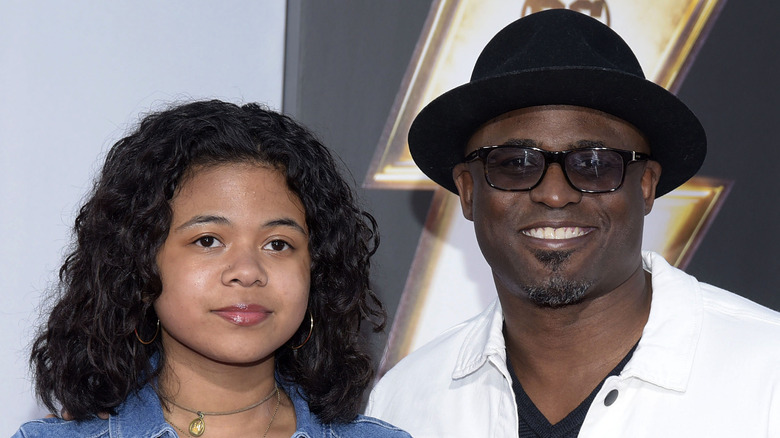 Michael Tullberg/Getty Images
Maile Brady first appeared as Tiffany in October 2018. Her friend and fellow intern Emma Barber (Nia Sioux) had found herself in a love triangle with Xander Avent (Adain Bradley) and his possessive ex-girlfriend Zoe Buckingham (Kiara Barnes). Tiffany reminded her friend that she had struggled with jealousy in previous relationships and to not let it get the better of her this time. Emma ultimately decided to focus on her work instead of her love life and Xander went back to Zoe.
The Brady father-daughter duo appeared alongside each other for one scene and the writers gave a sly nod to their relationship. Reese went to visit his daughter Zoe at work at Forrester Creations where he was introduced to intern Tiffany. He asked her, "Hey, do you give your father a hard time like Zoe gives me?" She replied, "Never. I'm an angel." Grinning from ear to ear, Reese said "That is a fine young lady. Her father must be proud" (via People).
Unfortunately, in June 2019 Tiffany's friend Emma died in a tragic car accident. She had been texting and driving after overhearing Zoe and Xander discussing a secret baby swap (via Soap Central). Tiffany last appeared at the memorial Forrester Creations held in honor of Emma.
Wayne Brady appeared on BOTB as gambling doctor Reese Buckingham
Dr. Reese Buckingham first came to Los Angeles from London in an attempt to reconnect with his daughter, Zoe Buckingham, who wasn't particularly interested in a reunion.
An avid gambler, Reese had managed to rack up over $200k in debt to some loan sharks who began threatening Zoe if he didn't find a way to pay them back. Opportunity fell into his lap one night when helped Hope Logan (Annika Noelle) deliver her baby and made the decision to swap the infant with a stillborn baby. He then convinced his friend Florence Fulton (Katrina Bowden) to pose as a new mother and offer the child to Steffy Forrester (Jacqueline MacInnes Wood), who was looking to adopt. The ruse worked and Reese had enough money to keep the lone sharks at bay — but that didn't stop him from heading back to London in a hurry.
Later, Reese returned to LA when his daughter Zoe began to suspect his involvement in the baby swap. Reese pleaded with his daughter to keep his secret and she ultimately agreed. Despite his efforts, the truth did eventually come out and Reese was arrested off-screen and sent to prison. In a cruel twist of fate, it was Tiffany's friend Emma who revealed the truth about the babies and wound up dead for her troubles.
Neither Brady actor has been seen on "B&B" since the end of the baby swap saga, but as always, never say never in the soap world.