How The October 9 Full Moon Will Affect You If You're A Virgo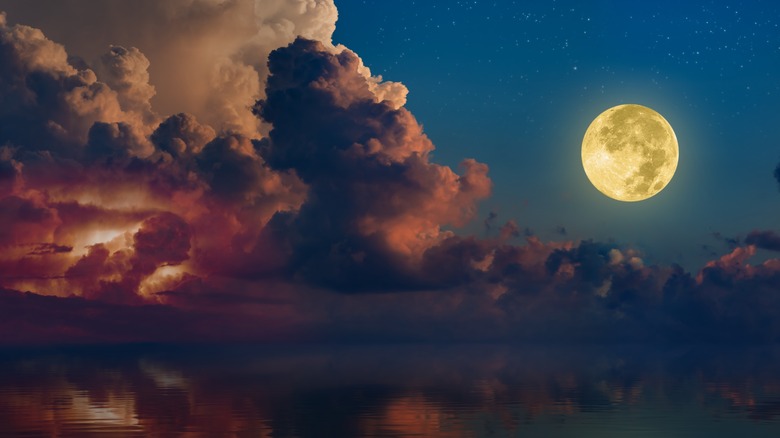 IgorZh/Shutterstock
The first full moon of the autumn season will light up the night sky on October 9. This lunation comes in the sign of fiery Aries and will bring with it vibes of self-care and acceptance, per Woman and Home. The outlet noted that the full moon will encourage many members of the zodiac to be kind to themselves, work on healing any past trauma, and reconnect with loved ones as well as our own souls. This moon is called the Hunter's Moon, due to the time when hunters look to collect game, according to The Old Farmer's Almanac. However, it's also known as the Blood Moon (via PopSugar).
While the moon will be in Aries, the sun is still in Libra Season and the Libra energy will still be impactful. "Relationships will be actually the focus of this particular full moon in October 2022, not only because the sun will be in Libra — the sign of partnership — but also because it will be in a close conjunction with Venus, the planet of love and romance," astrologer Yana Yanovich told the PopSugar. "With the moon opposing it from Aries, the energy is about balancing your own emotional needs and the needs of the romantic partner, in addition to maintaining [other] relationships."
If your zodiac sign is a Virgo — whether born in August or September — the full moon might inspire you to focus on love.
Virgo should focus on relationships during the full moon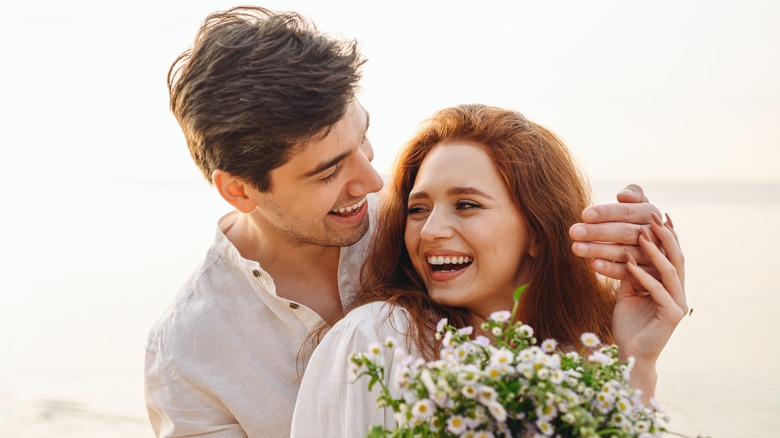 ViDI Studio/Shutterstock
For those born under the sign of Virgo (August 23 to September 22), the full moon on October 9 may be the ideal time for you to focus on love and family. According to Russh, this lunation highlights Virgo's "intimacy zone" and relationships could prove to be very important. Whether it's a romantic partnership, familial connection, or friendship, you might find yourself connecting, or reconnecting, with some very important people during this time. The outlet also noted that Virgos shouldn't be shy about vocalizing their wants and needs during the full moon, even though it may be hard to allow themselves to be served by others.
Cosmopolitan revealed that Virgo likely won't have to go far to find what they're looking for, as everything they need is right in front of them. They just have to be willing to ask for it. There is so much love in your life of all different varieties, and now is the time to show gratitude for those connections. Cosmopolitan suggested that the lunation may also have you reflecting on your relationships and figuring out which ones are still serving you and which ones it may be time to let go of. Be sure to make your special connections a priority and plan to spend some real quality time with those you hold the dearest.
Connection will be important for Virgo during the full moon on October 9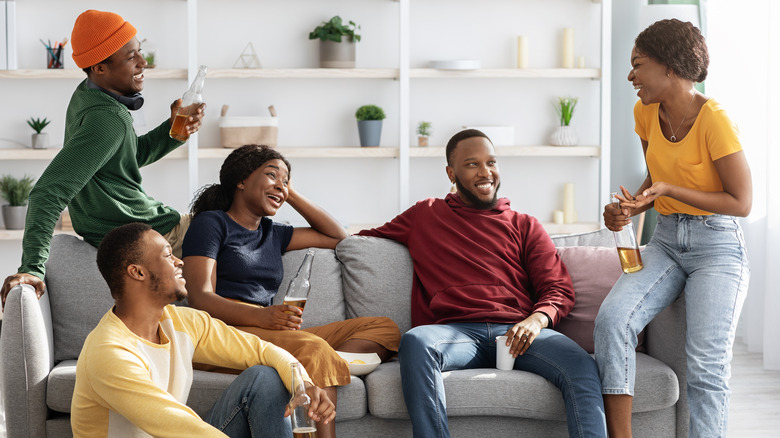 Prostock-studio/Shutterstock
The full moon on October 9 may also bring themes of safety for Virgo. The earth sign may feel like they need to confide in a close friend or family member during the lunation but might also benefit from speaking with a therapist, or romantic partner, or simply writing their heavy feelings down in a journal (via Woman and Home). Virgos will find that they have plenty of support when they're feeling emotional, and those people will be there for them during the full moon.
Allure added that Virgos might feel better if they get out of the house, and suggests getting social around the time of the lunation. Maybe it's time to plan a night out on the town with friends to hit the dance floor wearing an outfit that makes you feel confident and sexy, and perhaps try a bold makeup look like dark eyeshadow or fun lip color. According to Women's Health, the full moon is the perfect time for Virgo to meet new people and forge some new connections that could last the rest of your life.
It appears that Virgo will have a lot to think about during the full moon. However, by keeping a positive outlook, the lunation will go off without a hitch for the sign.