How To Decorate Your Mantel For Halloween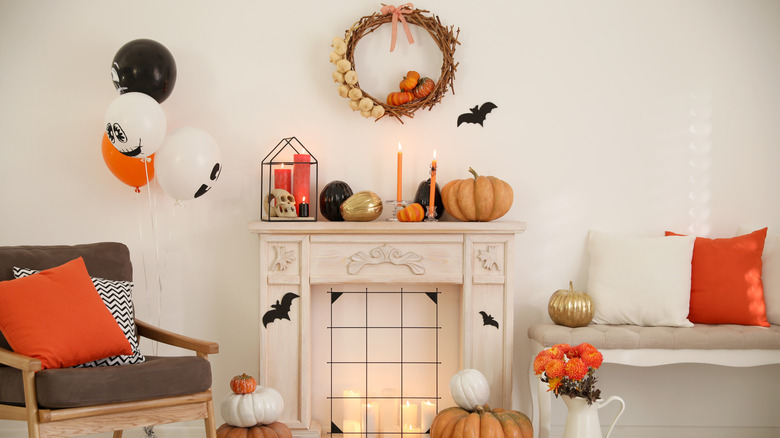 New Africa/Shutterstock
Get ready for all the cozy fall vibes as you decorate your mantel just in time for Halloween. The mantel is usually the centerpiece of the room it's in, which is often a living room or a den. It's where your family and friends gather around the fireplace for many get-togethers, celebrations, and special moments. It's the perfect place to decorate for the holidays, and what better time to start than with Halloween?
While mantel sizes can vary, on average they give you about five feet of space to work with, as well as the wall space above it. The best part about decorating for the holidays is customizing it to your personal home aesthetics, especially with the variety of options for decor out there ranging in colors, sizes, and styles. There's a way to make it fit just right for your festivity preferences whether they are sophisticated or more on the loud and bold end. Get ready to pull out all your favorite spooky décor for the best mantel of the season.
The focal point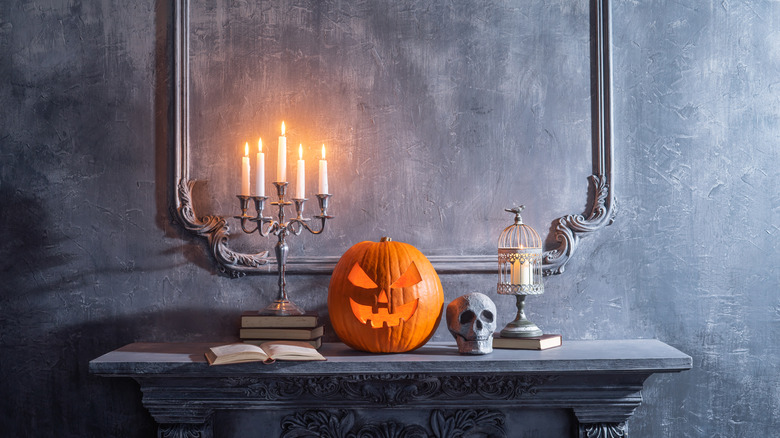 Maksim Shmeljov/Shutterstock
Take it back to the basics of mantel decorating and start by thinking about the focal point of your decor. This will help determine your first layer to ensure it remains balanced throughout the process. "Mantels are natural focal points in rooms," principal designer at MC Design, Megan Dufresne, tells Real Homes. "Working with your overall design and thinking about balance and symmetry will help make your mantel decor pop in the best way."
If you're going for a neutral, earthy style, your focal point might be some pumpkins varying in different shapes and sizes for contrast. If you're working with the wall space above, your focal point can be a circular wreath made of twigs for a subtle spooky vibe. In the same sense, a vintage picture frame with a black and white photo can be used on the mantel or the wall above it with a golden or wooden frame. If you want to explore with colors and patterns, your focal point could be a crochet cobweb, colorful felt pumpkins, or witchy silhouettes. Once you find your focal point, you can layer the rest of the details around it.
Fill in with details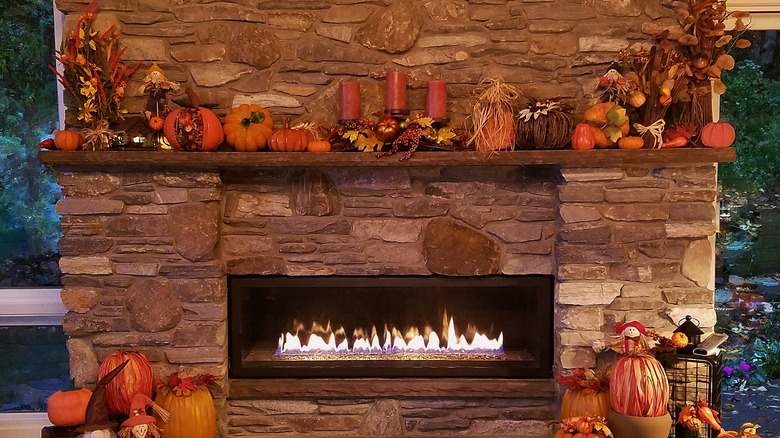 Anita Warren-Hampson/Shutterstock
When it comes to incorporating the details of your decor, think about the elements that make Halloween what it is in all its spooky goodness. This is the perfect time to use a mix of taller candles like pillars and taper candles, especially when mounted on creepy or matte black bases. Add them on each end of the mantle for balance, or scatter them about for a rundown haunted house look. Another fun decor to incorporate is the use of garlands and fabric in the style of a table cover. There are many designs to fit the aesthetic you're going for such as a simple white cobweb, a stark black spider web, or several iterations of flying bats. Your garland can be different silhouettes or banners with Halloween phrases such as "Boo," "Trick or Treat," "Happy Halloween," and more. This fabric and banner usage is also flexible enough to be extended up to the wall space above the mantel (via First Day of Home).
Other details you can incorporate to add fillers is decor containing images of black cats, ghosts, bats, spiders, cauldrons, skeletons, dry branches or trees, ravens, and glowing string lights. Use traditional Halloween colors like orange, purple, and black, or keep it monotone with grays, whites, and other neutrals. How you implement these extras is totally up to your personal style for your home. Any Halloween decor can be found to fit the maximalist as well as the minimalist aesthetics.