Halloween Decoration Ideas That Won't Hurt Your Home Aesthetic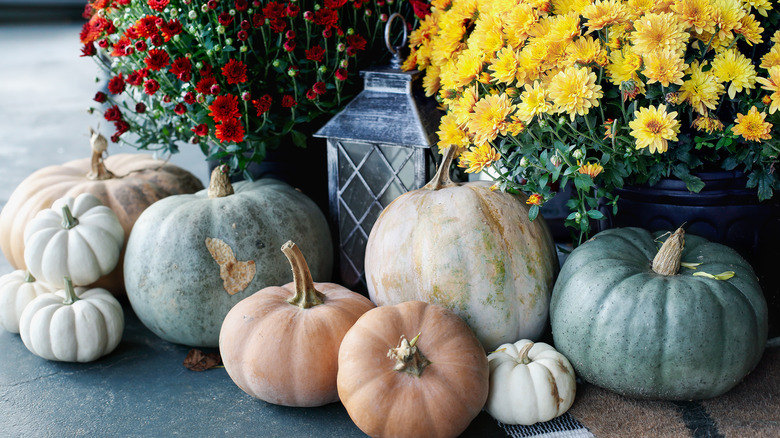 GRACED123/Shutterstock
When you think of Halloween decorations, you probably think of Jack-O-Lanterns, witches, spiderwebs, and bats. Decorating for Halloween with spooky stuff like this has been a thing in the U.S. for over 100 years (from Elle Décor). And over time, the Halloween décor options have gotten bigger and better, with elaborate, over-the-top displays going from the house and into the yard becoming a tradition for some families.
"Basically, the sky has become the limit for Halloween decorations," Lance Allen, Home Depot's holiday merchandise specialist, told the Columbus Dispatch. "People are putting up more decorations for Halloween and leaving them up longer."
But what if you want to be a bit more subtle or classy in the way you decorate for Halloween? Turns out, you don't have to have a house that looks like the inside of a Spirit Halloween store to celebrate the holiday. Here are some ways to keep your house looking good while still getting in the Halloween spirit.
Skip the traditional Jack-O-Lantern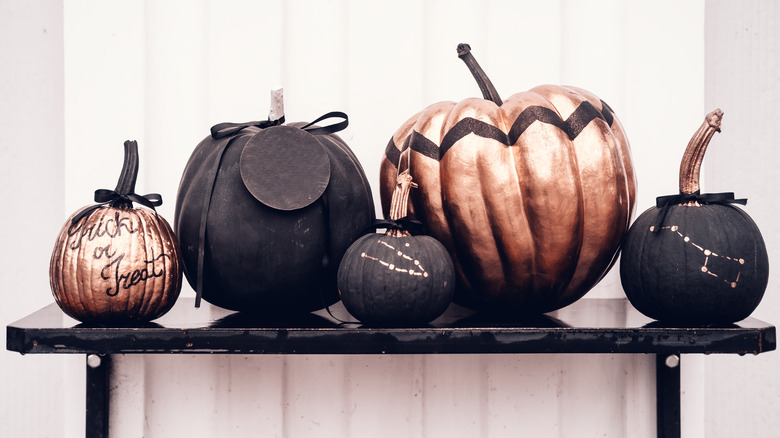 July Prokopiv/Shutterstock
Nothing says Halloween and autumn quite like a pumpkin, but you don't have to carve them to use them as décor. Gather a collection of various sized pumpkins and gourds, with an emphasis on heirloom pumpkins that will come in different colors and patterns, and place the smaller ones along your mantel and a mix of sizes at your entryway (from HGTV).
And if you do want to get in on pumpkin carving, skip the traditional face in your pumpkins and instead try a geometric approach — using a power drill, you can make patterns of dots or cut out star shapes to still get in on the fun (from Good Housekeeping).
You can also paint them to ensure you have the look you want. "I love to paint pumpkins with chalky acrylic paint," Roma Stiff, senior creative project designer for Michaels, told Martha Stewart. "The coverage is good, and the matte finish gives an updated home décor look and feel. The paint comes in a variety of home décor colors and is ... just enough to do a project!"
Monochrome design will keep your Halloween modern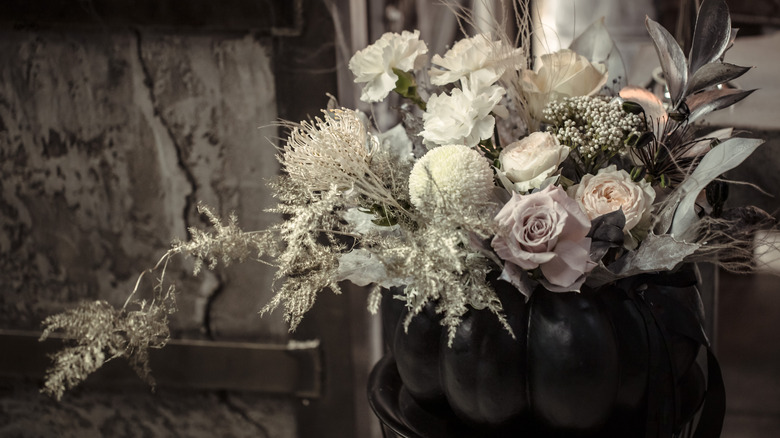 PV productions/Shutterstock
Thinking about going for a monochrome look? Black is classic for Halloween, of course, and if you keep your Halloween-specific items black, all the pieces will match each other and won't unduly clash with the rest of your décor. And if you're throwing a Halloween dinner party, use all black from the tablecloth to the dishes to the glasses to stay on theme while not being overwhelming (via Camille Styles).
Another monochrome option is to drape your furniture in white bedsheets and spread fake cobwebs across mirrors and framed pictures (from Country Living). Your house will feel totally transformed with a ghostly feel.
And don't forget to pump up the lighting. Candles and candelabras can help your house feel like a Victorian haunted mansion. Scout thrift stores and garage sales for candelabras that you can freshen up. You can use black candles or add a delicate layer of black lace around any color pillar candle (from DIY Network).