The 2022 Starbucks Fall Drinks, Ranked From Best To Worst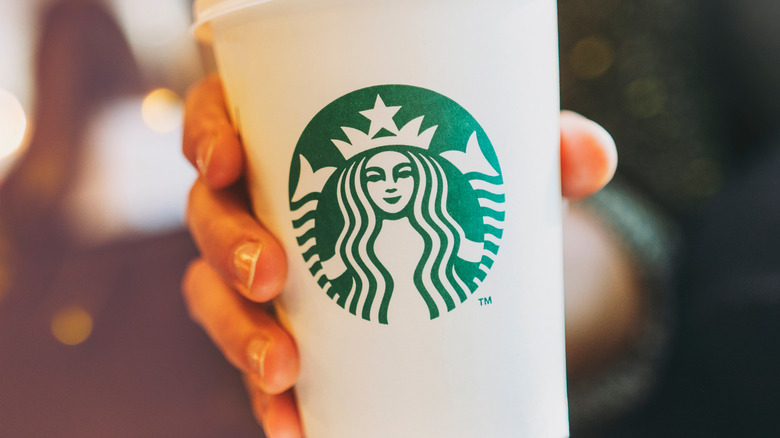 Manu Padilla/Shutterstock
Autumn is in the air! It's officially pumpkin season and while that means cozy blankets, chunky sweaters and boots for a lot of people, it also means pumpkin spice everything. As 2022 winds down, a lot of people are really looking forward to the cooler temperatures that fall brings. There's nothing quite like snuggling up with your favorite drink and reading a book while the foliage changes all around you. Or, if you're in a warmer climate, perhaps it's an iced version of that drink — still with a fall theme, of course, because just about everyone wants to start getting into the spirit.
Each and every year, Starbucks comes through with some of the tastiest drinks that really get us feeling all warm and fuzzy on the inside — and this year is no different. The popular coffee company has rolled out some new treats as well as brought back some old favorites that will have you feeling fall in no time — and we've decided to rank them for you.
1. Apple Crisp Oatmilk Macchiato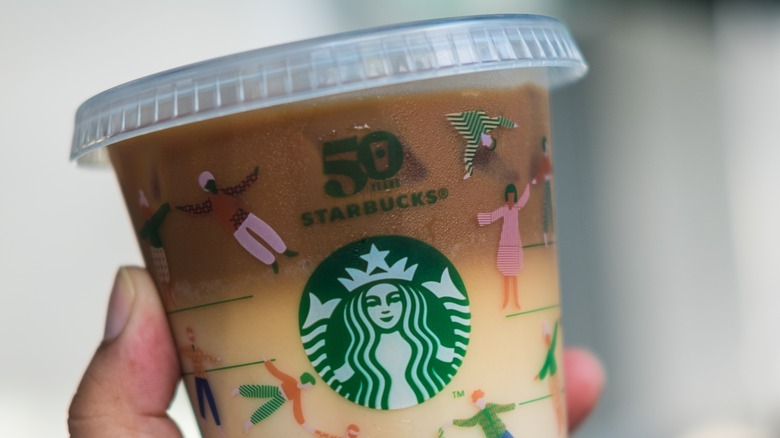 Dontree_M/Shutterstock
Making its Starbucks fall menu debut for a second year is the Apple Crisp Oatmilk Macchiato and it's everything we hoped it would be. With flavors of apple, cinnamon, and brown sugar, this drink is sure to get your taste buds dancing while giving you all the feelings of fall in a cup. 
"Crafting the Apple Crisp Oatmilk Macchiato with Starbucks® Blonde Espresso gives the beverage a soft and smooth foundation that ties all the flavors together," said Harvey Rojas Mora, Starbucks beverage developer. "The oatmilk adds a creaminess and brings forward the oat flavors of a traditional apple crisp topping," he added. The drink is finished with a tasty spiced apple drizzle.
2. Pumpkin Spice Latte (PSL)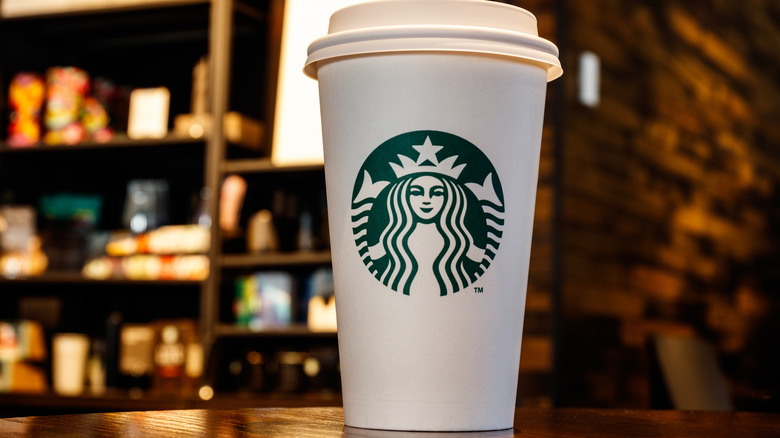 Jonathan Weiss/Shutterstock
If you were waiting all summer for a pumpkin spice latte, Starbucks totally had your back, bringing back the fall favorite officially on August 30. Everyone's favorite "PSL" has notes of cinnamon, nutmeg, and clove and tastes like a fresh slice of pumpkin bread. The drink is fairly customizable — you can order it hot or iced — and you can make some additional changes. For example, Bustle suggests asked for "a pump or two of cinnamon dolce syrup," which adds another level of sweetness to the drink, balancing out the spice. Another option? Adding whipped cream. Of course, if you want to be really fancy, you could always add pumpkin cold foam. Thank us later.
3. Pumpkin Cream Cold Brew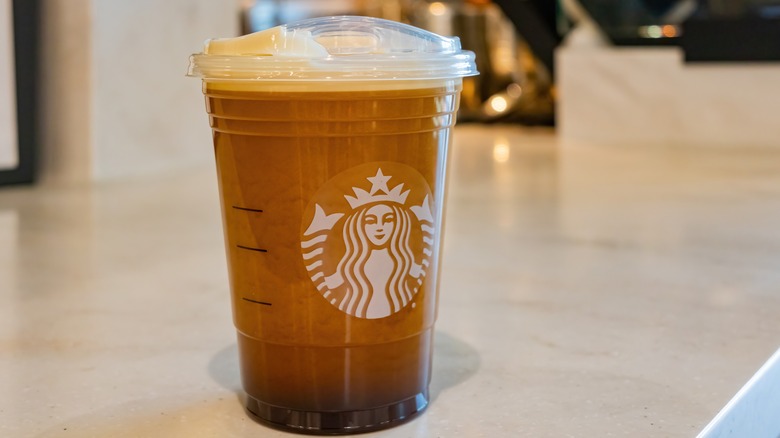 Kit Leong/Shutterstock
Need your caffeine fix but don't want to miss out on the pumpkin-y goodness that is fall? Starbucks has you covered. For the fourth consecutive year, Starbucks has decided to offer a sweet pick me up for those who love cold brew. In order to make their pumpkin cream cold brew, the coffee shop adds vanilla syrup to its cold brew and then finishes it off with some pumpkin cream cold foam and some pumpkin spice seasoning. 
Blogger Isadora Baum gives this treat a glowing review — and she offered a tip. "At first I just tasted the cold brew, no pumpkin. If your straw is fully in the cup, you don't taste the pumpkin at all — it's literally just classic cold brew. Then I just lifted by straw to try the foam alone, and the pumpkin cream was actually so good. REALLY. It was light and creamy, but also rich-tasting, with some good froth and a sweet pumpkin flavor that wasn't overwhelmingly sweet," she wrote on Kitchn.
4. Pumpkin Spice Frappuccino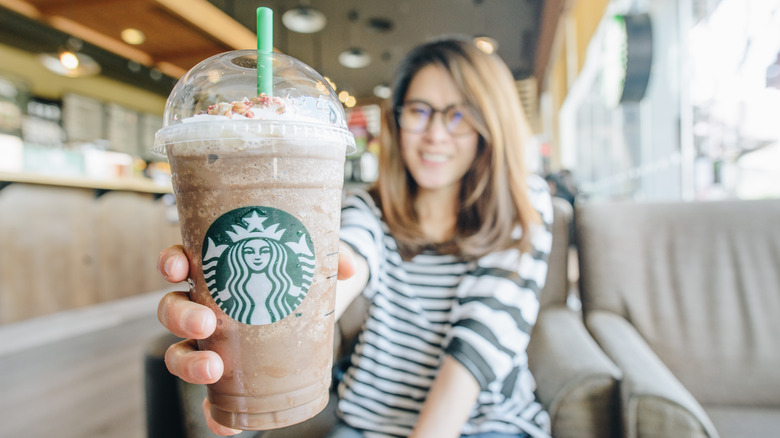 Boyloso/Shutterstock
This one is for the people who want to have fall flowing through their veins but they're not quite ready to switch over to hot coffee just yet — perhaps hanging on to those last few glimpses of summer. A pumpkin spice frappuccino is a blended beverage that will keep your tastebuds satisfied while offering you a cold treat to sip on (or you can chug it, but we can almost guarantee a case of brain freeze). 
The popular drink is made with whole milk, though substitutions can be made, espresso, three pumps of frappuccino roast, two pumps of pumpkin sauce and is topped with whipped cream and pumpkin spice topping. Feeling feisty? Ask your barista to line the cup with caramel sauce. 
5. Chai Tea Latte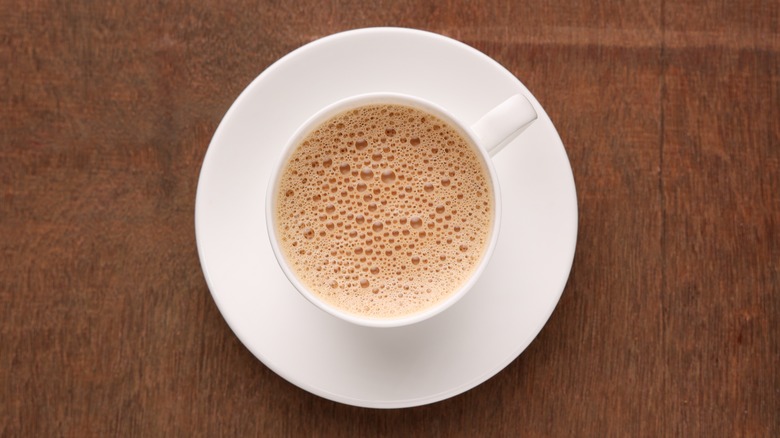 Santhosh Varghese/Shutterstock
Not a coffee drinker? No worries! Starbucks came through with its chai tea latte. This black tea packs a-whole-lotta-fall-punch and we're totally here for it. According to Starbucks' official website, the chai tea latte has notes of cinnamon and clove and is "combined with steamed milk and topped with foam for the perfect balance of sweet and spicy."
"I was impressed with Starbucks' chai latte," Insider's Paige Bennett wrote in her review of the beverage. "Since the 12-ounce drink had 32 grams of sugar, I expected it to be way too sweet for me. But the warming spices really balanced everything. The drink itself was really creamy with a nice frothy topping," she added.
6. Cinnamon Dolce Latte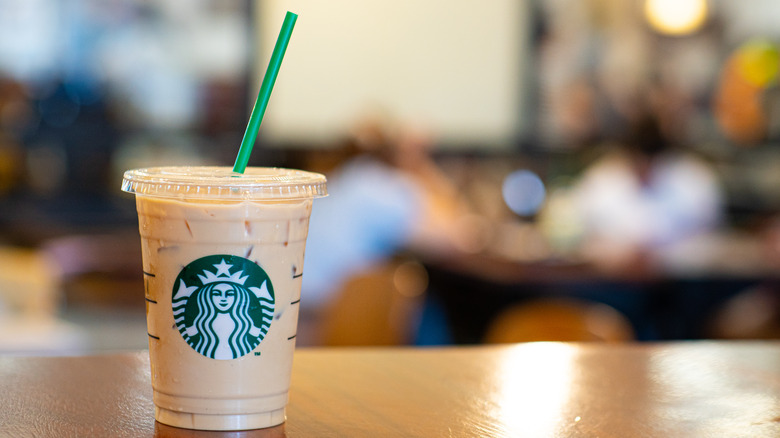 yougoigo/Shutterstock
Let's face it. Not everyone loves pumpkin spice. If you find yourself in that bucket, you might want to give one of Starbucks' other beverages a try. For example, the cinnamon dolce latte gets a spot on our list because it still tastes like the holidays without being overpowering or having those undertones of nutmeg and pumpkin. The drink is available year round, though some might agree that it tastes like the holidays. You can order it hot or iced and you can add your own twist if you so choose.