Starbucks' Busiest Month Of The Year Will Come As No Surprise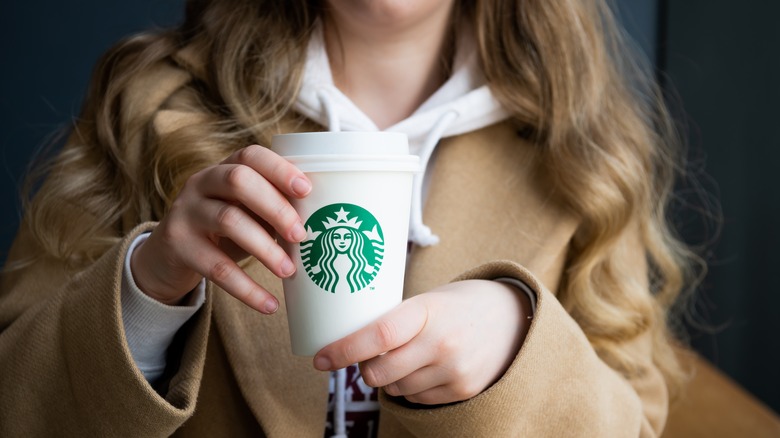 Tatiana_kashko_photo/Shutterstock
When you think of a coffee shop, the first one to come to mind is probably Starbucks. There's a reason for that. According to a September 2021 Business Insider article, there are over 30,000 Starbucks coffee shops around the world with more than 15,000 in the U.S. alone. At the end of the second quarter for 2022, Starbucks Investor Relations reported a 17% increase in North American net revenues. However, the popular coffee chain reported that the higher costs of ingredients have become a set-back for profits, per Reuters.
Therefore, Starbucks is looking to redesign its entire business model. In fact, the company just announced its new CEO — Laxman Narasimhan. He will join as the incoming CEO on October 1 and will officially take over the role in April 2023. One of the goals Narasimhan hopes to implement is to shift the focus to deliveries, online orders, and drive-throughs, as they found that those are the bulk of the types of sales now. Although less people are physically going into Starbucks, there are times of the year where foot traffic picks up –- for example, when the coffee chain announces a limited edition seasonal drink.
The List created a graph via Safe Graph to chart out foot traffic data of U.S.-based Starbucks stores, and it turns out there is one particular month that consistently sees higher-than-usual customer turnout.
September is a consistently strong month for Starbucks
Our data shows that in September 2019, Starbucks had over 3.5 million customer visits a week for two weeks at their U.S. stores. A visit is defined as spending more than four minutes inside the store. Starbucks saw a sharp decline in sales at the height of widespread COVID-19-related lockdowns in April 2020, with a little over 1.2 million weekly customer visits. However, foot traffic started to pick back up with just over 2.6 million visits a week in September 2020. The company eventually saw a steady increase back to pre-pandemic numbers in 2021, seeing over 3.3 million customer visits at their locations last September.
With Starbucks having released their Pumpkin Spice Latte (PSL) even earlier this year, it's not shocking to learn that September seems to consistently show strong customer turnout. Instead of its usual release date just after Labor Day weekend, Starbucks moved up this year's release of the PSL to August 28 (per Adweek).
From the latte's debut in 2003 until September 2020, Well + Good reported that Starbucks had sold a whopping 424 million PSLs. Now CNN reports that the total number of PSLs that Starbucks has sold has increased to over 600 million. With the pumpkin craze continuing strong almost two decades after its inception, it isn't a surprise that the price of the PSL has increased. Several Starbucks locations have priced the illustrious drink at $5.95, a $0.50 increase from last year's price –- around a 4% price hike, according to Lauren Boebert. One thing's clear: pumpkin spice has become a big business.
Starbucks' Pumpkin Spice Lattes might get a boost from nostalgia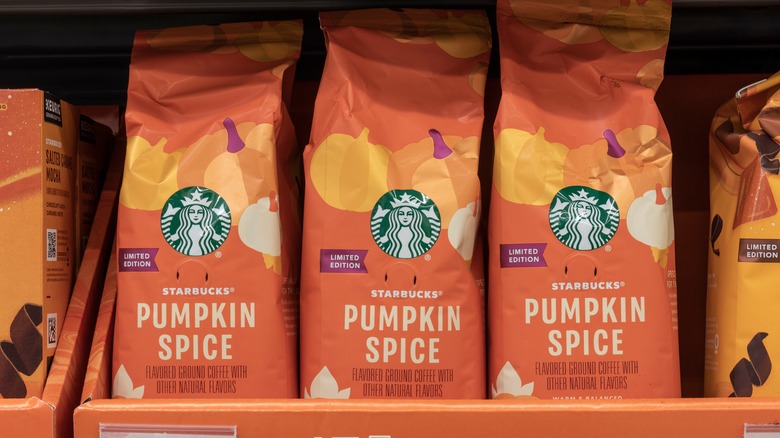 Jonathan Weiss/Shutterstock
What started out as a humble coffee drink has now branched out to become a Greek yogurt flavor and deodorant scent, per Well + Good. Still, it's the Starbucks Pumpkin Spice Latte that reigns, with Forbes reporting that Starbucks' PSL sales amount to $110 million out of a $600 million industry – the second most profitable pumpkin spice category, only next to pie filling.
Professor Montana Miller who teaches at Bowling Green State University's department of popular culture explained her theory around why Americans love the PSL. Miller told Adweek, "Pumpkin spice seems to have taken off to an unusual degree, perhaps because it has such nostalgic connections to an element of American culture that we are increasingly afraid of losing touch with," referring to traditions such as the family Thanksgiving dinner and carving pumpkins.
Kara Nielsen serves as the director of food and drink at WGSN, a firm that tracks trends, and seems to agree that there's just something sentimental about fall. Nielsen told Well + Good that fall seems to be a favorite season for lots of Americans, with plenty of activities to look forward to like apple picking and attending the state fair. Whether you love pumpkin spice or love to hate it, it seems like there's nothing quite like the power of the PSL to boost sales for Starbucks and help wake you up before September ends.