What Is The Gen Z Streetwear Fashion Aesthetic?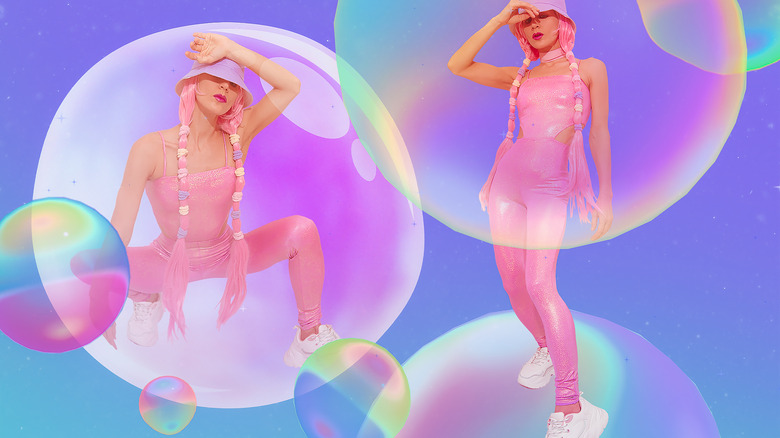 Eugenia Porechenskaya/Shutterstock
Gen Z has been widely responsible for the revitalization of trends from the '90s into the 2000s, known as the Y2K era. In using a mix of colors, styles, and mix-matching garments, Gen Z is putting their own touch on streetwear inspired by the past. Their preferences have also been quite contrary to what millennials found appealing in not only streetwear, but fashion as a whole. In fact, street wear is perhaps the go-to look for many Gen Zers, so much so that many brands are starting to market to them with the style. Luxury brands are tapping into the Gen Z market in an attempt to appeal to them by presenting themselves as more "authentic," via Forbes.
Gen Z pursues self-expression, authenticity, sustainability, DIY efforts, and unique characteristics in street style fashion. Additionally, Gen Z is more attentive to what a company represents, putting an emphasis on the values of the companies they choose to support.
Gen Z streetwear is inspired by the past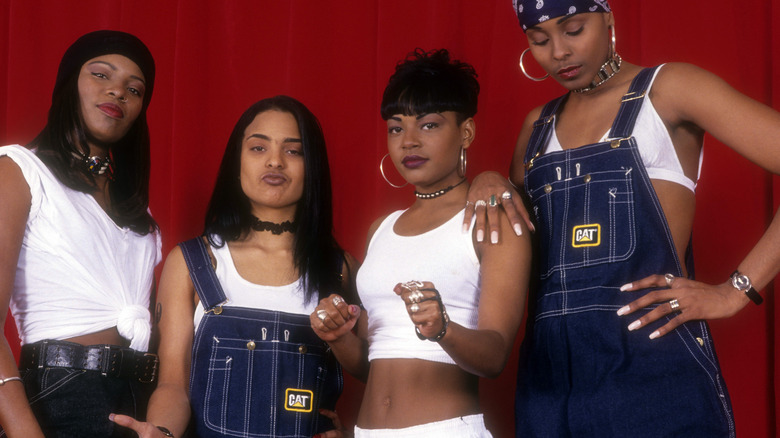 Al Pereira/Getty Images
Gen Z style is widely inspired by the street style of the '80s leading into the '90s and 2000s that can be credited to black and brown communities. The younger generation today resonates with what street fashion represented in the past. "Fashion is an unofficial element of hip-hop culture," Elena Romero, professor at FIT and the author of "Free Stylin': How Hip-Hop Changed the Fashion Industry," told Glossy. "Designer brands didn't cater to the Black and brown communities." Because of this, Gen Z prefers to support streetwear brands with a mission to have more inclusivity, diversity, and equity.
According to Vogue Business, the brand Adidas found that Gen Z favored the '90s aesthetic derived from hip-hop, sports, and rave culture of the time. "Young people appreciate these styles based on their ability to trigger a cultural reference or [relatable], giving meaningful association to their lives today," vice president of product at Adidas, Torben Schumacher tells Vogue Business. As companies take notice, they're able to better cater to the young people and what they look for in a brand. As a result, Adidas ranks as the No. 3 most popular brand amongst Gen Z consumers.
What does Gen Z streetwear look like?
Gen Z streetwear often includes a mix of many other styles and aesthetics. A general street style look would include an oversized graphic t-shirt, baggy jeans or choice of bottoms, and often chunky white sneakers or other styles of platform, or chunky shoes with visible socks. Accessories tend to include layered jewelry, sunglasses, bucket hats, and garment layering. Many Gen Zers love to DIY their own accessories or garments as well, especially through thrifting efforts, further putting an emphasis on sustainability and one-of-a-kind pieces. Playing around with textures, colors, and unisex garments is also a big part of what defines Gen Z streetwear, via New York Post.
The key to Gen Z streetwear goes along the lines of wearing whatever they feel like wearing. Through fashionable self-expression, the younger generations are removing themselves from a box of labels full of expectations of who they should be. "We take it back to the individual. [They can] express themselves creatively without the limitations that they might find elsewhere," Depop's chief marketing officer Peter Semple tells Vogue Business. "You don't need to teach Gen Z about the necessity of being inclusive and diverse."