Printed Denim Is The Latest Fashion Trend And It's Only Going To Grow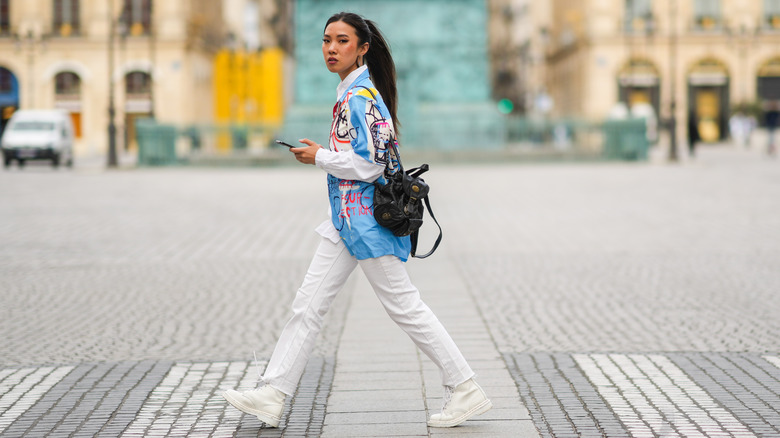 Edward Berthelot/Getty Images
With the athleisure trend alive and well, it seems like no one wants to wear jeans anymore. Well, the latest trend might just change that. As Glamour UK pointed out, printed denim is a new trend on the rise, and it's going to put you in such a good mood. Think: your classic denim pants that you'll have to take a second glance at to notice that they're denim. The printed denim is the perfect way to take an everyday style and make it your own. Let's just say that this trend is everywhere and it won't be going anywhere anytime soon.
Denim will never go out of style, but it does get better with age. The fabric might stay the same, but the styles are constantly evolving. Somewhere between the skinny jean trend dying and flared bell-bottoms coming back into style, the printed denim made a name for itself in streetwear. It might just be the most fun denim style that's been around for a while. The style is pretty simple. You just use a different color, other than the denim, to make a print onto the pants. The trend is done on all different types of denim and there's a print for literally every style.
Basically, there's no wrong way to nail the trend and it's super easy to make it your own. Whether you're into bold prints or just a subtle splash of floral, you can make this trend your own. 
There are tons of ways to rock the printed denim trend
There have been hundreds of different denim styles over just the past decade. People have rocked everything from bell-bottom to skinny jeans and bedazzled pockets to bleached tie-dye, but printed denim is a denim trend on a whole new level. At first look, you almost wouldn't believe that the clothing item is made out of denim. The prints are so intricate and that you almost need to get close up to tell that the zebra print of bold geometric shapes are on top of denim fabric.
The best part about this trend is that you can be as subtle or as stand out with the trend as you'd like. While some people opt for a pastel floral print that can only slightly be seen, others rock the bold prints that can be seen from a mile away, like seen on Instagram. One scroll through the ASOS website, and you can tell just how versatile the trend is. The brand has an entire section devoted just to unconventional denim items like graffiti-printed pants to head-to-toe matching zebra printed jean and jacket combo (via Stylist UK). It's actually pretty incredible to see all the diverse looks that are in style right now.
There are affordable and high end printed denim looks
You could easily DIY this trend, if you're feeling crafty. But there are also a ton of different brands at all different price points. If you're looking to go the affordable route, SHEIN has tons of different options including a bold, cow-printed pair (via New York Post). Camilla Jeans is a tad more pricey, but the early '00s floral prints is almost too good (via Nylon).
If all of those different styles, cuts, and prints weren't enough to sell you, there's also the fact that Beyoncé has nailed the trend. Yes, Queen Bey gets down with denim too. As Harper's Bazaar points out, Beyoncé wore a printed denim jacket and a matching jean skirt to a dinner party. Like, a fancy dinner party where she also donned a diamond necklace and earrings. If this isn't proof that you can rock this trend anywhere, then I don't know what is.
It's safe to say that the trend isn't going anywhere anytime soon, so pick one that you'd like and start from there.