The Trendiest Way To Wear Crop Tops For Summer 2021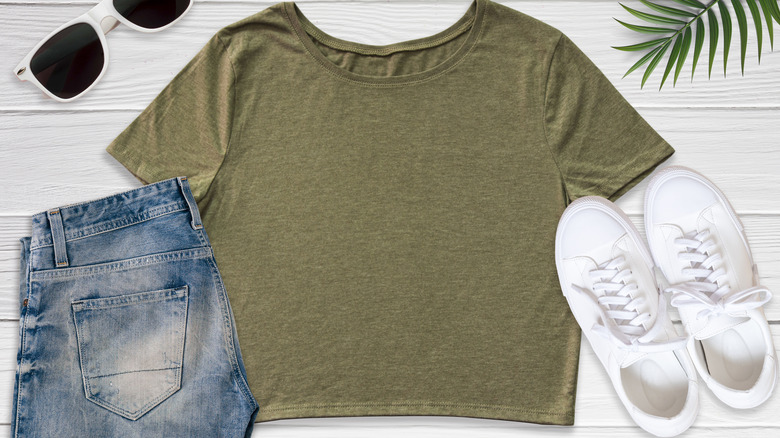 Shutterstock
With summer around the corner, everyone is looking for ways to style their wardrobe with the latest trending fashions. One fashion statement that many people are going crazy for lately is the crop top. Typically a shirt that lays right above the midriff, crop tops have become synonymous in celebrity and influencer fashion. The crop top first popped up in the '40s, but was always paired with high-waisted pants (via Start Up Fashion) . 
In the 1990s, celebrities like Cristina Aguilera and Brittney Spears brought the trend to new heights by pairing crop tops with low-rise jeans, showing off way more belly than in the '40s, but still giving it major spotlight (via Glamour). In the 2000s, the crop top totally fell off, but now, as influencers are bringing back major '90s fashion, the crop top has also made a come back for the better. Combining the '40s high-waisted pants trends with the '90s love to the crop top, Gen-Z is making sure that the crop top is here to stay.
While we're all looking for ways to get in on this trend, we don't want to break the bank and buy all new shirts. Instead, there are tons of ways to turn items that are in your own closet into stylish, chic crop top looks and still look your absolute best. 
How to create crop top looks for 2021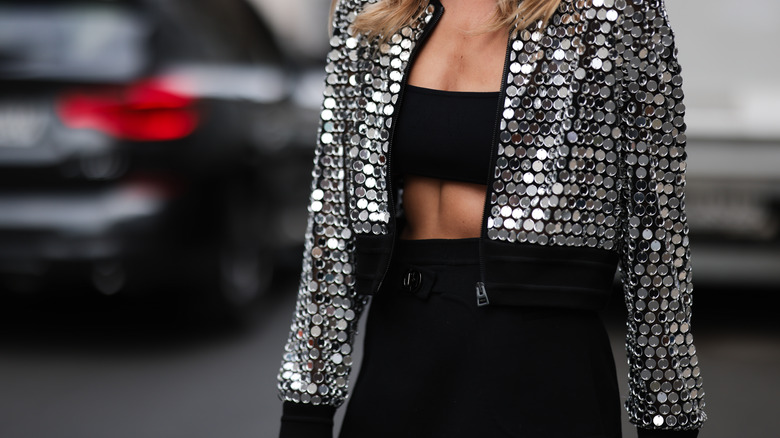 Jeremy Moeller/Getty Images
For summer 2021, everyone is looking to show a little skin, as we've been stuck in the house forever. Crop tops are the perfect way to go bold without feeling too insecure about showing off too much. 
First, if you have a bandaeu top in your drawer, you can rock this as a top. Paired with a pair of baggy jeans or even high-waisted biker shorts, a bandaeu top can look effortlessly trendy and great for a rooftop bar or even a picnic in the park. Another way to give yourself the crop top look is to use button downs to your advantage. For those date nights our or even a bar, you can pair a button down with a skirt or a pair of jeans, by stopping the buttons near your midriff and tying both ends together for a crop top look. 
Fashion influencers are also using scarfs and bandanas and tying them into tops, giving them an easy beach-side look (via InStyle).
One of the most common ways to turn any top into a crop top comes from TikTok, where influencers found ways to make baggy t-shirts and even sweatshirts into crop tops without having to go for the scissors (via PopSugar). Many influencers have begun to tuck their t-shirts and sweatshirts underneath, into their bras. Once evened out, it makes the t-shirt and sweatshirt into a brand new styled crop top, while still being able to revert back into the regular style whenever!