Jake Lacy And Lio Tipton Talk Peacock's A Friend Of The Family - Exclusive Interview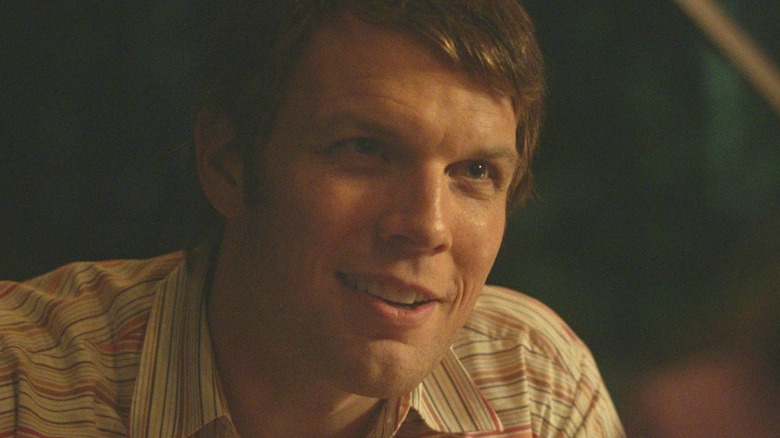 NBC Universal/Peacock
In the '70s, Jan Broberg was abducted by a family friend on two occasions, once when she was just 12 years old, and again at 14 (via Variety). Broberg has been open about her terrifying story, which was previously explored in the Netflix documentary "Abducted in Plain Sight." Now, Peacock's new drama "A Friend of the Family" depicts the shocking events leading up to Broberg's abduction by Bob "B" Berchtold, a nearby neighbor in a close-knit Mormon community.
The nine-episode drama series stars Jake Lacy as Berchtold, the charming but duplicitous neighbor who takes an instant liking to a young Jan Broberg. While "A Friend of the Family" is an undoubtedly uncomfortable watch, that's definitely the point. As Berchtold, Lacy exudes the charm and likability we're used to seeing from him onscreen, except in Peacock's new show, he's manipulating everyone around him, including his downtrodden wife, played by Lio Tipton. As a result, audiences are shown the devastating effects of grooming and abuse, and how a normal family dealt with the repercussions.
The List sat down with Jake Lacy and Lio Tipton to talk about bringing Jan Broberg's real-life story to the screen in Peacock's "A Friend of the Family." 
Telling the story of Jan Broberg's abduction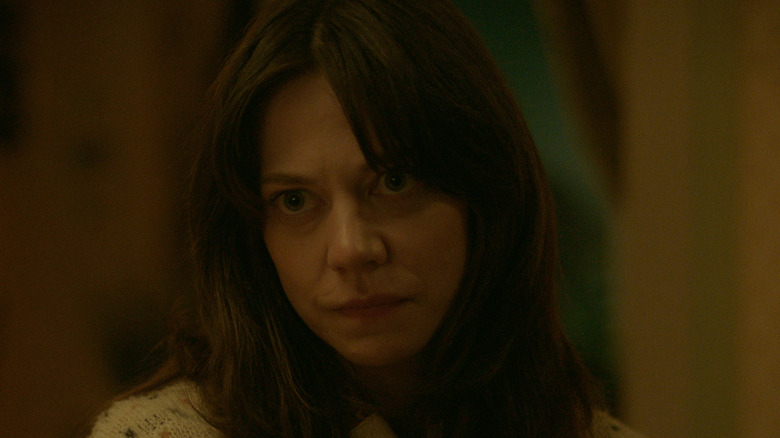 NBC Universal/Peacock
Jake, you've played some very charming jerks throughout your career, in "The White Lotus" and in "Girls." But "A Friend of the Family" takes it to another level. What was it like playing such a terrifying yet charming character who's based on a real person?
Jake Lacy: The real-life Jan Broberg had offered up that Robert Berchtold's superpower was this warmth and charm and the feeling of belonging and specialness that he could offer you when you were caught in his orbit. And it was creatively fulfilling to get to weaponize this element that I've gotten to use in a genuine way and then explore how that turns on and off for this character, because clearly, he's using those things to coerce and manipulate and eventually get his way.
Lio, it's been so fun to watch your career from "America's Next Top Model" till now. You have a very emotional and quite challenging role in this series. Were you drawn to it because it was a more serious, darker role?
Lio Tipton: Honestly, I was drawn to the cast and the filmmakers that were behind it. That was my first real bite of wanting to be in this project with [director] Eliza Hittman, [writer and creator] Nick Antosca, Jake, Colin [Hanks, and] Anna [Paquin]. That was big for me. I would've done a comedy too with them.
Handling true crime delicately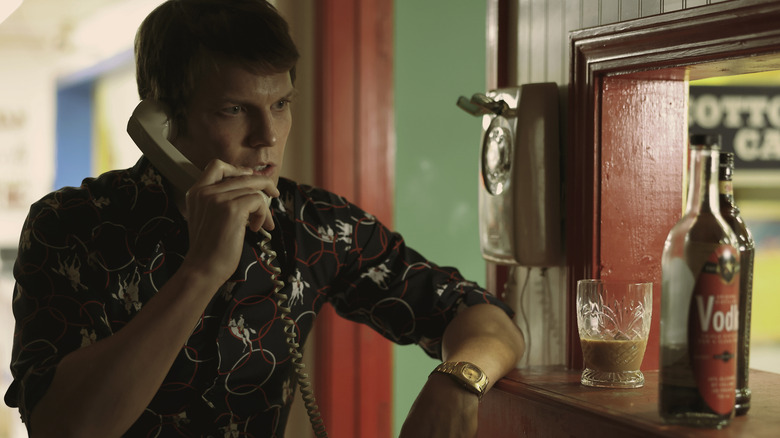 NBC Universal/Peacock
You both get to work quite closely with Colin Hanks and Anna Paquin in this. What was that like?
Lacy: When you have this material and you're telling this story, there's a very delicate balance of needing to find ways to connect [with fellow actors] outside of this story so as to feel safe and happy with one another, and then also be respectful and thoughtful toward the work and the material itself. I felt that we got so lucky. Colin and Anna are such wonderful talents that could find the exact right balance of how to fully give over and commit to telling this story. Then [they could] also step away, and you could go to dinner together and let it be a separate thing, which feels to me like the only way to do this dance for months on end.

Tipton: When we all got there, there was this sense of, "How do we enjoy ourselves doing this project?" The content is what it is, and we all wanted to be so respectful from the beginning as strangers coming to do such intense work. I think we found a nice balance of how to be able to go between takes and feel our human selves and the comradery. But we had to ease into that because we all had to understand it was okay; it's okay to connect and make good memories, even though the content is heavy.
Are you both fans of the true crime genre in general?
Lacy: It always grabs me, but I don't seek it out. I don't go, "What's the next true crime thing?" I think ["A Friend of the Family"] is easily lumped into that category, maybe. And I hope I'm not speaking of turn for Jan [Broberg] as well, but the thing that drew Nick [Antosca] to this story was the psychological elements, both of manipulation coming from Berchtold, but also the toll that it took on everyone in the community, on Berchtold's family, on the Brobergs. 
While it is based on true events, I think someone described it best the other day by saying, there are salacious elements to the story, but the way that Nick has built it is not salacious in the telling of it. That kind of nuance is really important, because often with true crime, it is grotesque and grizzly for the sake of the viewer to be tantalized by it. That's quite the opposite of what the producers and Nick and Jan wanted to do here.
"A Friend of the Family" premieres on Peacock on Thursday, October 6 with the first four episodes. The remaining five episodes will drop weekly on Thursdays through November 10.