King Charles Reportedly Had A Flattering Nickname For Meghan Markle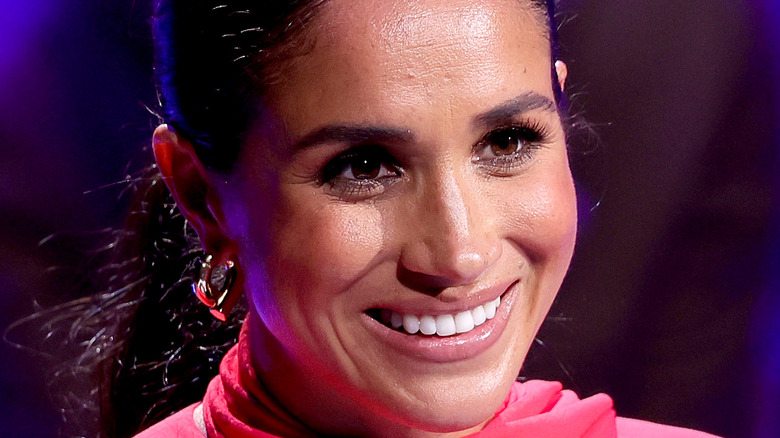 Chris Jackson/Getty Images
The Duke and Duchess of Sussex had a difficult time while they were in Britain mourning the loss of Queen Elizabeth II, alongside the rest of the royal family. Prince Harry and Meghan Markle, who stepped down from their senior positions over two years ago, continue to draw ire from the press and public alike whenever they deign to show their faces across the pond. A former Buckingham Palace staffer even told the Daily Beast that they had some nerve visiting at all.
This was prior to Her Majesty's death, when Meghan and Harry were conducting a whistle-stop tour of the UK and Germany. As the insider argued, "It's a calculated provocation on their part. They are seriously pushing their luck and risking the wrath of the queen." Everything changed when she passed, plunging the family into grief and forcing the Sussexes to rethink their plans and fall into line accordingly, which they duly did.
In fact, there's reason to believe an attempt was made to sort out their ongoing feud, too. Royal commentator Neil Sean revealed on his YouTube channel that Meghan formally reached out to King Charles, by letter, to request a private meeting before she and Harry went home. Although it doesn't look like their chat happened, it was a step in the right direction. 
As it turns out, though, Charles was reportedly fond of Meghan from the beginning.
King Charles recognized Meghan Markle's potential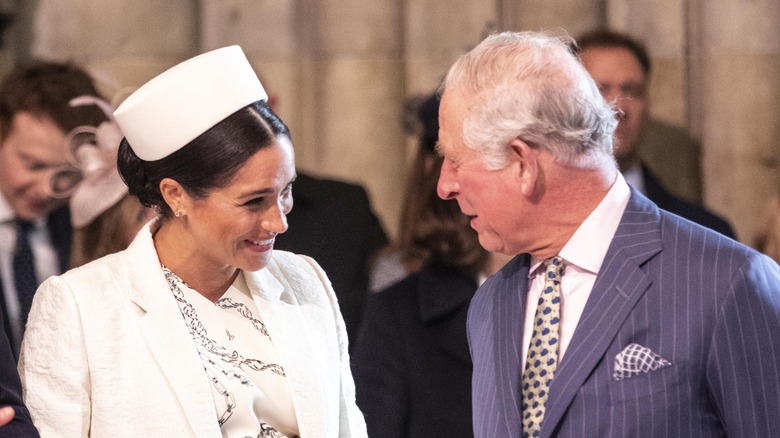 Wpa Pool/Getty Images
Royal expert Katie Nicholl is spilling some piping-hot tea in her latest book, "The New Royals," disclosing, among other things, that the queen encouraged Meghan Markle to fix the fractured relationship with her estranged father before she married Prince Harry. Elsewhere, Nicholl also shared that the relationship with Meghan's father-in-law, King Charles, may have been less strained than earlier reports suggested. 
According to Entertainment Tonight, Nicholl writes in the book: "Charles reportedly nicknamed his future daughter-in-law 'Tungsten' because of her toughness and resilience." The king bestowed the flattering moniker upon Meghan very early on, in fact. Back in 2018, during her joint appearance with Harry and the Prince and Princess of Wales at the Royal Foundation Forum, it was obvious that Meghan was a force to be reckoned with. 
The royal author detailed how: "She was polished, passionate, and funny, using all her TV-honed skills to present her case. That was a wake-up moment for William and Kate when they realized that Meghan was very impressive, very confident, and very capable, according to a source." Evidently, Charles recognized her potential, too. Us Weekly confirmed that the duo really hit it off when they first met, with the whole family enamored of the newcomer.
The Sussexes remain estranged from his father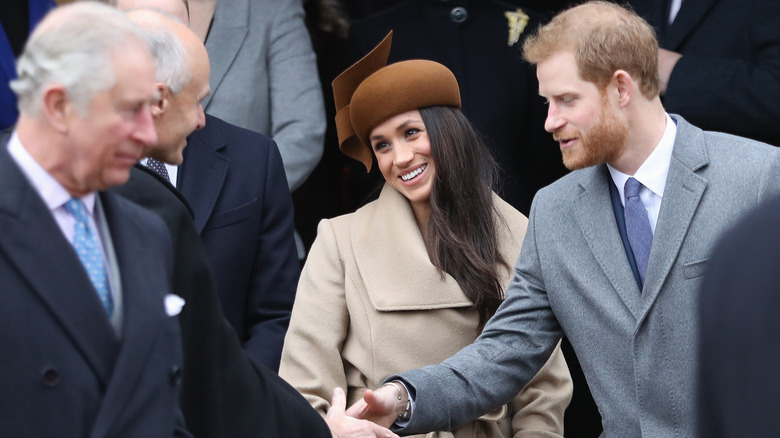 Chris Jackson/Getty Images
Royal watchers have been looking for any indication that the relationship between the Sussexes and the rest of the royal family is finally in the process of being fixed. They believed a subtle part of King Charles' first speech may have revealed the truth about Meghan Markle and Prince Harry, after the new British sovereign expressed hope that the couple would continue to live happily overseas.
However, although fans were glad that he acknowledged the couple, Charles didn't seem thrilled about it at the time. Likewise, Radar Online pointed out that the Duke and Duchess of Sussex have been moved down to the bottom of the official royal website, seemingly signaling that their position in the family is even weaker than before. Worse still, the Sussexes were placed quite close to disgraced royal Prince Andrew. 
It remains to be seen whether Meghan and Harry will be able to mend fences with Charles and the rest of The Firm, but there's a good chance the king could use them in order to appeal to a younger demographic, as an insider told The Sun. On the other hand, royal expert Kinsey Schofield warned TMZ that, because the queen typically acted as a bridge between the warring parties, her death may drive everybody further apart.