A Subtle Part Of King Charles' Speech May Have Revealed The Truth About Meghan And Harry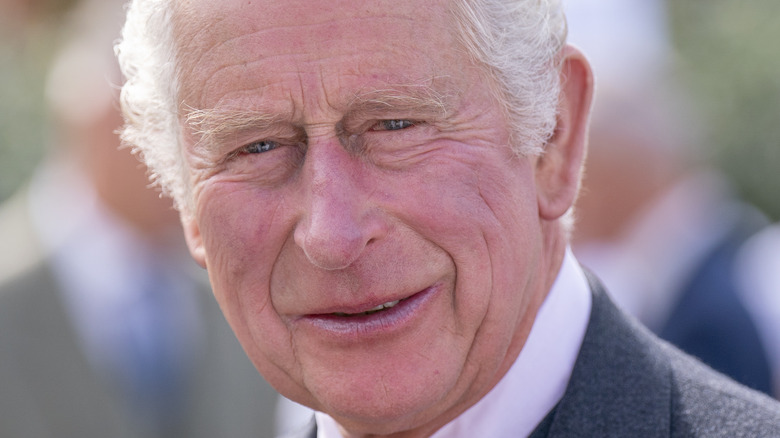 Wpa Pool/Getty Images
Hours after Queen Elizabeth's death, her son King Charles III spoke out on the queen's tragic death. Charles honored the late monarch, who has served the crown for 70 years during her reign, in a brief statement. The king revealed that he was extremely saddened by the loss of his mother, and saved the rest of his kind words for his first speech as monarch.
On Friday, King Charles III addressed the world, revealing the importance of many of the monarchy's values and traditions. He also announced that the Duke and Duchess of Cornwall and Cambridge Prince William and Kate Middleton had moved up in succession in a major way (via TMZ).
During Charles' speech, he also mentioned his youngest son, Prince Harry, and his wife Meghan Markle. The king briefly touched on the subject of the Duke and Duchess of Sussex, revealing that he expressed his love to the couple as they "continue to build their lives overseas," per Metro. However, many on Twitter noticed that Charles didn't seem thrilled while discussing the topic of the Sussexes living in America. After speaking about Harry and Meghan, Charles can be seen giving a bit of an eye roll and slightly sighing as if to hint he's still unhappy with the couple's choices.
"He actually mentioned Harry and Meghan, I didn't expect this tbh," one person tweeted. "King Charles lll expresses his love for Harry and Meghan *sigh/eyeroll*" another commented. Perhaps the crown's relationship with the Sussexes is something Charles can mend now that he's king.
Fans were not pleased with the title snub given to the Sussexes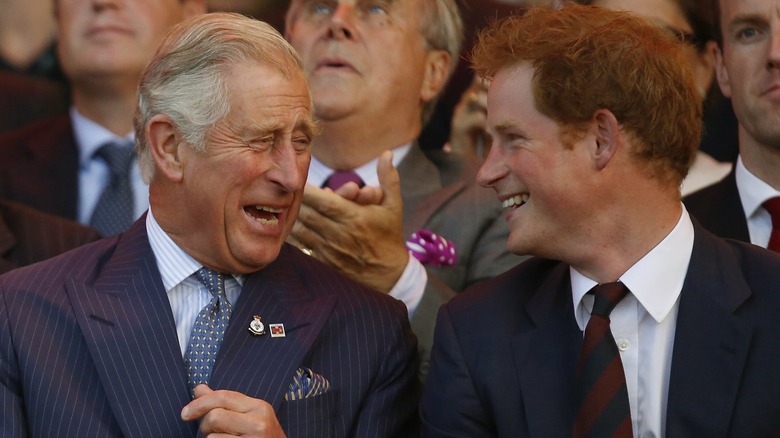 Wpa Pool/Getty Images
King Charles III's first speech started a huge conversation online. During his address, the new king spoke about the titles held by his family (via People). He shared that his wife, Camilla Parker Bowles, was the new queen consort, a title given to her by Queen Elizabeth II before her passing. He mentioned how his eldest son, Prince William, and his wife, Kate Middleton, took on new titles. Now, William has inherited his father's old title, making him and Kate the Prince and Princess of Wales.
When Charles mentioned William and Kate, he shared their titles. However, when talking about the Duke and Duchess of Sussex, their titles were missing from the conversation. This got fans talking (per Fox News).
One commentator stated, "Did he really not refer to them as the Duke and Duchess of Sussex? Did he say Prince Harry and Meghan Markle? This is why I don't like this man he's insidious. Even if it was written that way he should have changed it in his speech."
K.J. Yossman, an international correspondent for Variety, also took issue with the way the speech was formatted. "Is it significant King Charles said he was making Kate and William the Prince and Princess of Wales but didn't mention Harry and Meghan's titles *at all*?" the correspondent shared. "I know they're not getting new titles but could they be stripped of their current ones?"
Some royal watchers think Charles' reign could help mend ties with Harry and Meghan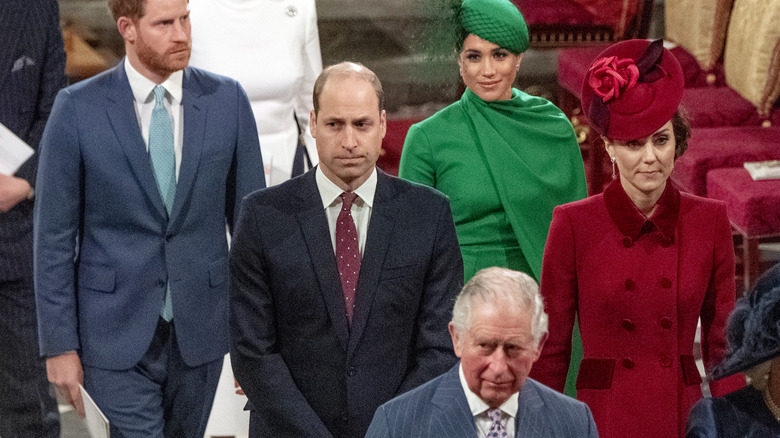 Wpa Pool/Getty Images
Though King Charles III did not call Prince Harry and Meghan Markle by their titles, the Duke and Duchess of Sussex, during his inaugural speech, there is a chance for the relationship between the royals and the Sussexes to mend during Charles' time on the throne (via Variety). Prince Harry and Meghan were in the United Kingdom and able to be alongside the royals during such a difficult time as they were due in London for a charity event. Now, they will be able to spend time with the family as they grieve, and a royal commentator shared with us that Charles will likely want Meghan involved in the process.
Kinsey Schofield of To Di For Daily exclusively told The List that we should expect Meghan to be at the funeral, and Charles himself will likely want her there.
"I think Meghan Markle will attend the Queen's funeral," she shared. "I think it would mean a lot to Prince Charles for her to attend the funeral and he was there to walk her down the aisle at her wedding."
It could be possible that the lack of reference to the Sussexes titles was just an odd occurrence in the speech. Many royal watchers believe Charles, Harry, and Meghan can come together during this time.